9 exciting October events across Hawaii
Plan your month across the Islands with some of the best events that Hawaii has to offer this time of year.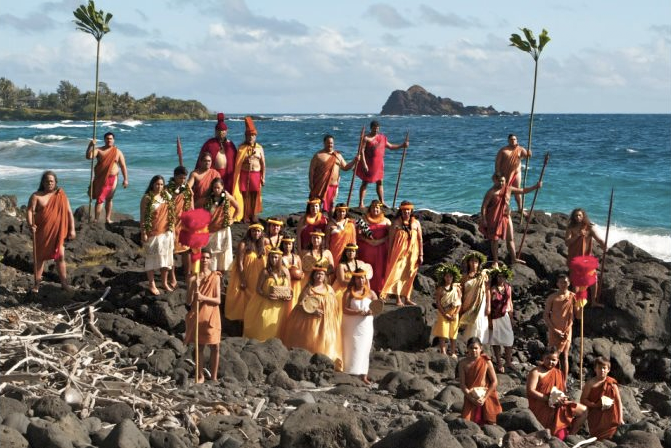 From Hawaii Island to Kauai, check out these festivities bringing the community together. Whether it's a celebration of food or a concert, there's something for everyone.
Molokai Festivals of Aloha
October 7 & 8, 2016
A traditional Royal Court ceremony, poke contest, live music and a parade in Kaunakakai Town—chee hee! Don't miss the Hoolaulea following the presentations on Saturday morning fileld with food booths, vendors and local entertainers. There's a lot to celebrate on the island as paddlers from around Hawaii and the world arrive in preparation for the Molokai Hoe, a 42-mile outrigger canoe paddling race from Molokai to Oahu, on Sunday, October 9.
Free, Mitchell Pauole Center, 90 Ainoa St., Kaunakakai, Molokai, (808) 553-3204, festivalsofaloha.com.
Ironman Championship Triathlon
October 8, 2016
Check out one of the ultimate endurance events in the world: a 2.4 mile swim, 112-mile bike and a 26.2 mile run. Thousands of the best athletes from across the globe come to Kailua-Kona to push themselves in this physical and mental test with the support of thousands of volunteers and spectators across Hawaii Island.
More info at ironman.com.
Honolulu Pride Festival
October 11–22, 2016
Show your pride in the Rainbow State! Hawaii's largest LGBT event gathers the community for three weeks of festivities, pool parties, shave ice socials, panels and more. Honolulu Pride culminates on October 22 in a parade beginning at Magic Island through Waikiki to Kapiolani Park where entertainment, vendors and booths will be set up all afternoon.
Free, more info at hawaiilgbtlegacyfoundation.com.
Hawaii Food & Wine Festival
October 14–30, 2016
The sixth annual festival offers a robust schedule (and across the Islands) this year highlighting everything from ramen to farm-to-table cuisine. Master chefs from across Hawaii and the world congregate behind the hot plates at magnificent resorts to cook up extra special dishes for attendees (oh, and let's not forget the world class mixologists). Whether you're on Oahu, Hawaii Island, Kauai or Maui, there's a gourmet plate (or glass) of something with your name on it.
Prices vary, more info at hawaiifoodandwinefestival.com.
Hoike Holoku Gala
October 15, 2016
Learn about the Hawaiian holoku, a style of dress adopted by Hawaii's royalty from missionary wives in the early 1800s, in the tropical paradise of Smith's Kauai. These gowns worn to balls and tea parties are showcased in this gala featuring Hawaiian music, ono food and hula
$35–$55, Smith's Kauai, 3-5971 Kuhio Hwy, Kapaa, Kauai, (808) 245-3373, kauaihistoricalsociety.org.
Big Island Lilikoi Festival
October 15, 2016
Who doesn't love lilikoi (passionfruit)? The Makuu Farmers Market near Pahoa devotes an entire day to the wonderful citrus fruit with more than lilikoi-themed booths, cooking contests, demos, live music and activities for the whole ohana.
$2, Makuu Farmers Market, 15-2131 Keaau-Pahoa Rd., Pahoa, Hawaii Island, (808) 982-5683, lilikoifestival.com.
Japanese Cultural Society of Maui Kite Festival
October 22, 2016
In its inaugural year, the Japanese Cultural Society of Maui hosts a morning-to-early-afternoon event on the serenity of kite flying. Bring a homemade or store bought kite (or purchase one at the festival for $5) along with a picnic lunch and spend the day taking them to the clear Maui skies. Kite expert Robert Lorea will be demonstrating tricks and a history of Japanese kites.
Free, Keopuolani Park, Wailuku, Maui, more info here.
Haunted Wonderland featuring deadmau5
October 29, 2016
Hear that EDM bumping in Wahiawa? You're about to, courtesy of deadmau5, who'll be headlining a set over the Halloween weekend at the Hawaii Country Club. Also supporting behind the DJ booth are Attlas, No Mana and BlackGummy—a mau5trap presentation.
$65, Hawaii Country Club, 94-1211 Kunia Road, Honolulu, Oahu. More info and tickets here.
Mike Epps
October 30, 2016
The stand-up comic delivers the non-stop laughs on Maui. Aside from his roles in movies throughout the 2000s and 2010s, you probably remember him best from his popular HBO comedy special "Mike Epps: Under Rated, Never Faded & X-Rated" and "Mike Epps Presents."
$55–$65, Maui Arts & Cultural Center, One Cameron Way, Kahului, Maui, mauiarts.org.