9 Instagram-Worthy Art Pieces at the 2019 Honolulu Biennial
Some of the art not to miss this year at sites all across town.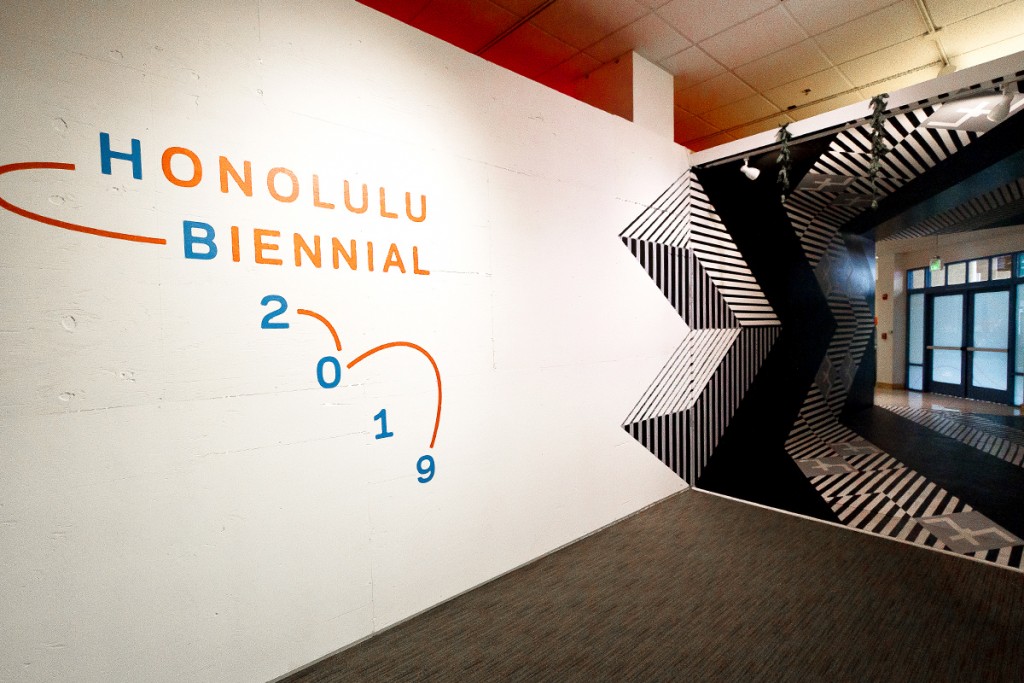 The 2019 Honolulu Biennial is here until May 5, 2019, with modern art installations at more than 10 venues around Honolulu, presented by 19 Hawaii artists along with 28 international artists and collectives. This year's Biennial, titled To Make Wrong/Right/Now, aims to highlight untold stories from an indigenous perspective and celebrate creative expression from Hawaii's many cultures, along with special guest artists from the Pacific region, Asia and the Americas. It was hard to pick just nine pieces, but we hope these will get you started on your exploration of the art of the Honolulu Biennial.
1. "Crossroads" by Chiharu Shiota at The Hub at Ward Village
This incredible, vibrant red installation greets you just after you pass the entrance to The Hub. Made of dyed wool threads and historical maps, the immersive walkthrough web perfectly embodies what it means for Hawaii to be at a crossroads. Plus, it makes for some amazing photos.
2. "Polyfantastica" by Solomon Enos at The Hub at Ward Village
Two hundred graphite drawings, each with their own 100-year-long story, come together to form a fantastical science-fiction epic that surmises how the Polynesian culture might have developed in a different time and space. It's easy to get lost in this beautiful, noble collection of intricate images that are at once human, alien and incredible mythology.
3. "Toy Stories" by Maikai Tubbs at The Hub at Ward Village
Walking the fine line between trash and treasure, Tubbs' enchanting installation showcases composite toys created from shards of bottles, other toys and other "found trash" in a sterile, geometric display. Walk inside the standing 3D structure and marvel at the perfect imprints each object has made.
4. "Huakai/A Wake" by Leland Miyano and community volunteers at Foster Botanical Gardens
A monster waa (Polynesian voyaging canoe) made of branches and vines from invasive plants, and accented with found materials, this huge structure explores the themes of sustainability, voyaging and our relationship with the Islands. It was made with the help of friends, family, elementary school students and community volunteers, proving that it takes a village to make a waa.
5. "Entomophobia, Metamorphosis, Ecological Armageddon" by Bruna Stude at Foster Botanical Gardens
This lovely piece hanging from Foster Botanical Garden's pergola consists of nine chemigrams, or images painted with chemicals on light-sensitive paper. Each drawing is modeled after the wing patters of endangered insects endemic to the Pacific region and is designed for viewers to walk through and reflect on the fragility of nature.

6. "Shiku Shiku Stone" by Misaki Kawai at Foster Botanical Gardens
The frowny face might elicit a giggle and a selfie, but underlying the silliness is a premise that'll make you think: That every material, no matter what size or whether in nature or elsewhere, has an element of individual consciousness—a personality, if you will.
7. "Kalo" by Bernice Akamine, at Aliiolani Hale
[video:https://www.instagram.com/p/BvKTZpWn5o_/]
Made up of 87 sculptures resembling the Hawaiian kalo plant, this installation resides in the building where annexation occurred and Queen Liliuokalani was deposed. Each plant is made from locally-sourced basalt stone, and the leaves are copies of the signature pages of the 1897 Hui Aloha Aina Anti-Annexation Petitions and maps of the ahupuaa (traditional land divisions) of the islands that were represented in the petition.
8. " Laa Kea Pauole" by Chenta Talei Laury at YWCA Laniakea
[video:https://www.instagram.com/p/Bvixm-_noXg/]
This beautiful fiber-based installation takes the form of a bowl or fire pit, lit from below. Inspired by a Molokai parable that compares the innocence of children to "being born with a bowl of light," it's an interactive piece that invites each viewer to remove a lava stone from the bowl as a process of reflection and to make wrongs right.

9. SaVAge K'lub, 1109 Nuuanu Ave., Ste 112
Open daily from noon to 6 p.m. except Sundays
[video:https://www.instagram.com/p/Bu25DlflQ1Q/]
A pop-up space showcasing a New Zealand artist collective headed up by Rosanna Raymond, the SaVAge K'lub concept represents 21st century South Sea savagery through the re-occupying of a space in Chinatown, Honolulu. The wild, vibrant art, historical objects and interactive pieces inside have mostly been created by repurposing, reframing and reusing with as little waste as possible. It takes its name from the Savage Clubs of 19th century London.
For a full schedule and list of art installations around Honolulu, visit honolulubiennial.org/honolulubiennial2019.