9 last-minute gifts the HAWAIʻI Magazine team wants for the holidays
A seasonal roundup of Hawaii products and services (for people who've been really good this year).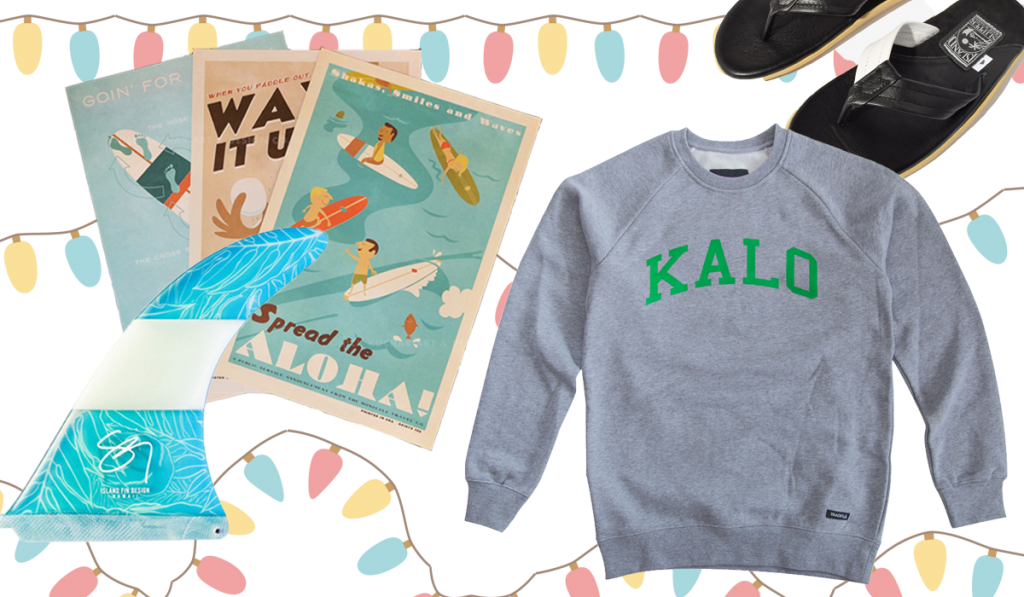 The items our editors, writers, artists and executives are hoping to find under the tree this weekend.
1. Retro posters by Nick Kuchar Art & Design Co.
"Because I'm in love with his quirky retro surfer style, and the vintage color palette and nostalgia of his work makes me happy." $21, nickkuchar.com — TRACY CHAN, associate editor
2. Kulolo mochi from Kaloman Products

"I first tried it at Uncle Robertʻs farmers market on the Big Island and it's fantastic. Santa, if you're in Puna, please deliver me a box!" — CHRISTINE HITT, editor-in-chief
3. Maui Island Love tote bags
"I've been dreaming of a Island Tote Bags by Maui Island Love. They create one of a kind bags from recycled and repurposed materials and no two are alike. Each bag has several different fabrics artfully sewn together and feature two outside pockets that are so convenient. The hardest part would be selecting the one I like best!" $49, mauiislandlove.com — LOREN MALENCHEK, account executive
4. Sig Zane x Island Fin Design single fin
"These two Hawaii design teams come together in the sweetest surf collaboration of the year. Of the two new fins, I'm swooning for this Islander template that combines Sig Zane's signature ulu print and Island Fin Design's iconic bold stripe." $90–$100, islandfindesign.com, sigzanedesigns.com — MATTHEW DEKNEEF, deputy editor
5. Keani Jewelry's Mermaid Scales line
"I'm always on the lookout for a necklace that will go with just about anything in my closet. I love how the mermaid scales line at Keani Jewelry is a cross between geometric and organic shapes." $90, keanijewelry.com — ELENA BRAGG, art director
6. "Shark Dialogues" by Kiana Davenport
"This has been on my reading list for a while. This novel was published in 1995 and is considered a classic in Pacific Rim literature." $18, amazon.com — C.H.
7. Hawaii Volcanoes National Park annual tri-park pass
"I've visited the Big Island multiple times this year and can't get enough of everything this park has to offer, which also includes Puuhonua o Honaunau National Park and Haleakala National Park on Maui." $25, nps.gov — C.H.
8. Island Slipper x Salvage Public slipper
"Ah, yes, the sign of a local boy reaching his 30s—investing in a pair of high-end slippers. Very into this two-tone design in leather and suede. It's also made in Hawaii." $95, salvagepublic.com — M.D.
9. This "Kalo" sweatshirt
"I'm pretty sure I'll wear anything screenprinted and in varsity lettering. This crewneck sweatshirt from local brand Trades looks cozy for winter (basically, any windy day below 75 degrees) or the HAWAIʻI Magazine offices, which are freeeeezing!" $64, tradeshawaii.com — M.D.