9 Sweet Valentine's Day Date Ideas Across Hawaii
Love is in the trade winds this month.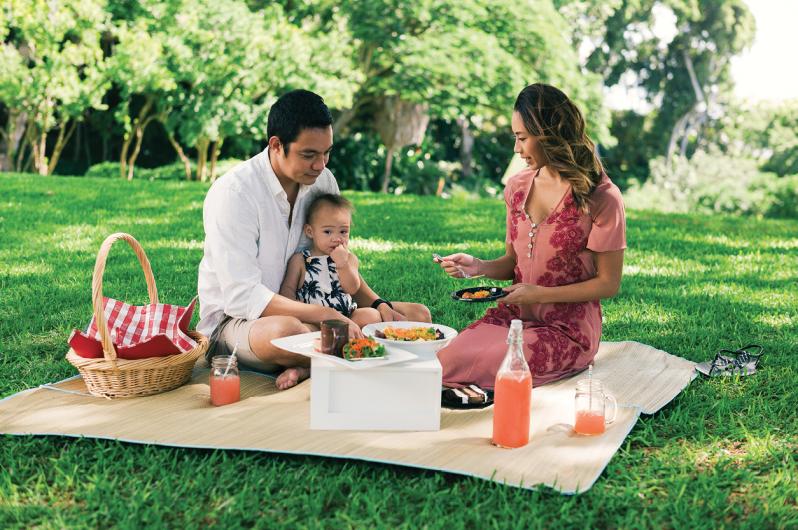 Love is in the trade winds this month, so we found romantic date ideas for all of the Islands. Ready to get your woo on?
Presented by Moment Romance—a new social networking app that puts you in the right place at the right time to meet people. Available now for both Apple iOS
and Android devices.
OAHU
Indulge in a specially crafted dinner menu.
For the ultimate dinner à deux head to the posh MW Restaurant, tucked behind Ala Moana Center off Kapiolani Boulevard. Order the Valentine's Day tasting menu featuring locally sourced, meticulously prepared Hawaii Regional Cuisine dishes. Chef/owners Michelle Karr-Ueoka and Wade Ueoka—a cozy couple themselves—have created the special menu, complete with wine pairings, for $65 each per person. You can find more romantic Hawaii restaurants with special prix fixe menus for the occasion here.
1538 Kapi'olani Blvd., Suite 107, Honolulu, (808) 955-6505, mwrestaurant.com.
Picnic on the hillside slopes of an art museum high above Honolulu.
Escape the hubbub of Honolulu with a ramble up Makiki Heights Drive. You'll be rewarded with Spalding House. The tranquil property was once the private home of Anna Rice Cooke, the founder of the Honolulu Academy of Arts (now called the Honolulu Museum of Art, with the contemporary museum Spalding House its second location). After a leisurely stroll through the museum's five galleries, stretch out on the lawn with a picnic, freshly prepared by the Spalding House Café. You'll have a perfect view of the museum's sculpture garden, as well as Diamond Head (Leahi).
A picnic lunch for two costs 40; museum admission is $10. 2411 Makiki Heights Dr., (808) 526-1322, honolulumuseum.org.
Have a luau with "Elvis," "Michael Jackson" and "Lady Gaga."
The Rock-a-Hula's special "Be My Valentine" show at the 750-seat Royal Hawaiian Theater is definitely a quirky way to celebrate with your sweetheart. This tribute artist show with all type of "celebrities" features fire-knife dancing, hula and live music with a variety of dinner packages.
Dinner packages start at $109, doors open at 6 p.m., show kicks off at 8 p.m., 2201 Kalakaua Ave., Honolulu, ticket prices at rockahulahawaii.com.
Cruise into a Waikiki sunset.
Show how much aloha you have for you date when you glide into the south shore waters of Waikiki with Atlantis Cruises. They have four dinner options to choose from. Eat great food while listening to music as the sun sets. Each couple leaves with a complimentary rose.
Or for extra privacy, compare with Star of Honolulu Cruises, which departs from the same location at a neighboring pier.
Atlantis Cruises: Pier 6 at Aloha Tower Marketplace, 1 Aloha Tower Drive, 2/14, 5 to 7:30 p.m., (808) 974-1311, atlantisadventures.com.
Star of Honolulu Cruises: Pier 8 at Aloha Tower Marketplace, 1 Aloha Tower Drive, 2/14, 5 to 8 p.m., (808) 983-7827, starofhonolulu.com.
MAUI
Or, if you're on Maui, sail into a Hawaiian sunset.
A sunset cruise with Trilogy Excursions offers romance on the high seas. There's a cruise option for every couple and every budget, from the Friday-night, adults-only cocktail cruise, the Deluxe Kaanapali Sunset Sail, which includes fresh-made pupu (appetizers) as you take in postcard worthy views of Molokai and Lanai, to the luxurious Captain's Sunset Dinner Sail, which entails a four-course steak or mahimahi dinner at your own private table. The spectacular sunsets, however, are always complimentary. During whale season on Maui (December through April), you're likely to spot humpback whales making their own flirtatious moves.
Sunset cruises range from $69 to $119 per person, sailtrilogy.com.
HAWAII ISLAND
Stroll hand in hand through an incredible natural wonder.
One of Hawaii's natural wonders is the unrivaled splendor of the Kilauea volcano. Witness the raw power of Pele during a hike through the Kilauea Iki crater. This 4-mile loop traverses rain forests lush with ferns and native birds, before descending across a long-since solidified—but still steaming—lava lake.
Bring water, sunscreen and rain gear; the weather can change quickly here, but this hike is worth it. nps.gov.
LANAI
Watch the sunset at Puupehe (Sweetheart Rock).
A short hike past Four Seasons Lanai Resort will lead you past Hulopoe Bay Beach to a cliff-side spot overlooking Puupehe, or Sweetheart Rock. The legend behind this natural landmark is that of two star-crossed lovers, a Hawaiian maiden named Pehe from Lahaina and a young warrior from Lanai named Makakehau. He took her back to Lanai and hid her in a sea cave at the base of Manele's cliffs, but one day she was drowned in a storm while he was out gathering supplies.  Stricken with grief, Makakehau buried his beloved atop the steep rock island, then jumped from the summit into the pounding surf below. The tale may be tragic, but the location is a gorgeous place to watch both sunsets and the occasional pod of dolphins.
MOLOKAI
Soak up the sunset in a royal setting.
Experience a magical Molokai sunset in a place worthy of alii (royalty). In the late 1860s, King Kamehameha V had 1,000 coconut trees planted on 10 acres in what is now Kapuaiwa coconut grove to honor his 1,000-member army, as well as to shade his royal bathing ponds. A few hundred of these trees still exist today. The best place to view the grove, and watch the dipping sun, is at the adjacent Kiowea Beach Park. Note: Falling coconuts can pose a serious danger, so be mindful of the Kapuaiwa park signage.
KAUAI
Retreat into absolute relaxation.
Treat each other to a day of pampering and relaxation. Anara Spa at the Grand Hyatt Kauai offers decadent couples massage packages, such as a bubble bath and massage for two, or a five-hour package featuring warm stone massages, kava body scrubs, volcanic clay masks, facials, pedicures and lunch. Each treatment is done side by side, in your own private garden hale (house). You'll both bliss out in no time.
(808) 742-1234, kauai.hyatt.com/hyatt/pure/spas.
---
Additional reporting by Matthew Dekneef