A CHANGE for Hawaii's Resilience
The collective strength of donors and nonprofits working hand in hand helps island residents overcome natural disasters.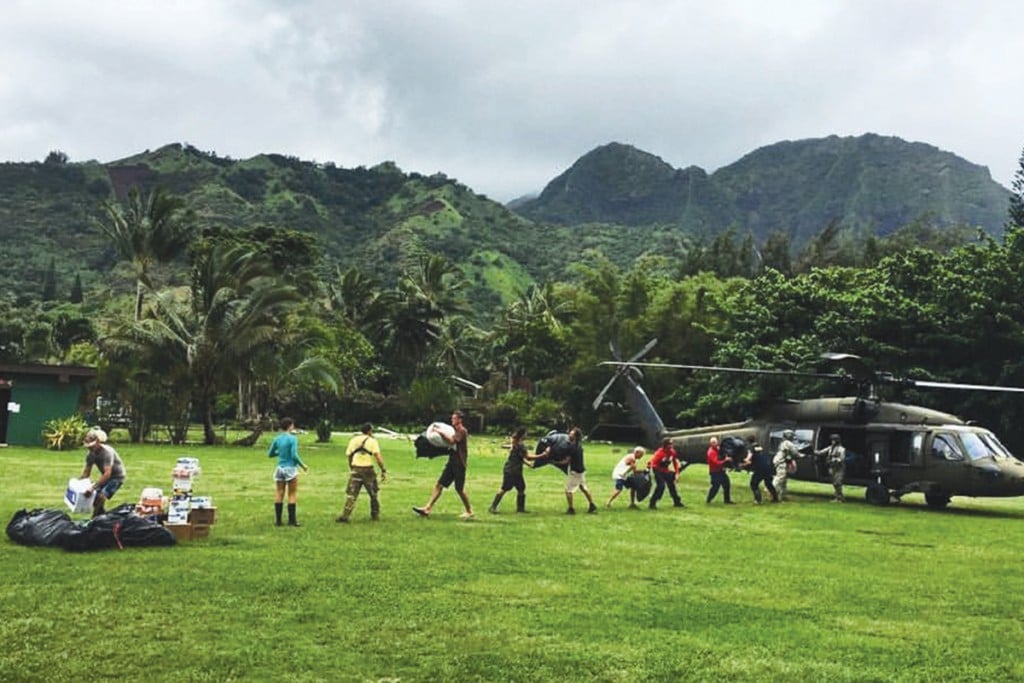 One step back, two steps forward. With a devastating flood on Kauai, lava flows on Hawaii Island, storms on Maui and wildfires across the state, 2018 was a stark reminder of nature's power.
But the collective strength of donors and nonprofits working hand in hand was also on display. In each case, philanthropists and community leaders became the first line of defense in the community. Together, they continue to help families and individuals recover and become more resilient than ever.
One Big Flood
Kauai is one of the wettest places on Earth. But in April 2018, residents saw rain like they'd never seen before: 50 inches fell in 24 hours, triggering 12 landslides and widespread flooding.
Within another 24 hours, the Kauai Relief and Recovery Fund had been created at the Hawaii Community Foundation (HCF) and $250,000 raised. Within days of that, grants started to go out to responder nonprofits.
A year later, the last of nearly 50 grants have been distributed to assist the community in its long-term recovery efforts. The Hawaii Community Foundation raised a total of $1.9 million from givers around the world, some attaching words of love for Kauai to their gifts.
The community is still recovering, but residents have seized upon creating an even stronger Kauai. They're working together to create a path for better housing, jobs, transportation, food security and mental health services.
"Our communities on Kauai have demonstrated that we are strong and that we will work together to overcome hardships," says Darcie Yukimura, director of community philanthropy at HCF. "We are so blessed to have a network of donors, community and nonprofits who are on the ground, accessible and able to respond quickly to people's needs."
Pele, Goddess of Fire
The Kīlauea eruption forever changed the Big Island. Lava from 24 fissures shot up to 200 feet high and covered 13.7 square miles of land, destroying 716 homes.
Days later, the Hawaii Island Volcano Recovery Fund at the Hawaii Community Foundation was formed, receiving over 600 contributions from as far away as Tokyo and London, and raising over $1 million.
As relief efforts have evolved to long-term recovery, helping residents move back into permanent housing is a big priority. With donor support, Habitat for Humanity is constructing and repairing homes. Nonprofits are working with the county to establish a community land trust to provide affordable home options. Newly formed collaborations like the Kīlauea Hui are responding to special cases, like that of the retired schoolteacher whose home was damaged and needed a new foundation.
Other efforts, like the Activate Puna event, are helping the community come together and get back on track. Legal and insurance experts are providing pro bono services to help homeowners file the necessary documents for disaster assistance and insurance claims.
The Strong Funds
Across the state, communities are expressing the need for better planning and recovery from disasters, and the county mayors have responded.
In a news conference this year while hosting the annual U.S. Conference of Mayors, Honolulu Mayor Kirk Caldwell, Kauai County Mayor Derek Kawakami, Maui County Mayor Michael Victorino and Hawaii Island Mayor Harry Kim announced a partnership with the Hawaii Community Foundation to create a "Strong Fund" for each county.
Caldwell told community members they could contribute to recovery efforts in advance through the Strong Funds. "You put in $1 now, you save $6-$8 when a disaster hits. When people ask, 'Why are you putting money away now?' – it's for exactly that reason. We can do this!"
The Hawaii Community Foundation will also be responsible for the Strong Funds' disbursement, investing in areas to better prepare communities for disasters and to rapidly respond when they happen. HCF has hundreds of relationships with nonprofits around the state.
"Hawaii Community Foundation has a keen eye for which groups are ready and able to respond," says Kawakami, the Kauai County mayor. "That takes [away] a great burden in times of crisis, and we're very grateful to them."
Lessons learned from 2018 all point to the critical role of givers and nonprofits in times of crisis. The Hawaii Community Foundation, by leveraging its existing infrastructure of communications, donor network and long-standing community relationships, was able to respond to the immediate, medium- and long-term needs of the community.
Strong Funds
Hawaii Community Foundation (HCF) established the four Strong Funds to invest philanthropic dollars to help strengthen Hawaii's communities. Public contributions to the Strong Funds will be distributed by HCF based on any one of four phases depending on a county's needs.
Community Readiness includes pre-disaster planning, collaboration agreements and projects that aim to increase each community's ability to respond to disaster swiftly and equitably.
Rapid Relief and Response provides for immediate community needs when disaster occurs. In 2018, grants supported food and emergency supply distribution as well as child care and satellite school campuses on Kauai. Grants to support Hawaii Island volcano recovery provided additional staff capacity for the Hawaii Food Basket.
Recovery and Stabilization helps community members return to normal, with extended food relief, legal and rental assistance, and mental health services.
Rebuild Resilience focuses on long-term rebuilding efforts and the implementation of regional development plans that prioritize each community's natural resource management, culture and unique sense of place. On Kauai, the University of Hawaii's Hui 'Aina Momona project included a study of fish, chlorophyll and sediment following the 2018 flood. Early data collections indicate that fish have re-inhabited areas that they had long since abandoned since beaches are now less inhabited. That new community norm is just one of several that could impact tourism on the north shore of Kauai.