A Date Night Sunset Cruise Along Waikiki's Historic Coast
Aboard Atlantis Cruises' Majestic, Sunset Painted Skies and Waikiki's Sparkling Skyline Take Center Stage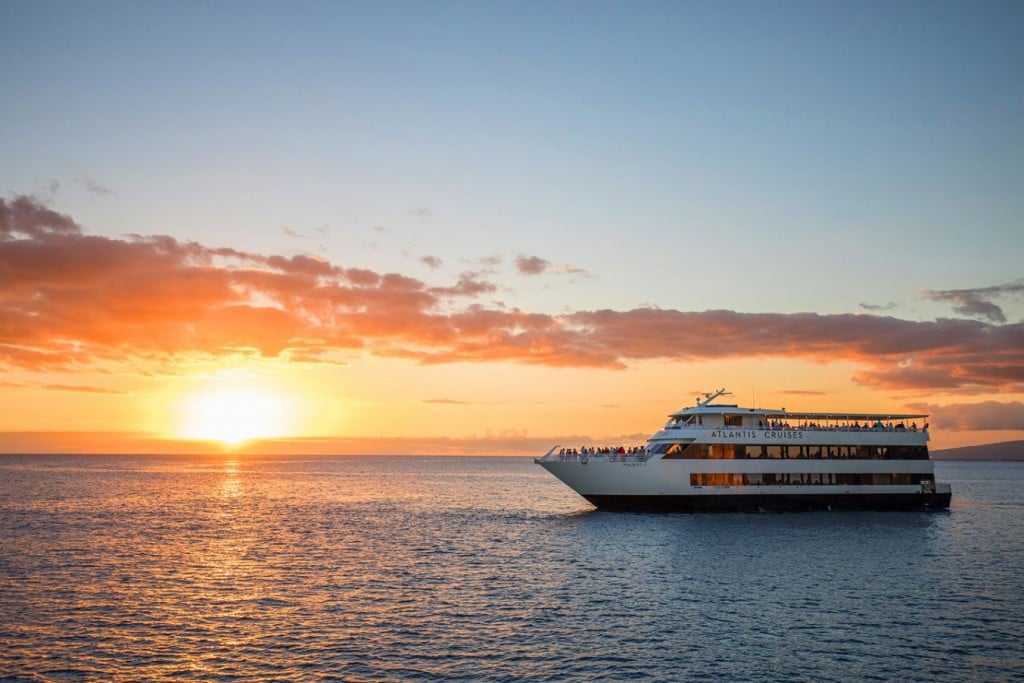 Atlantis Adventures is well known for their undersea submarine tours. Above the ocean, Atlantis Cruises offers scenic sunset dinner cruises aboard the Majestic. After receiving a recommendation from friends, I decided the Island Style Buffet Cruise would be an ideal setting, and hopefully win me a few points, as a surprise date with my wife Emma.
On a Friday afternoon I picked Emma up from work and drove to Aloha Tower, for what she thought was going to be a dinner at one of our go-to downtown Honolulu restaurants. Walking toward Pier 6, where the cruise departs, Emma realized this simple night out was taking a more exciting direction.
Greeted by Captain Andrew and his crew we boarded the Majestic — a triple-deck, 150-foot modern cruise vessel that launched in 2016. Heading into the main deck you feel the comfort of the vessel's design immediately. Chatting with one of the crewmembers, he told us beyond the spacious layout and stylish features, the Majestic is also equipped with Seakeeper stabilization. That specialized technology allows guests to enjoy a smooth ride throughout the entire cruise.
Anticipating the voyage we sipped our complimentary Mai Tai as the cruise embarked. Smelling the delicious aroma of many island favorites, we quickly made our way to the buffet.
A subtle novelty about Atlantis Cruises is there is no set schedule for guests. This gave us the freedom to explore each level of the ship at our leisure.
"Our cruises are whatever environment guests are looking for, it's about what they want to experience. It's completely up to them," says Atlantis Cruises General Manager Shannon Wilson.
After dining, Emma and I strolled to the second deck lounge. We got comfortable in the cocktail lounge seating. Gazing out the large panoramic windows, views of Waikiki's historic coastline and iconic Diamond Head took center stage. We were told it's also common to see dolphins during the cruise.
Having a smaller passenger count then many cruises on Oahu, we never felt crowded or in anyone's way. Groups, couples, and families had space to converse and laugh freely.
"One thing that separates us from other activity groups is we have a much more intimate setting…we want to be able to have a more engaged, one-on-one experience for our guests. We like to find out where they're from and explain what they're seeing," says Wilson.
Tempted by the sunset we decided to head up to the open-air deck. Standing starboard, side-by-side with Emma, shades of pink and orange painted the sky. As the sun slowly slipped below the horizon, a tranquil ambiance seemed to surround the vessel.
Making her way west, back toward Aloha Tower, the Majestic slowed in front of the Hilton Hawaiian Village. One after the next the fireworks exploded. From our open ocean view, streams of celebratory blue, red, green, and white lit the sky in rhythmic form. With the last firework dimming, Emma and I went below to enjoy the music and hula dancing as the Majestic rolled gracefully to harbor.
Sunset Dinner Cruises, on the Majestic, by Atlantis Cruises from Atlantis Adventures on Vimeo.
---
Atlantis Cruises offers daily sunset dinner cruises from 5:30 to 7:30 p.m. Friday cruises feature fireworks and run from 5:30 to 8:15 p.m. Atlantis Submarines' signature undersea adventures, aboard their 48-passenger submarines, are available year-round on Oahu, Maui, and Hawaii Island. For reservations or more information visit atlantisadventures.com.