A Day at Oahu's Kaneohe Sandbar
This must-see natural attraction offers snorkeling, turtle sightings and soothing views. You just have to get there.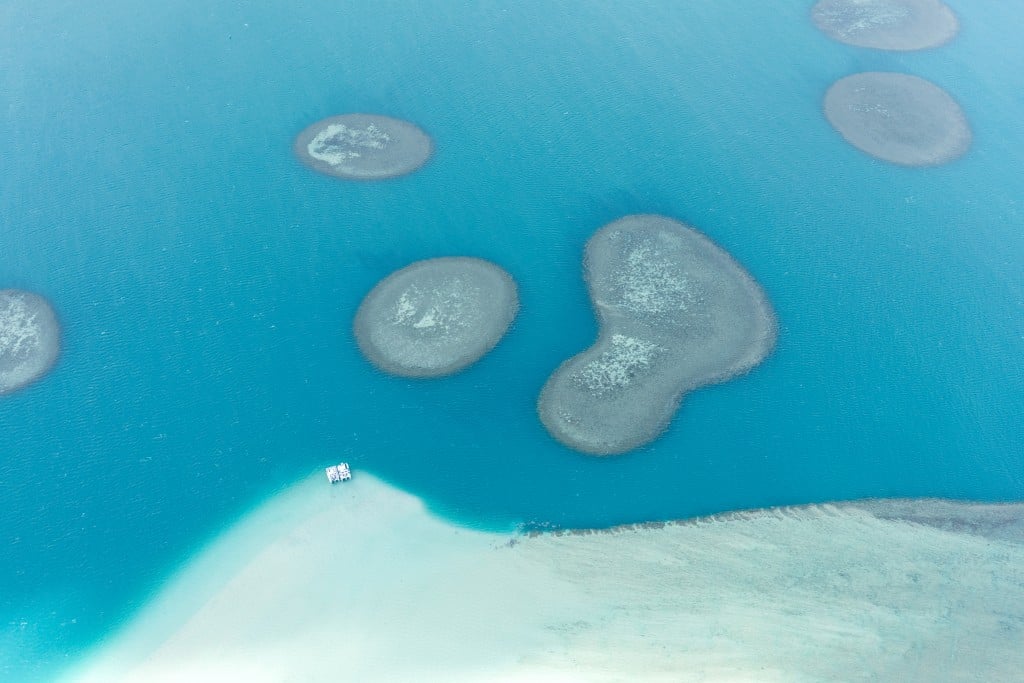 The sun is shining, the sky is blue and, most importantly, the tide is low.
Just 15 minutes from the shores of Kaneohe Bay, surrounded by the Koolau Mountains and its reef-protected waters, a literal slice of paradise reveals itself: The largest saltwater sandbar in the world.
Because of its sprawling nature, the sandbar is easy to make out, even from land. Just gaze out across the bay for the assembly of water vessels, from private yachts to neon-colored Hobies, anchored and bobbing at the sandbar's edge, where the sparkling blue waters starkly shift into a crystal-clear turquoise barely covering an exposed expanse of white sands. Stretching approximately 6 miles long and half-a-mile deep, there's more than enough room for everybody. Each mode of transportation may be different, but the mission is the same—to spend a lovely morning enjoying nothing more than some food and drink with a calm swim and conversation. This communal scenario around the sandbar gives new meaning to the term watering hole.
I'm standing near the bow of the Merahi Mana, one of two sizable catamarans operated by sailing company Captain Bob's. The Kaneohe sandbar is the first stop and main attraction of the popular Captain Bob's Picnic Sail, a robust five-hour tour with a host of friendly crew members that takes enthusiastic visitors to the sandbar daily (except Sundays). Collectively, the decks comfortably transport more than 100 people, an orchestrated result of providing free roundtrip transportation from various Waikiki pickup locations to Heeia Kea Pier for parties that book with them. The salty wind breezes through my hair as we approach this geographic anomaly, which takes on a more distinct shape the closer we get to it. It's like a rippling mirage coming into view, except it's not a fantasy. The captain of our ship, Ash-lyn, smoothly maneuvers to a more northerly end of the sandbar, away from most of the other watercraft also out at this 10 a.m. hour; another crew member dives into the bay to anchor us.
"If this is your first time snorkeling, this is the best place to get acclimated, right here," Ash-lyn says, while everyone begins to strip down to bathing suits, strap on the provided snorkeling gear and head down a ladder leading to the sandbar.
Nearby, the crew sets up a volleyball net, turning the sandy terrain into a unique patch of turf for anyone who wants to partake in a game of beach volleyball. Aboard the catamaran, crew members begin to fry up burgers and pour beverages for whoever's ready to get their fill on an early lunch.
The rest of us, myself included, appear content just going for a stroll. After all, where else can you basically be on a beach … in the middle of the ocean? With each step, a 360-degree, panoramic view of Kaneohe Bay unfolds. Koa, another crew member with Captain Bob's, stands at the sandbar's edge, a few feet from where the water changes from a light to darker blue, his presence a gentle barricade for those of us venturing a little too far. "That's a real good drop over, bro," he warns me, as I curiously wander near the edge. "It's about a 30- to 35-foot instantaneous drop."
On the horizon, the sandbar offers a showcase of four offshore islets, some famous, others lesser known: Mokolii, known best as Chinaman's Hat, for its resemblance to a Chinese conical hat; Kapapa, a flat, publicly accessible island with a historic Hawaiian fishing shrine; Kekepa, a large turtle-shaped rock formation, situated off the Mokapu Peninsula, home of the Kaneohe Marine Corps Air Station; and Moku O Lo'e, or Coconut Island, a maritime research facility that has the pop-culture esteem of being featured as the establishing shot of "Gilligan's Island."
The sandbar itself also has a specific Hawaiian name. It's called Ahu O Laka, whose literal translation is "Altar of Laka," referring to a chief, Laka, who was born in Kipahulu, Maui, and ruled over the windward district of Oahu. In a few ancient oli (chants), the story goes that, upon Laka's death, his son, Luanuu, transported his father's bones from this region on Oahu to a sacred burial site in Maui's Iao Valley; the sandbar is referred to either as a stop along the journey or where Laka took his final breath, inspiring its name. Interestingly enough, given how the majority of travelers arrive at this very spot, Laka and Luanuu themselves descend from a sailing lineage, and the area is tied to an enduring Hawaiian voyaging tradition: The Hokulea, a replica of a double-hulled Hawaiian voyaging canoe, first launched from Kualoa at the north end of Kaneohe Bay in 1975.
After nearly half an hour of leisurely walking the sandbar, everyone gathers back on the catamarans. There are 62 patches of pop-up reefs in the bay and the tour wants to take us to one of them. On the way there, a game of visual whack-a-honu (sea turtles) ensues on board, with the crew calling out when Hawaiian green sea turtles who frequent the reef come up for air. "Turtles like to sleep and burrow under the mud and caves here," Ash-lyn says. "There are a lot in this zone." We've ecstatically counted about 10 honu by the time we reach our snorkeling destination, a pop-up reef about half the size of a football field. Here, we're instructed to look out for palani (surgeonfish), butterflyfish, more honu (of course), the silver scales of some seasonal papio and that notorious tongue-twister, the humuhumunukunukuapuaa. On rare occasions, Ash-lyn says, ulua, a coveted species of game fish, or a stray dolphin might cruise by, so keep our eyes peeled. I dip into the water with a snorkeling mask and float at the fringes of the reef, where fish abound, namely a school of manini (convict tang) swimming to and fro below.
For the next hour, half of the passengers remain snorkeling in the water, while others dry off on the deck, lost in conversation or taking more photos of the scenery encircling our boats. In the air, the gentle strumming of a guitar, as Jenner, a crew member, summons a melody. The sun is hanging high overhead and our half-day at the sandbar is coming to a close."I am Hawaii / I am forever," he sings, the early afternoon sun hanging high over us. "Call me a dreamer / Come and dream, and dream with me / Oh, in Hawaii." The perfect way to wind down following our unhurried journey about the sea, with this sandbar serenade.