A Guide to Oahu's Best Botanical Gardens
You came to the Islands for its stunning sandy beaches, but there are great botanical gardens, too.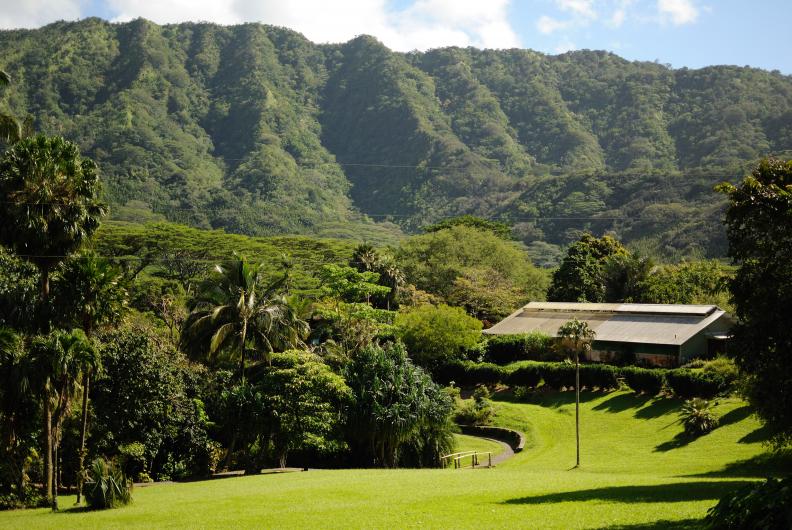 You came to the Islands for its stunning sandy beaches, the turquoise waves tickling your toes. But there are great botanical gardens, too. Each is maintained with lush, indigenous flora, as well as unique plants and trees from across the globe. These gardens are worth a visit. Don't worry, there's still plenty of time for the beach.
Hoomaluhia Botanical Gardens
In Hawaiian, hoomaluhia means "a peaceful refuge." It's certainly a fitting name for this 400-acre Windward Oahu botanical garden surrounded by the Koolau Mountains. These verdant gardens were designed in 1982 by the U.S. Army Corps of Engineers to provide flood protection for Kaneohe and feature plants from the Americas, Africa, India, Melanesia, Polynesia and, of course, Hawaii. Even better, Hoomaluhia has a 32-acre lake, from which you can do catch-and-release fishing, framed by sprawling lawns, ideal for picnicking and lazy afternoon naps. honolulu.gov/parks/hbg.html.
Waimea Valley
This lush botanical garden is part of a partially intact ahupuaa (traditional land division), spans nearly 2,000 acres and features a towering waterfall. Native Hawaiian high priests and their descendants lived in and cared for the valley for centuries; Kamapuaa, the ancient Hawaiian ruler of Oahu, dubbed it the "Valley of the Priests." Today, the park is home to more than 5,000 tropical and subtropical plants including native and endangered Hawaiian flora. Here, you'll see Hawaiian hibiscus, loulu palms and more than 48 species of kalo (taro) being grown in traditional loi, or irrigated agricultural terraces. Waimea Valley also features a fully restored hale o Lono (house of Lono). Trails throughout the park lead to the 45-foot-tall Waimea Falls in which you can swim. waimeavalley.net.
Koko Crater Botanical Gardens
Not all botanical gardens are lush and green, but still worthwhile nonetheless. Xeriscaping is the focus of Koko Crater Botanic Gardens, located in a 60-acre basin in east Honolulu (it's just up the road from Hanauma Bay Nature Preserve). You'll naturally see a lot of cacti and succulents here, as well other rare and endangered dryland plants, such as those from Africa and Madagascar, dryland palms and plumerias. The garden is a great example of Hawaii's diverse ecosystems. honolulu.gov/parks/hbg.html.
Foster Botanical Gardens
Foster Botanical Gardens offers a slice of serenity from the bustle of city life, despite being nestled in the heart of Honolulu. This 14-acre park is the city and county's oldest botanical garden and today has an impressive collection of tropical plants and trees, some of which were plants in the 1850s. Don't miss the outdoor butterfly garden and the prehistoric flora collection.
Foster also has an amorphophallus titanum plant, around 5 feet tall. When its flower blooms every three to five years, it smells like a dead body, hence its nickname, the corpse plant. honolulu.gov/parks/hbg.html.
Moanalua Gardens
This tranquil park is a great place to enjoy a picnic, fly a kite, or simply unwind for the afternoon. It's also where the Prince Lot Hula Festival takes place each July. Don't be surprised if you see several Japanese visitors take photos by a sprawling monkeypod tree, nicknamed the Hitachi tree—the electronics company famously used it in its advertising of the brand in Japan. moanaluagardensfoundation.org.
Lyon Arboretum
Tucked in the back in Manoa Valley, this lovely arboretum is operated by the University of Hawaii. The arboretum, located in a zone of tropical rain forest, received an annual rainfall average of 13 feet. The 194-acre property is home to the Hawaii Rare Plant Program and is a leader in plant conservation. It also has one of the world's largest collections of palms. As an educational organization, the arboretum offers daily, one-hour docent led tours, as well as garden related workshops, events and group hikes. (There are also self-guided tours.) manoa.hawaii.edu/lyonarboretum.