A Legacy in Lei-Making with Stacy Farias
Lei stand Sophia's—located at the Daniel K. Inouye International Airport—has been passed down through three generations, and continues to sell colorful handcrafted lei to visitors and locals alike.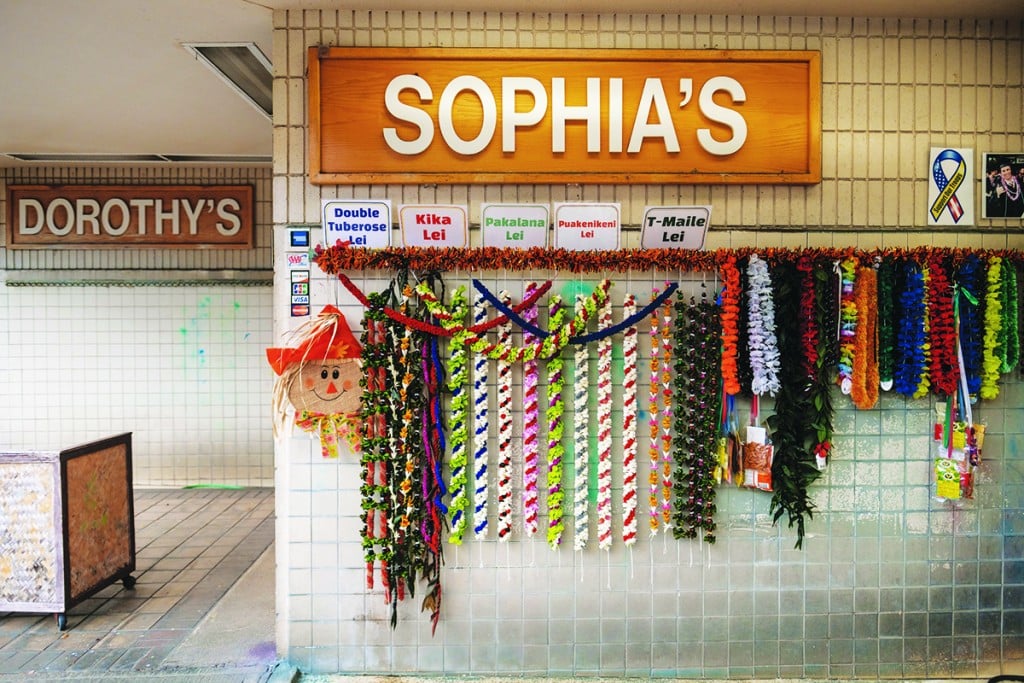 Stacy Farias holds up a strand of precious pakalana, strung together with hundreds of delicate flowers, and the sweet scent perfumes the air. More flower lei are arrayed on the table in front of her: pale orange pua kenikeni, plumeria in rainbow shades, precious pakalana, ti twisted into handsome lei for men.
Sophia's—the place is named after her grandmother—is emblazoned across the back of this lei stand at the Daniel K. Inouye International Airport in Honolulu, and Farias represents the proud third generation of a family that has been sewing and selling lei, first at Honolulu Harbor, since the middle of the last century.
"In general my grandma was the first one," says Farias, as she arranges a dozen or so colorful $5 plumeria lei. "They sold when the boats came in, from Lurline time. She was selling leis out of a basket and my grandfather was a diver and dove for the change the tourists threw in the water. That's how he lived. And that's how they met."
It's still dark when Farias arises each morning in her Kailua home. Her workday at the airport starts at 6:30 a.m., with bags of flowers arriving from vendors that the family has worked with for decades. Farias and her small crew use maybe 10 or 12 bags a day—enough to string the 60 to 100 lei they sell daily. There's only one grower left on O'ahu still raising the pink carnations that are part of her signature lei and he only sells to Farias.
Many of her orchids are now grown in Thailand and flown in already sewn, says Farias. But here, at the airport, everything else is made fresh. Lydia Bactat has been sewing lei for nine years with Farias, and Susan Maningding has been at it since 1987, working with Martha's and Arthur's before joining Sophia's.
"I call them old-school leis—the double pīkake, double carnation, double pakalana, double ginger," Farias says, while eyeing the cars that pull up in front of her stand, many of them regular customers. "With the double carnation, red was the most popular color. When I took over at the start, it was the Hawaiian lei that were most popular." They still are, she adds. "Always people seek the Hawaiian lei because they're the most aromatic," she says. But over the years, she and others have created dozens of specialty lei, adding to the choices.
All day long Farias talks story with her customers, sharing flower news with one; commiserating over a torn rotator cuff with another; happily sharing a double 'ilima, the flower of royalty, with a young woman visiting her stand on a return visit. U.S. Army Maj. Gen. Ron Clark, chief of staff of the military's U.S. Indo-Pacific Command headquartered at Camp Smith, pulls up and asks for a special lei for his wife for their 30th anniversary. He leaves with a glorious unscented pink double orchid lei.
"I've been coming here for four years," Clark says. "My wife and I buy all our lei here. You've got a lot of options and they always take good care of us—with a smile."
The family lore is unclear about when Sophia Ventura acquired the lease for the airport stand, or whether it was her brother, Gus, who actually got it for her, but Grandma Sophia actually began making lei way back in 1949, says Farias. And Farias' own mother, Joyce Vierra, grew up helping out at the lei stand, and later ran it until Farias took over nine years ago.
Even with COVID-19 taming tourism and limiting airport lei customers, Farias puts in seven-day workweeks, with days that end at 10:30 p.m.
"It's definitely a lot of manual work," she says. "You have to work at this every day because flowers die every day. When I was younger I said I'm not doing this all my life—and I have my real estate license—but I've grown to love this. Sew a lei, sell a lei, every day."