A Local's Guide to Hawaii: Chelsea Yamase
The Kauai-born social media influencer has been adventuring around the world since she was 18.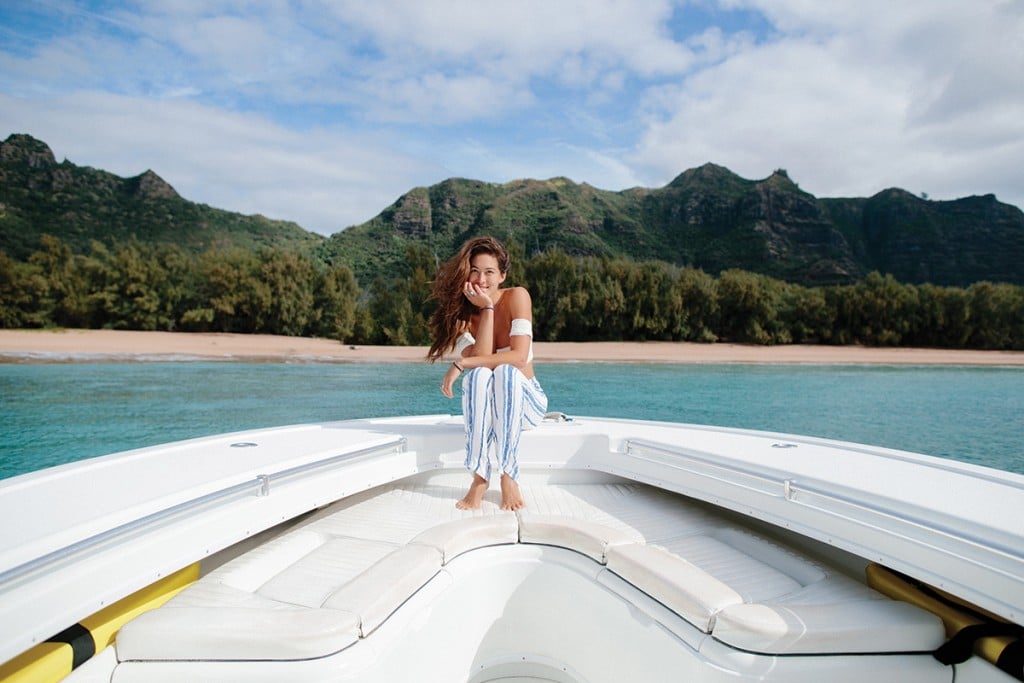 This Kauai native ditched college at 18 and moved to Europe, where she fell in love with traveling and storytelling. Since then, she's become a social media influencer with more than 800,000 followers on Instagram, entranced by her world travels and inspiring adventures. (She did go back and earned two degrees: journalism and international studies of the Middle East.)
Her posts are mesmerizing and envy-worthy: diving with whale sharks off Derawan Island in East Borneo, basking in the Northern Lights in Finland, camping and hiking through a jungle in Guatemala.
But at the end of the day, no matter where her travels have taken her, Yamase is the embodiment of the oft-heard phrase: You can take the girl out of Hawaii, but you can't take Hawaii out of the girl.
Q: Where's a place you would always go with your family?
CY: Every year since I was born, my family and I spend four days over Memorial Day weekend staying at the rustic cabins in Kokee State Park [on Kauai]. When I was little, lots of our friends' families would also go … Those are some of my earliest memories—hiking through the mud bogs of the Alakai Swamp, swimming in the chilly mountain streams, learning about invasive species and making pancakes in the misty mornings. There was no cell service there—still isn't any—and it's a place that has shown me how important it is to tread lightly on our precious home. I cherish it so, so much still. I have hiked every trail (to my knowledge) and it has never stopped filling me with wonder.
Q: Where's the first place you want to eat when you come home after a trip?
CY: Ah, that's so hard! I tend to make my own meals after being gone for a while. My favorite is grilled fish or a poke bowl from the fish my dad caught. The Saturday farmers market at Kapiolani Community College has the best food trucks. Like, I spend 10 minutes buying produce and the rest of the time eating freshly baked breads, tacos, stone-fired pizzas and homemade pineapple ice cream. For sure, it's a fun one to check out—and get there early.
Q: Where's your favorite place to eat on Kauai?
CY: I love Kalaheo Café & Coffee Co. for breakfast. I get the veggie tofu wrap, which is so flavorful and filling. (It comes with a few sides as well.) Ama in Hanalei (5-5161 Kuhio Highway) has also been a new favorite of mine for dinner. The Brussels sprouts are insane and I usually order the vegetarian ramen curry.
Q: Where do you like to hike on Kauai?
CY: I would recommend Hanakapiai Falls trail as a beautiful 3-in-1 beach, waterfall and amazing views hike. It's located in the newly reopened Haena State Park, so visitors need to get a permit online. (Hawaii residents can show their ID at the gate and get in free.) Plan to spend all day there because it's amazing.
Q: What's your favorite neighborhood to walk around?
CY: Try walking around Hanapepe on Kauai during its Art Night, which happens every Friday. I only went for the first time the other week and I had so much fun! There is live music—who knew people here play the violin really well!—and tons of good food.
Q: What cultural activity would you recommend a visitor try?
a: I know a lot of people go to luau, but I would recommend volunteering your time doing something like planting or harvesting kalo (taro). On Oahu, there is a program through Kualoa Ranch, which offers volunteer days and a chance to get dirty. On Kauai, there is an eco-tour with Hoopulapula Haraguchi Rice Mill & Taro Farm. Both locations are incredibly beautiful and would give some unique insight into Hawaiian culture.