A Local's Guide to Hawaii: Kuhao Zane
Hilo-born creative powerhouse Kuhao Zane, son of celebrated artist Sig Zane, shares his spots to eat and relax.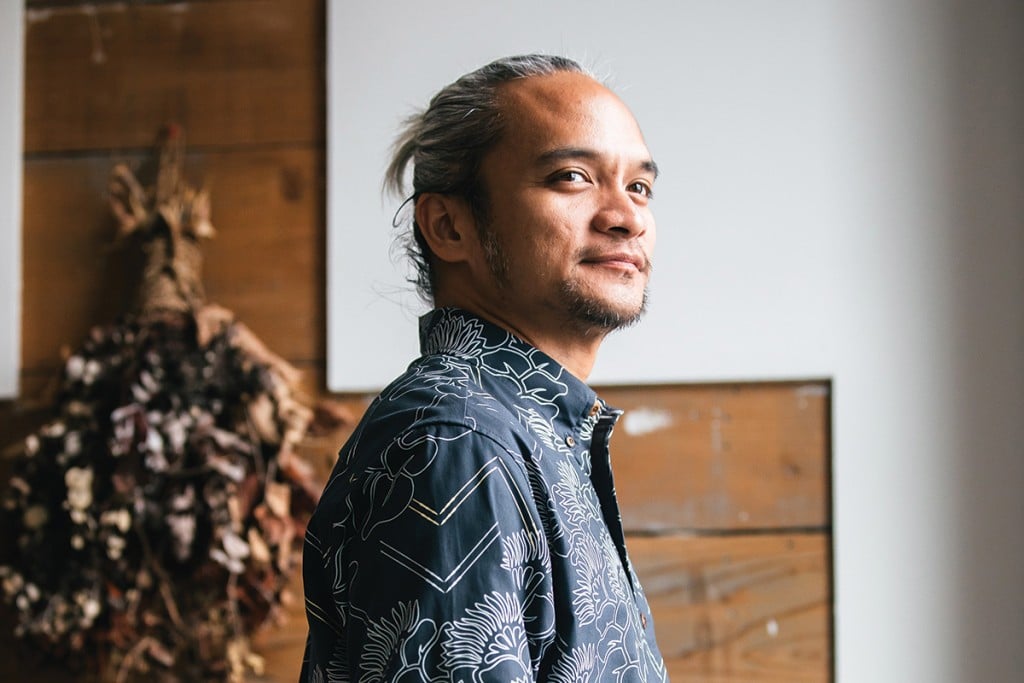 Yes, he's the son of celebrated Hawaiian artist Sig Zane. And yes, his mom is Nalani Kanakaole, the renowned cultural practitioner and kumu hula (hula teacher). But Kuhao Zane is a creative powerhouse and respected cultural practitioner on his own.
Born and raised in Hilo, Zane fell in love with art in high school, then studied it seriously at the Fashion Institute of Design & Merchandising in L.A. When he returned to the Islands in 2003, he worked with his dad at Sig Zane Designs, a Hilo-based retailer that has redefined the style of aloha wear with its modern lines and culturally rooted designs. Today, the 37-year-old serves as creative director, opening a second location in Honolulu; launching Paliku Surf, a surf shop and brand in Hilo; and extending the brand beyond just aloha shirts. (The company's spinoff studio, SigZaneKaiao, designs hotel uniforms and airplane exteriors.) Zane, the sixth generation in his family to practice hula, has also performed at 23 consecutive Merrie Monarch Festivals.
What does he do when he's got a spare moment?
"Go hunting," he says. "That's something that's exhilarating to me. Literally, from my office [in Hilo], we can go hunting within 30 minutes of leaving work."
Q: What's the first thing you want to eat when you come back home to the Islands after a trip?
KZ: I travel to the Mainland and Japan a lot, so usually when I come back home, I'll go to Hilo Bay Café and order the Bleu Bay Burger. It's probably one of my favorite burgers in Hilo. It's just literally a bun, the burger [made with local beef], blue cheese and lettuce. It's the simplicity of it. It's not too complex and everything comes together in one burger. That with a beer.
Q: What's your favorite mom-and-pop shop on Hawaii Island?
KZ: In Holualoa, I like to stop by the Kimura Lauhala Shop (77-996 Hualalai Road, Holualoa). It definitely gives you a view of the '60s. I like the vibe, for sure, and all of the little lauhala goods they have. Sometimes there's an uncle making bamboo knives. It's cool.
Q: Where do you take out-of-towners to dinner in Hilo?
KZ: Moon & Turtle (51 Kalakaua St., Hilo) definitely. The chef-owner [Mark Pomaski] is from Hilo and was raised on his mom's cooking before going off and working at Roy's Restaurant and Nobu 57 [in New York City]. Him coming back to Hilo, I can see how his ethnic roots really influence his dishes. His food is really refreshing to taste. Lately, I've been liking his chili-pepper-water oysters.
Q: Where's your favorite place in Hawaii to visit and unwind?
KZ: I have a project over in Hana, Maui, with my cousin called Ala Kukui, a retreat space that people can rent out… For me, being part of this project, I got to know a lot of the community in Hana besides my family. I have a huge appreciation and respect for the community. There's still a sense of old Hawaii there. The environment is so alive and vibrant. I actually like the drive along the Road to Hana. Literally halfway in, I forget all about my calendar items, all the meetings and appointments, I start forgetting about emails. I get a sense of rejuvenation and that's something we need more of in these modern times.
Q: What's a uniquely Hawaii thing to do on Hawaii Island?
KZ: There are so many climate zones on this island and you can traverse all of them. You can surf at Honolii in the morning and go hiking in the mountains literally an hour or two later.