A Quick Escape to Nature at Koko Crater Botanical Garden in East Honolulu
Free to visit, this garden on Oahu offers a serene tour through Hawaiian foliage, South American cacti and even African flora.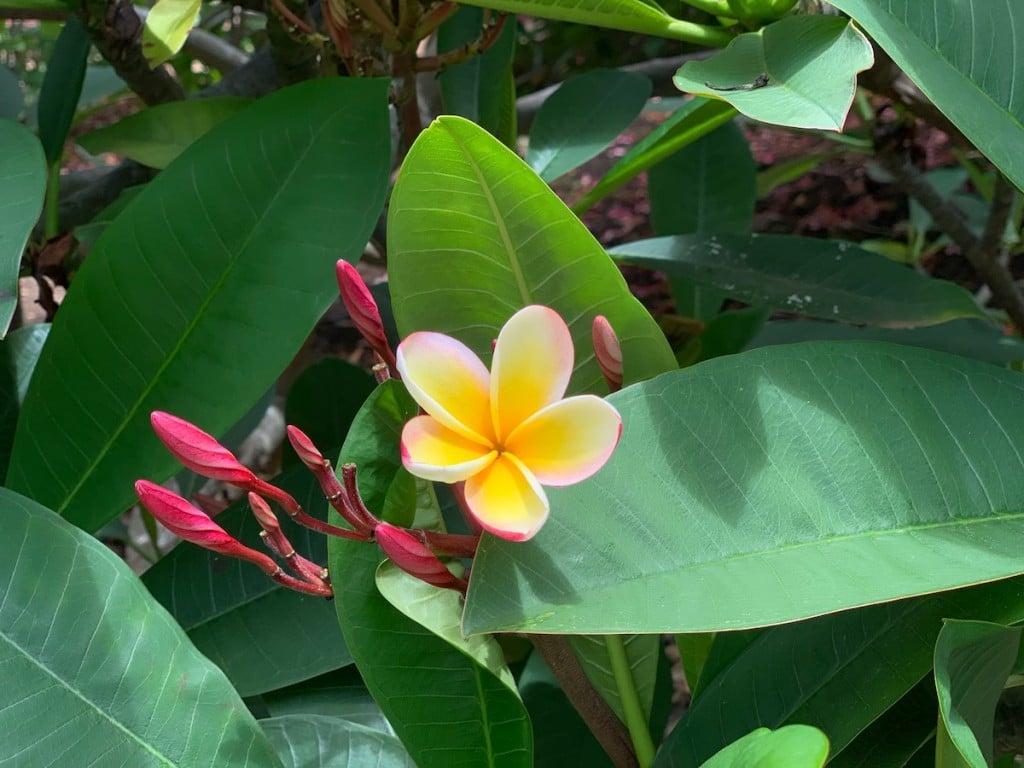 I don't think I've ever been so dumbfounded by plumeria before.
The trees grow abundantly all across the island, with blooms of various hues and petal shapes. They're so plentiful, in fact, after the tree was introduced to Hawaii in the mid-1800s, the blooms were used frequently for funerals; you could always count on them to be in bloom, no matter the time of year.
However, the trees I'm looking at are not your run-of-the-mill plumeria.
Just steps into Koko Crater Botanical Garden in Hawaii Kai, a oceanfront community about half an hour east of Waikiki, I find myself in a plumeria grove, surrounded by towering trees erupting with flowers almost as big as my hand. I spot the classic white blossom with a yellow center, bright pink plumeria and the yellow and pink plumeria that remind me of a Hawaiian sunset.
The lightly sweet smell is intoxicating and a part of me wants to pull out my latest read, sit under the shade of one of these trees and maybe take an accidental nap. But I can't fight my innate curiosity—I've got to see the rest of the 60-acre garden tucked in the basin of Koko Crater, which has conveniently been xeriscaped so that plants can still flourish in the crater's naturally dry conditions.
A part of Honolulu Botanical Gardens, you don't have to pay to explore this oasis, located about 12 miles from Waikiki. (Even parking is free.) Developed in 1958, the gardens lie within what is actually the fusion of two craters formed around 100,000 years ago during volcanic eruptions.
It's hard to imagine such earth-shattering activity as I set off on the peaceful 2-mile self-guided loop through the sleepy garden. With no one else in sight—when I arrived around noon, my car was one of only three in the small lot—the only sounds I hear are the occasional coos of zebra doves and rustling of mongooses in the tall grass bordering the dirt trail.
The garden is home to plant species from Hawaii and beyond, including fat baobab trees from Madagascar and the unsuspecting henna plant, used in India, Asia and the Middle East for its natural dyeing abilities. And those arid conditions I mentioned earlier create the perfect environment for Koko Crater Botanical Garden's top attraction: a South American cactus garden, filled with globular golden barrel cactus and curly octopus agave.
Although I recognize a few plants on my way like naupaka—the beach and mountain plant whose white flowers appear to be only half a bloom—as I turn every corner, I'm greeted with a new landscape and foreign flora. It honestly feels like I've teleported to a different country, passing Hawaiian gardenia one second, then weaving through African sausage trees the next.
With my map of the garden in-hand, I feel like a little kid on a scavenger hunt. I'm checking plaques on trees, searching for the next one listed on the brochure and trying to pronounce names like pachypodiums and alluaudias.
As much as I love seeing these exotic trees for the first time, the true gem of the garden is the atmosphere, the calming quietude I'm surrounded by as I stroll further into the crater basin. It's easy to forget about the rest of the world. As far as I know, I'm on my own island.
I didn't even realize how much I'd needed some serenity until I found myself deep within a volcanic crater. After weeks of family and friends visiting the Islands, it's been too long since I've had time to myself.
That's the beauty of Koko Crater Botanical Garden: It fits every need. Looking for a nice walk through the forest? Perfect. Want a gorgeous spot for a picnic? There's plenty of tables scattered throughout the garden. Interested in exotic plants you've only ever heard about in books? Come on down.
Whatever you choose to do, you'll leave it a lot more centered—and a little bit sweatier—than when you went in.
Open daily from sunrise to sunset, closed only on Christmas Day and New Year's Day. 2-mile trail takes about an hour and a half, bikes and dogs prohibited. 7491 Kokonani St., Honolulu, (808) 768-7135, honolulu.gov/parks/hbg