The Lahaina Banyan Tree: New Leaves Have Sprouted
The 150-year-old banyan tree is still standing in Lahaina, and experts are optimistic in its survival.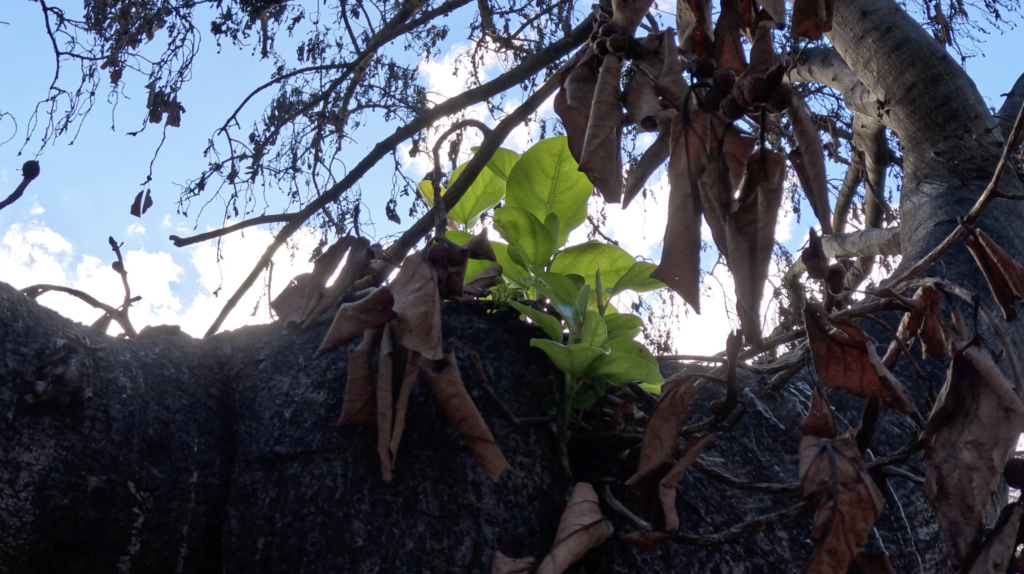 UPDATE: Sep. 19, 2023
In a video posted by the Hawaiʻi Department of Land and Natural Resources, greenery blooms in a sea of dead leaves. It is none other than the Lahaina Banyan Tree, which has acted as a ray of hope for Lahaina locals and residents who lost everything in the deadly Maui wildfires last month. The tree—and the Lahaina community—however, stands strong. While a number of volunteers immediately began to help rehabilitate the tree by airing out its soil, treating it with a nutrient-rich compost and making sure it was getting watered daily, there was still no way to know for sure if the historic banyan tree was going to make it.
However, life finds a way. After just over a month since the blazing fires, new clusters of green leaves have begun sprouting on its massive branches. Better yet—as seen in the video—numerous bunches of greenery and plant life have also started to grow around the tree and on its soil. These are all positive indicators for the tree's health, which was also aided by a blessing from Kumu Kapono Kamaunu. The volunteer group—which is made of up Maui arborists, landscapers and volunteers—who helped manage the tree's recovery has also begun working on saving the historic ʻulu (breadfruit) trees in the area as well any other surviving historic trees.
In times like this, where so much tragedy has befallen a community Hawaiʻi loves, the Lahaina Banyan Tree gives hope. It's a reminder that, even in a place that was essentially burned to the ground, life can find a way. And with enough help, perseverance and time, things can get better—and new life can begin to grow again.
UPDATE: Sep. 6, 2023
While the Lahaina banyan tree has yet to rebound back to its pre-fire splendor, signs of life are very much there, according to landscape contractor Chris Imonti.
"We did root samples last week and we had very good news as far as new life in the roots. A lot of new roots shooting off. We tested the moisture and arborist Steve Nims, who is the unofficial leader of the Banyan Tree hui has analyzed all the treatments and he is out today putting sensors on the tree to measure growth rates. With the compost tea we are seeing good results and as long as we give it enough love, I think it's going to be fine," Imonti commented.
Additional measures have been put into place by the hui (group) who are caring for Lahaina banyan tree and working towards its restoration. The ground and soil around the tree is being regularly aerated, and it is often being treated with a "tree-loving soup," a mix of nutrients Imonti himself formulated for the recovering banyan. Additionally, volunteers are spreading chopped up alfalfa, a legume—a soil enhancing green manure—around the base of the tree to aid in its recovery.
For many, the Lahaina banyan tree serves as a ray of hope for Lahaina residents, who lost everything in the Maui wildfires. Not only that, the tree serves as a special place for many, whether they were using it to serve as the perfect backdrop for a wedding proposal or just as a shady spot to rest from the sun. "I've been here for years and years so, like many others, I have a personal attachment to the tree," says Imonti. "To me, it's a symbol of hope. We're taking it to heart to try to bring back the tree, to give some hope to Lāhainā. We don't know what's down the line, but I think it's going to be a new beginning for everybody."
ORIGINAL STORY: Aug. 17, 2023
Amidst the unimaginable tragedy that has been the Maui wildfires, a ray of hope still stands. The historic Lahaina banyan tree is still alive—according to expert arborist Steve Nimz. According to Nimz, who inspected the tree over the weekend and found live tissue in the tree's cambium, the layer just below the bark, the tree shows signs that it could recover and that there isn't reason to give up hope on it.
The Lahaina banyan tree is one of the oldest in Hawaiʻi. It was planted in Lahaina on April 24, 1873, by William Owen Smith, the sheriff of the town at the time. Celebrating the 50th anniversary of the first Protestant mission in Lahaina, the exotic Indian banyan stood only 8 feet tall. The tree quickly began to expand its root system with new roots and trunks sprouting up—and the community adored the tree.
Today, the tree stands over 60 feet high. It has 46 major trunks, and it provided ample shaded space for locals and visitors to escape the Lahaina sun. And it's likely due to its exceptional growth and large number of trunks and aerial roots it has grown over the years that it survived the disastrous fires that engulfed the town.
But the road to recovery is long. For Lahaina, and Maui, it will take years before the island is able to feel a sense of normalcy after such a devastating event. And for the Lahaina banyan tree, arborists like Nimz are doing everything they can. A team of arborists have formulated a daily watering program for the tree, and local contractor Goodfellow Bros. will utilize its water trucks to keep the Lahaina banyan sufficiently watered.
Other efforts will also be put into play. Despite the soil underneath the top layer not being burned, an additional 2-inch layer of compost will be laid around the tree to provide additional nutrients to the banyan. The preexisting soil will also be aerated to allow optimal drainage when the tree is watered. A protected zone around the tree has also been designated with signs and fencing, and kumu Kapono Kamaunu blessed the tree over the weekend to help aid its recovery.
Ultimately, time will tell if the Lahaina banyan tree ever makes a full recovery. While a team is dedicated to its recovery, the tree has yet to "wake up" and show signs of recovery. And much like Lahaina itself, with this kind of trauma, only time and support can make a difference. But there's hope that people will sit under this grand banyan again.