A Visit to These Secret Ponds is a Lesson in Hawaiʻi's History and Culture
Found across Hawai'i, anchialine ponds, with their unique ecosystems, are little-known treasures often overlooked as part of Hawai'i's narrative—both past and present.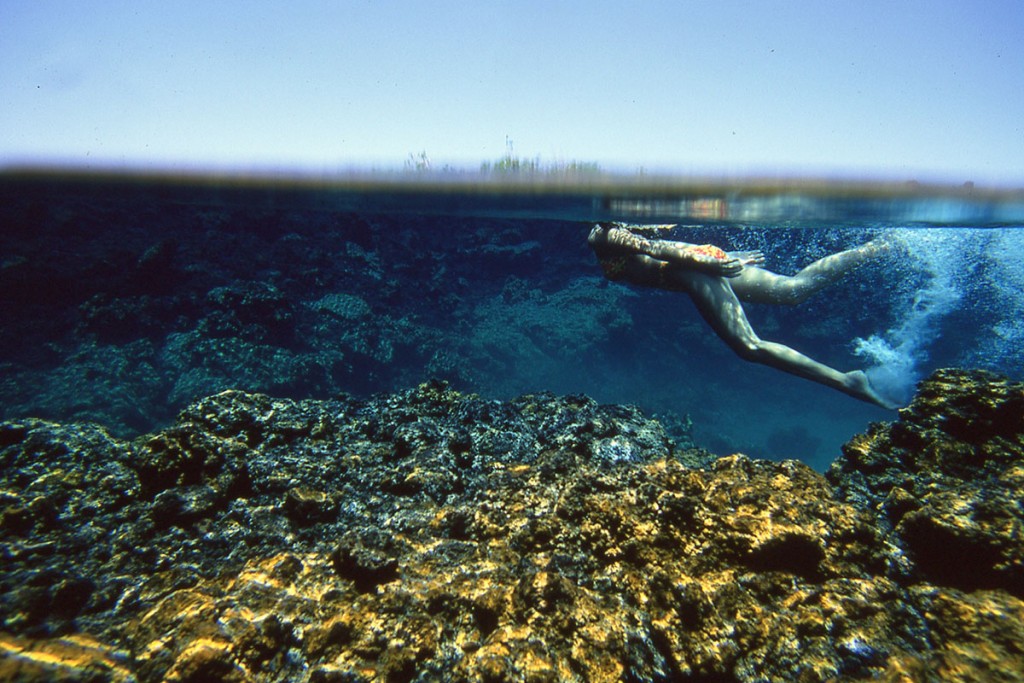 Found across Hawai'i, anchialine ponds, with their unique ecosystems, are little-known treasures often overlooked as part of Hawai'i's narrative—both past and present.
Along the South Kohala Coast of Hawai'i Island, hidden within the Waikoloa Beach Resort, is a short gravel path leading to scenic 'Anaeho'omalu Bay. Every time I walk through here it feels like I'm taking a trip back through history—and in many ways, I am. Tucked between the Marriott and Hilton hotels, the path passes by native Hawaiian foliage, a'ā lava rock formations and glistening pools of crystal clear water known as anchialine ponds.
At first glance, these bodies of water appear to be ocean tide pools or freshwater ponds. Situated several hundred yards inland, with no visible connection to the ocean, they are actually combinations of both. Managed by the Waikōloa Resort Association for educational and research purposes, this is the Waikōloa Anchialine Ponds Preservation Area.
As a resident of Hawai'i Island for 27 years, I vividly recall the first time I saw these ponds. It was like looking into a natural aquarium with species of life I had never seen before—and soothing, too, as the only sounds I heard were birds chirping, ocean waves in the distance, but mostly silence. As I encountered other ponds on the island, ranging in depth from a few inches to 10 feet, that same feeling of awe returned. I was hooked.
It wasn't just the ponds I found intriguing, but also the volcanic landscape where they are located. The water provides a lifeline for not only what lies beneath the surface, but above it as well. Trees like kiawe, milo and coconut, along with succulent plants such as 'ae'ae (a small native shrub), makaloa (a perennial sedge) and 'ākulikuli (a coastal herb) are prevalent. There are different species of birds as well, including white cattle egrets, 'auku'u (black-crowned night herons), nēnē (Hawaiian goose) and a variety of finches.
Oasis in the Lava
The term "anchialine" originates from a Greek word meaning "near the sea." Anchialine ponds exist throughout Hawai'i Island, many of them in remote areas. With a subterranean connection to ocean tides, they fluctuate accordingly. Unlike Hawaiian fishponds, which are built and managed by humans, anchialine ponds are created solely by nature. They can be found sparingly throughout the world but are most common in two locations: the Hawaiian Islands and Mexico's Yucatan Peninsula.
And in Hawai'i, these ponds are one of the Islands' most threatened ecosystems.
According to Chip Fletcher, a professor of earth sciences and associate dean at the University of Hawai'i at Mānoa, anchialine ponds require precise geographic conditions.
"Typically, this would be either volcanic terrain or limestone flats, with underground subterranean openings in the rock that connect to the sea. They also require landlocked depressions that can fill with seawater and freshwater," Fletcher explains. "The Big Island and Maui have the ideal conditions for this to occur. Arid landscape with no stream activity helps this process along, otherwise mud and sand sediments would fill them in."
Hawai'i Island and Maui have experienced the most recent volcanic lava flows in the Islands. Along Maui's southeastern shoreline near La Perouse Bay, the 'Āhihi-Kīna'u Natural Area Reserve has multiple anchialine ponds that have formed within ancient volcanic lava flows from Haleakalā.
On O'ahu and Kaua'i, however, the few anchialine ponds that do exist are found in limestone rock. The 'ewa plain along O'ahu's Wai'anae Coast is a prime example of a region where the ponds appear in limestone sinkholes and caves. Underground cracks in the rock bring saltwater in from the ocean and freshwater is provided via underground streams, groundwater or rain. It's a slightly different kind of anchialine pond, but an anchialine pond nonetheless.
Fletcher also believes the specific type of volcanoes found in Hawai'i contributes to the existence of anchialine ponds.
"In the Hawaiian Islands you have shield volcanoes, which have low slopes," he explains. "Stratovolcanoes like Mount Fuji in Japan have much steeper slopes. Stratovolcanoes would not allow a gentle coastal plain to develop below them in order to form anchialine ponds. The southwestern coast of Hawai'i Island is just sort of the ideal place."
The ponds, called loko kāheka in 'ōlelo Hawai'i (Hawaiian language), are a significant part of Hawaiian history.
"They clearly played a role," says Danny Akaka, a kahu hānai (spiritual keeper and guardian) on Hawai'i Island. "The ponds were utilized for raising fish such as mullet, awa (milkfish), and āhole (Hawaiian flagtail). These same species of fish were also raised in regular Hawaiian fishponds as well."
The key difference, Akaka explains, is the large amount of endemic red 'ōpae 'ula shrimp that exist in anchialine ponds. These were used as chum for catching 'ōpelu (mackerel).
Preservation Rules
The average water temperature in anchialine ponds is quite cold and, on hot summer days, they might appear enticing for a quick dip. While in many places it's OK to wade into the ponds, think twice before doing so. The ponds contain little to no sand, only sharp lava rock. And any pond located within a state park or natural reserve, takes on more of a look-but-don't-enter approach.
The ponds' unique ecosystem, which harbors an abundance of life, is another reason not to disturb them. Within the ponds exists a variety of marine life including pipipi (small mollusks), sea snails, kualakai (sea hares), and several species of crustaceans (like the 'ōpae 'ula and numerous shore crabs). The rapid movement of the tiny 'ōpae 'ula as they dart around the pools is mesmerizing.
Even in the few ponds that you're allowed to enter, there are rules to follow. Wearing any kind of sunscreen or body lotion is a definite no-no, as both can endanger marine life.
A few types of fish thrive in the ponds as well, including the tide pool goby, 'awa, rare eels and invasive guppies. Insects are also part of the ponds' environment: Two types of damselflies complete their life cycles around the pools. Their larvae eat aquatic organisms, while the adults hunt for flies.
Unfortunately, several factors could ultimately threaten the existence of these ponds, including Bermuda grass, which is commonly used on golf courses and resistant to high levels of salt. Once the grass roots get into the water it's hard to get rid of. Invasive fish that eat the 'ōpae 'ula are another problem because the shrimp eat algae and help cleanse the water. Rising sea levels, contamination of water sources, and too many waders and trash also endanger the ponds.
"Anchialine ponds in Hawai'i, no matter where they are located, are technically designated as area reserves. So that gets specific state agencies involved like the DLNR," says Timothy Cooke, referring to the state Department of Land and Natural Resources. Cooke is the ponds manager at the Kohanaiki community in Kailua-Kona.
Cooke's expertise with anchialine ponds is extensive. He previously worked for Waikōloa Land Co. and helped manage the anchialine ponds within that resort area, a task that's easier said than done.
"A few decades ago when some of the newer resorts came in, they really didn't know how important the ponds were, and how few existed in Hawai'i," he says. "Before then the ponds just managed themselves. Since that time the public has helped play a larger role in helping to preserve them."
These days, Cooke says, most people seem to be more conscientious about trying to respect things. "I also truly believe there are spirits in these ponds, so it's best anyway to not do anything to upset them," he adds with a smile.
Explore
For
Yourself
The locations of anchialine ponds are part of the overall excitement in finding them. That's the feeling I always have when hiking along the coastline. Encountering a pond I've never seen before, I always stop and take a good look. Anchialine ponds might look similar but there are many subtle differences. And it's always a welcome sight when I notice a cluster of 'ōpae 'ula shrimp—the true caretakers of the ponds.
Most ponds on Hawai'i Island do not have actual names, although "Secret Pond" is often used by locals. Over the years, however, I've come to view all anchialine ponds as secret ponds, each with their own mysteries. I'm sure you'll find them as alluring as I have.
For anyone visiting or hiking the coastline areas of Hawai'i Island, there's a good chance you will come across one (or perhaps several). Anywhere with volcanic landscape, arid conditions and little stream activity is typically where you'll find them. Just remember they are slightly inland from the ocean, not next to it like normal ocean tide pools. Extraordinary and distinctive, they hold a special place in Hawaiian history and will continue to inspire for many generations to come.
Where You Can Find These Ponds
Anchialine ponds on Hawai'i Island can be found in many locations near the coastline. The one exception is the Hāmākua area. The most accessible ones can be found between Kealakekua Bay and the South Kohala Coast:
Kohanaiki

Kekaha

Kai State Park

Kūki'

o

Bay

Ka'

ūpūlehu

Kīholo

Akahu

Kaimū

Bay

WaikŌloa

Kalāhuipua'

a
Any kind of irregularities in an anchialine pond should be reported to the DLNR at (808) 587-0300 or dlnr@hawaii.gov.
Kirk Lee Aeder is a longtime photojournalist and 35-year resident of Hawai'i. He has been contributing to HAWAI'I Magazine since 1995.