A Visual Journey Through Oahu's Lush Manoa Valley
The epitome of Oahu's urban residential valleys, Manoa Valley is filled with lush natural wonders, age-old architecture and ono grinds.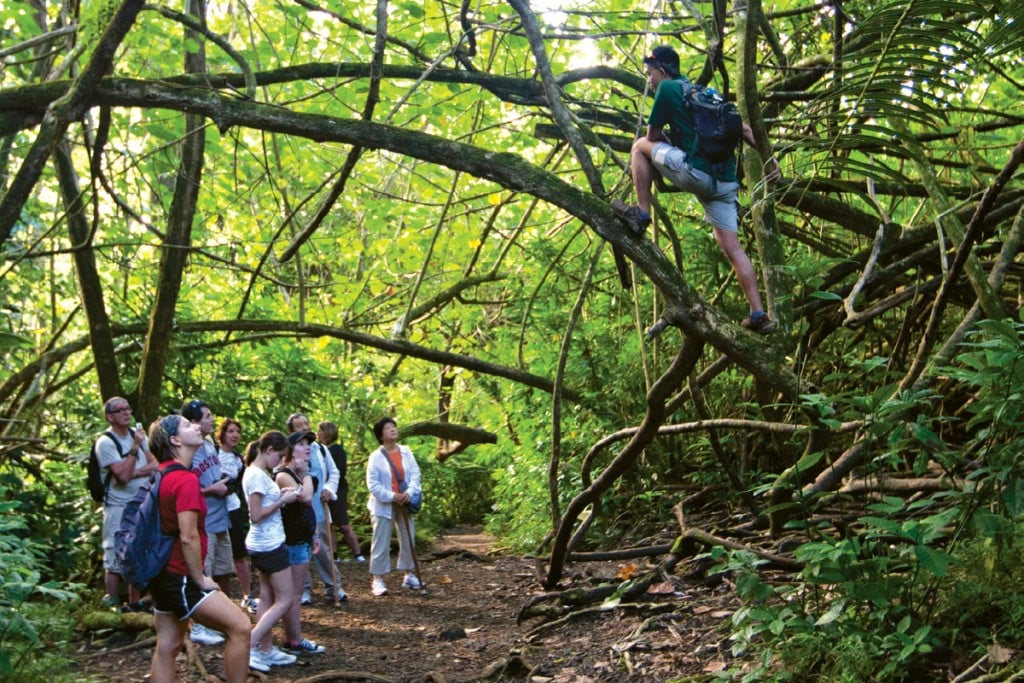 It's not a coincidence that manoa, in Hawaiian, means "vast."
Not only is this lush valley on Oahu's south shore immense in physical size — extending from the emerald peaks of the Koolau Mountains to the coral reefs off Waikiki — but its history, its culture, its people and its offerings are vast, too.
A true residential valley, rich with churches, parks and tree-lined streets with homes finished in traditional New England-style charm and modern flair, Manoa is also stocked with waterfalls and miles of hiking trails. All of it, just footsteps from Honolulu's busy urban core. The valley is home to a venerable performing arts theater, a Chinese cemetery, a world-class arboretum and the state's flagship university. You'll also find great bakeries, a crêperie, grocery stores, restaurants, sandwich shops, boutiques, gas stations, yoga studios and a weekly farmers' market where you can buy shiitake mushrooms, apple bananas and lettuce grown in and named for the valley.
Once an agricultural valley—for more than a century its floor was home to everything from sugar and coffee plantations to taro fields—Manoa now boasts a residential population numbering more than 40,000. Its clanging trolleys and horse-drawn wagons have disappeared, long ago yielding to automobiles and paved roads.
But remnants of Old Hawaii still remain in this valley, peeking from behind Manoa's restrained urbanity and whispered in its ghost stories. It's still the kind of neighborhood where people wave to each other and store owners remember your name. Even the daily rain showers that keep the valley perpetually green seem friendlier here.
This is Manoa now. And once you've visited, you'll want to return.
The great outdoors:
Manoa Valley's verdant backdrop is the majestic peaks of the Koolau mountain range, often dressed with clouds that bathe the valley with frequent rains. Many trails meander through the valley's forests and along its ridges. One of the most popular is the gentle, nearly mile-long trail to Manoa Falls (pictured below). The trail passes through rain forests and bamboo groves to the base of the 150-foot waterfall deep in the valley. The rustle of the trees and cacophony of birdsongs will leave you questioning whether you're really only five miles from urban Honolulu.
Where past meets present:
Seeming to blend organically with the natural beauty of Manoa Valley is the movement of its everyday life. From students rushing by night-blooming cereus along the stone walls of famed Punahou School to the yukata-clad dancers munching on roasted corn and sweet andagi doughnuts at Koganji Temple bon dances during the summer, Manoa is a magical blend of ancient and modern, natural and manmade. The historic home, Kualii (pictured below), on Manoa Road, is proof the two can co-exist. The grand Tudor Revival-style edifice boasts a steep gable roof and façade, with timbered and stucco walls. The estate is also home to Manoa Heritage Center and Kukaoo Heiau, the latter a restored agricultural temple originally constructed by the valley's ancient Hawaiian residents.
Ono Manoa:
In Manoa you'll find the best food in the most unexpected of places—restored, decades-old buildings, alongside fast-food restaurants and in neighborhood shopping centers. Manoa is home to dozens of quirky eateries, from a gourmet pizza place to a crêperie tucked away in a former gas station. Andy Rodrigues (pictured below) and his wife, Norma, have been running Andy's Sandwiches & Smoothies on East Manoa Road since 1977 in a restored neighborhood marketplace that is a valley landmark. Andy's specializes in ono (tasty) stacked sandwiches, fresh smoothies and pastries, and serves up the valley's best breakfast. The always gregarious Rodrigues loves to talk to his customers. Stop by once and you'll become a regular.
Contact information:
Andy's Sandwiches & Smoothies
2904, East Manoa Rd., (808) 988-6161, andyssandwiches.com
College Hill
2230 Kamehameha Ave., not open for tours.
Fendu Boulangerie
2752 Woodlawn Dr., (808) 988-4310.
Kamakakuokalani Center for Hawaiian Studies
2645 Dole St., (808) 956-0555.
Koganji Temple
2869 Oahu Ave., (808) 988-4905, koganjitemple.org. 
Manoa Heritage Center
2859 Manoa Rd., (808) 988-1287, manoaheritagecenter.org.
Le Crêpe Café
2752 Woodlawn Dr., (808) 988-6688, lecrepecafe.com.
Lyon Arboretum 
3660 Manoa Rd., (808) 988-0456., hawaii.edu/lyonarboretum.
Manoa Chinese Cemetery
3225 Pakanu St.
Manoa Cliffs Trail
Trailhead off Round Top Drive, hawaiitrails.ehawaii.gov.
Manoa Falls Trail
Trailhead at the end of Manoa Road, hawaiitrails.ehawaii.gov.