Add Some Sweetness to Your Day with a Yellow Watermelon from Kaua'i
The juicy, bright yellow flesh tastes just as sweet as it looks.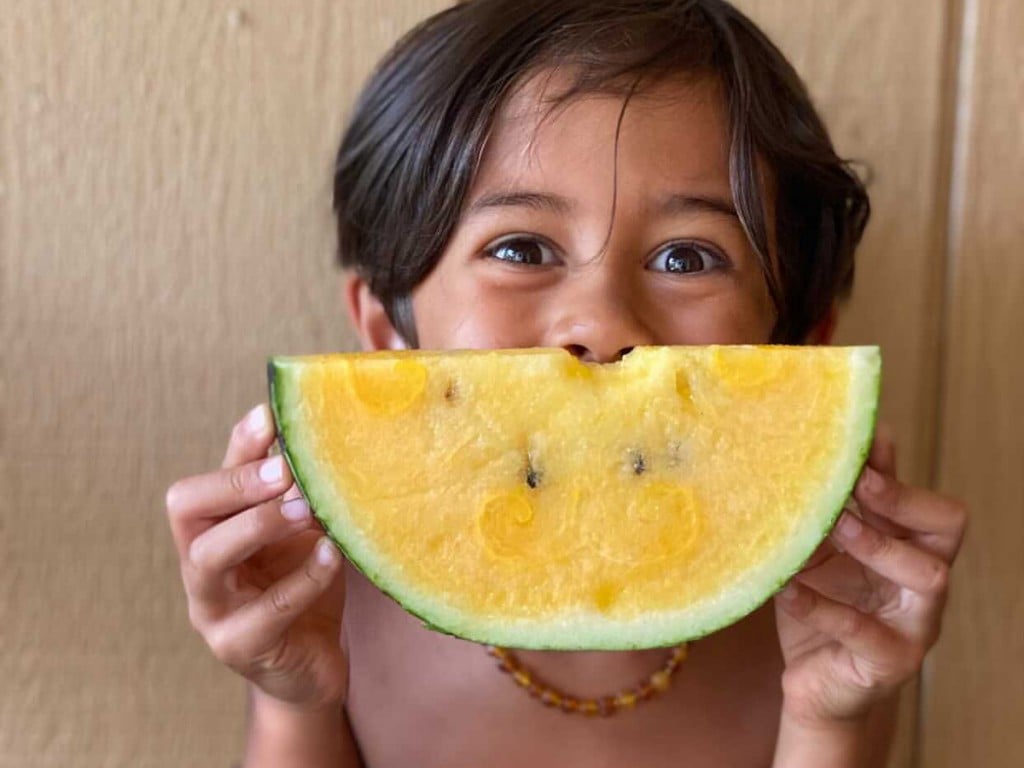 When you think of watermelons, you probably think of the typical round, pink-fleshed summer fruit. I do, too, so I was surprised to learn that watermelons can have bright yellow flesh.
Depending on who you ask, yellow watermelons might be just as sweet or sweeter than traditional pink ones. Sakda Meephol, who farms on 50 acres in Kōloa and Moloa'a on Kauaʻi, says they're sweeter and their yellow flesh is crunchier. In fact, he calls yellow watermelons "honey watermelons" because their flesh is sweet like honey. That's also what they are called in his native Thailand.
Meephol began planting yellow watermelons this summer and has been selling them at farmer's markets in Līhu'e and Pō'ipu. Customers, he says, typically try the yellow watermelons when the pink ones aren't available. Many become hooked and will ask him for the yellow variety when they return to each week's market.
"That's why I feel happy when working," he says. "When people really like my fruit, I happy to do that, the work that I do."
Yellow watermelons get their lemony color from a lack of lycopene, an antioxidant that gives traditional pink watermelons, as well as tomatoes, their red pigment. They also contain the antioxidant beta carotene and Vitamins A and C, which support healthy immune systems.
These bright-fleshed watermelons originate from Africa and can also be found on the Mainland. Jensen Uyeda, an edible crops extension agent at the University of Hawai'i, says yellow, orange and other non-traditional watermelons have been grown locally for more than 20 years.
He recalls his first time sampling yellow watermelon at a family reunion on Maui in the late 1990s: "It was interesting to me that there was something that was very out of the ordinary," he says. "And the flavor itself, I think, was a little different than the traditional watermelons. And I don't know if it's because of the color that made it taste different or if it actually has different flavor characteristics."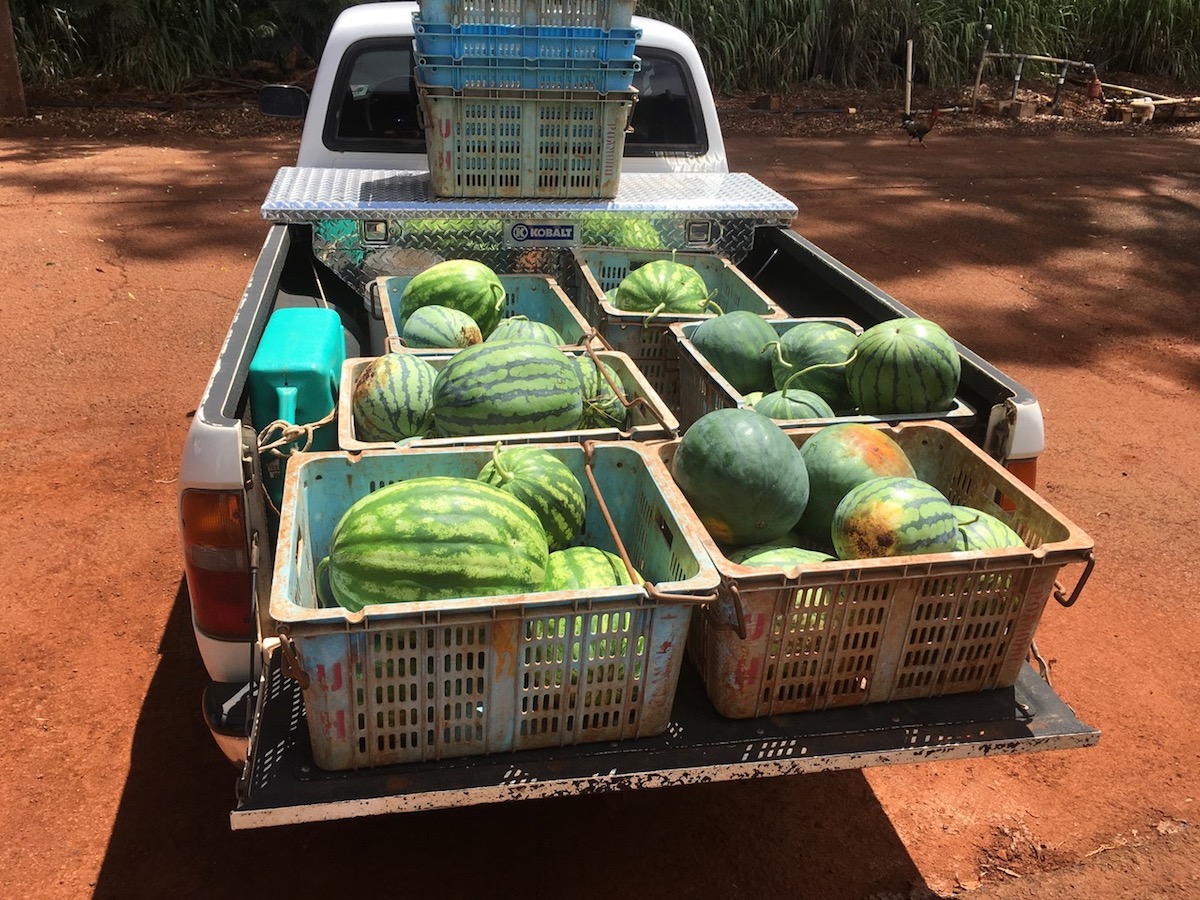 There are over 100 watermelon varieties, and he says he's not sure of all the yellow variety names, but some are called Yellow Crimson, Yellow Doll, Buttercup Yellow Melon, Desert King, Yellow Petite, Amarillo and Sunshine. Like with pink watermelons, yellow varieties can have varying physical characteristics, such as skin color and pattern and rind thickness. Some are seedless.
In his role as a crops extension agent, Jensen has successfully grown Amarillo and Sunshine watermelons as part of an informal and observational research project and helps O'ahu farmers with pest management for various crops. But he doesn't think many local people are growing yellow and other non-traditional varieties.
That just means that finding one locally is a special treat.
Līhu'e farmer Elmer Viernes and his wife, Ailyn, have grown yellow watermelons for 10 years. They dedicate one acre each summer to this crop, which typically takes about two months to grow from seeds. They don't know what variety their yellow watermelons are, but they have an oblong shape and tend to weigh around 5 pounds. They sell them at the Puhi Park farmer's market in Līhu'e and Papaya's Natural Foods in Kapa'a and say that lately more people have been asking for them.
"I think they're amazed by the color," Ailyn says. "Unusual."
The unique color and taste even piqued the interest of a local business. Kauai Juice Co. created and sold about 10 to 20 gallons of yellow watermelon juice for about a week this summer. Owner Kristal Muhich says this was the first time she had seen yellow watermelons—a small amount of them were included when one of her regular farmers delivered their produce—and figured it was worth experimenting with this new ingredient. No surprise, customers loved it; the juice, which was made fresh each day, sold out quickly.
"We'd love to offer it again, however there was only a small amount available, so we are not able to until it comes back in season next year," she writes in an email. "Hopefully more farmers will grow it!."
Though, there's a chance you might not have to wait until next summer to get your hands on some. Meephol hopes to grow yellow watermelons all year because customers keep asking for them.
"I'm not sure I can do or no because the watermelon, they don't like too much rain," he says, adding that watermelons need a lot of sun. "But I want to try because customers, they (are) asking for the watermelon."
If you are lucky enough to find some, it's best to eat it sliced and chilled, he says: "When you eat sweet, you want it a little bit cool and that tastes mo' bettah."