Add to the List: Things to do in June 2018 in Hawaii
Feel at home as we celebrate Hawaii's beloved—from the refreshing mango to the great King Kamehameha himself.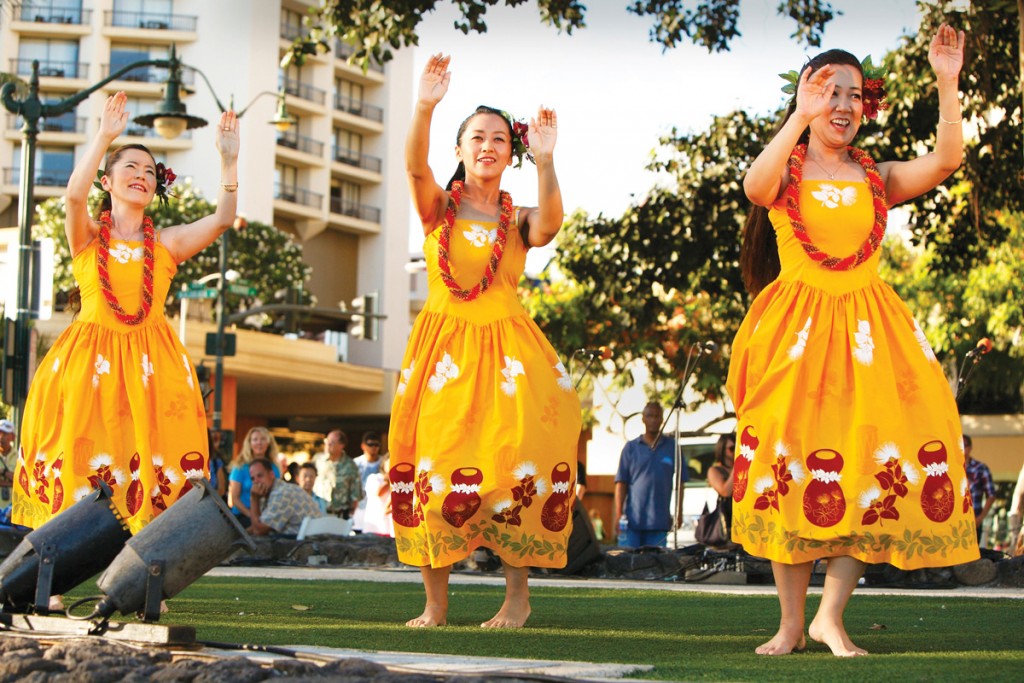 This month we celebrate everything that Hawaii loves: luau with all of our favorite grinds, music from local artists, hula performances and more.
All Islands
King Kamehameha Day
6/11
Estimated to stand over 7 feet tall, King Kamehameha is a monumental figure in Hawaiian history. From Kauai to Lanai, floral parades and pau horseback riders (ladies wearing long printed skirts) will take to the streets to honor Hawaii's great unifier, as well as to celebrate Hawaiian culture. Statewide, ags.hawaii.gov/Kamehameha.
Oahu
Habilitat's 18th Annual Luau, Auction and Benefit Concert
6/2
Every year, Habilitat, one of the nation's highest-ranking addiction treatment program, puts on one of the biggest luau on the island. In this family-friendly event, watch live performances from Hawaii's top entertainers, bid on a live and silent auction and feast on classic local grinds from lomilomi salmon to chicken long rice. All proceeds go toward scholarships for its rehabilitation programs. $20–$325, 10 a.m. to 4 p.m., Kualoa Ranch, 49-560 Kamehameha Hwy., Kaneohe, habilitat.com.
Pan Pacific Festival: Matsuri in Hawaii
6/9–6/11
Expect to hear taiko drums rhythmically thumping in the background of the blockwide opening day hoolaulea (celebration), which will also feature Hawaiian music, hula and ethnic cuisine. The entire matsuri (festival) culminates in a parade down Kalakaua Avenue. Free, various times and locations, pan-pacific-festival.com.
Third annual Honolulu BBQ Festival
6/2
Dig into scrumptious traditional southern barbecue near the shores of Waikiki Beach and catch performances by a diverse group of artists, including Na Hoku Hanohano award-winner Anuhea and headliner Tennessee artist Kalsey Kulyk. $35–$55, 6 to 9 p.m., Hilton Hawaiian Village, 2005 Kalia Rd., Honolulu, hiltonhawaiianvillage.com/bbq
Mango Jam
6/29–6/30
If you thought the pineapple got all the credit, you'll be pleased to know that the mango has a festival of its own. Celebrate this island favorite with dozens of local vendors, live entertainment, mango-inspired dishes and cocktails. The event also features two competitions—a mango recipe contest, which is open to the public, and a barbecue cook-off between two teams of executive chefs from Vino Italian Tapas and Wine Bar and Sansei Seafood Restaurant & Sushi Bar. If that wasn't enough to make your mouth water, the first 100 people at the cook-off can get a lucky sample. Yum! Free, various times, Frank F. Fasi Civic Grounds, 650 S. King St., Honolulu, mangojamhonolulu.com.
Maui
37th Annual Kapalua Wine and Food Festival
6/7–6/10
Food and wine, a match made in heaven. This year's event is hosted by master sommelier Michael Jordan, known as "The People's Sommelier" for his relaxed attitude and easy-to-understand lessons on wine. Celebrity chefs will also make an appearance, such as Hubert Keller of the Food Network and James Beard award-winner Nancy Oakes. $100–$210, various times, Kapalua Resort, Kapalua, kapaluawineandfoodfestival.com.
Maui Film Festival
6/13–6/17
Bring out that beach chair and get your popcorn ready for a unique film experience that puts you right under the night sky. Watch feature films from a diverse group of filmmakers, including a Hawaii short film showcase. $60–$935, various locations, mauifilmfestival.com.
Zenshin Daiko's 19th Annual Taiko Festival
6/23
Maui's taiko festival is back for their 19th year, put on by Maui's own children's taiko group, Zenshin Daiko. Special guests this year include a well-known collegiate taiko group Stanford Taiko and Kenny Endo, a renowned taiko master. $10–$20, 7 p.m., Maui Arts & Cultural Center, 1 Cameron Way., Kahului, mauiarts.org/zenshin_daiko.
Kauai
6th Annual Kauai Fashion Weekend
6/23
Gather alongside other fashion enthusiasts for an unforgettable runway show that highlights the creative works of the Garden Isle as well as visiting artists, such as international designer Edgar Madamba from Manila. Before that, purchase your own pieces from the featured designers and more in a shopping experience that's free to the public. $35–$495, 4 p.m., Kauai Marriott Resort, 3610 Rice St., Lihue, kauaifashionweekend.com.
Lanai
Fifth Friday
6/29
Little Lanai lets its hair down every fifth Friday, lighting up Dole Park with music, food and drinks. To reach Lanai City, consider flying Mokulele Airlines or take a ferry from Maui across the Auau Channel for some spectacular sights on your way over to the Pineapple Island. $60, 5:30 to 8 p.m., 730 Lanai Ave., Lanai City, fifthfridaylanai.com.
Molokai
Molokai Ka Hula Pio
5/31–6/2
In oral Hawaiian moolelo (histories), a woman named Lailai made her home on Molokai and introduced the art of hula to the island's people, which then spread to the other Hawaiian Islands. To celebrate the birth of hula, halau (troupes) perform over the course of three days, and the event ends with a grand hoolaulea. Free, various times and locations, kahulapiko.com.
Big Island
Ka Aha Hula O Halauola
6/14–6/23
Held once every four years, Ka Aha Hula O Halauola will return once more to Hilo to promote and showcase this ancient Hawaiian art form. With various hands-on workshops and exhibitions on hula and Hawaiian culture, presented by a kumu hula (teacher), practitioners and scholars of Native Hawaiian culture, language and arts, you'll find yourself immersed in this intimate learning opportunity. Various prices, times, and locations, kahoh.org.
25th Anniversary Kona Marathon
6/24
Starting from the Waikoloa Beach Resort, participants can view firsthand the lush mountains and the spectacular ocean view to the iconic lava fields of Kona in this annual marathon. Choose between a full, half, quarter, and a 5K run to match your speed and enjoy the view in your very own scenic tour. $35–$125, Waikoloa Beach Resort, Waikoloa Beach Drive, Waikoloa, 5:30 a.m to 1:30 p.m., konamarathon.com.