Adopt a tree for the new ulu phenology project
The citizen science project lets volunteers choose a tree and observe its lifecycle.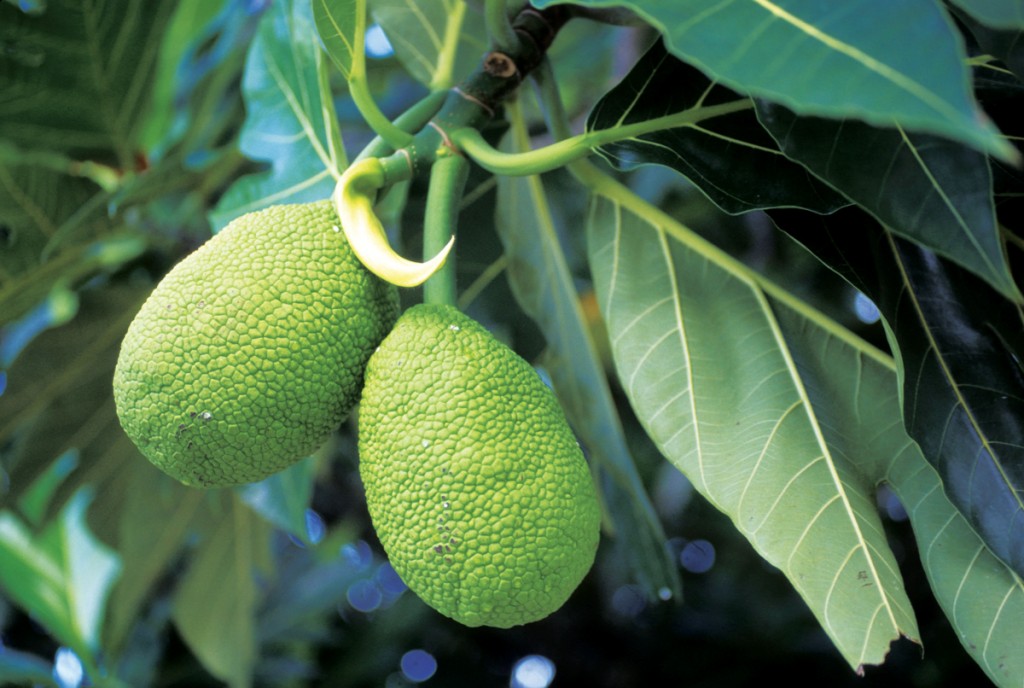 Want to support local food production, add to the body of scientific knowledge on under-studied plants and expand your family circle? "Adopt" an ulu tree. Assistant professor Noa Lincoln, assisted by graduate student Blaire Langston, has launched a new citizen science project inviting volunteers to choose a local tree and observe its lifecycle events in order to build knowledge about breadfruit and support it as an emerging crop.
Ulu is valuable in terms of food sustainability because it makes so much food—up to 500 pounds a year per tree or more. However, it is also a seasonal crop, with each tree fruiting one to three times a year. If all trees were on the same cycle, this would lead to periods of market glut followed by times of scarcity. It is possible to modify the fruiting cycles to some extent, though, by planting trees in different areas and under different growing conditions.
This is one of the things that the ulu Phenology project is studying. Phenology refers to the timing of biological phenomena such as fruiting, flowering, breeding and migrating, especially how they change in relation to climatic conditions. For this project, it means that citizen scientists will record their observations of when flowers appear and drop, when fruit emerge and ripen and fall. Dr. Lincoln and Ms. Langston, both in the College of Tropical Agriculture and Human Resources, will coordinate that data with information about the areas where the adopted trees are growing, such as elevation, rainfall patterns, and soil types.
At the end of the three-year study, the information gathered will be made publicly available to support efforts in breadfruit production. They will also create regional and statewide phenology maps. Growers will be better able to understand when ulu grown in different areas and under different conditions are likely to fruit, which can help coordinate efforts to ensure a consistent supply. Breadfruit are also very sensitive to climate, and having a record of their phenology changes will be helpful in tracking changes to the climate.
Citizen scientists are encouraged to visit the project website at breadfruit-phenology.herokuapp.com and create a profile of the chosen tree. It doesn't have to be on the owner's property—it can be at a church or school, or in a public place, as long as it's planted in the ground and growing somewhere easily accessible. They are asked to submit observations of the tree every two weeks, whether online, by email, or by phone. Those with questions can also contact Dr. Lincoln at nlincoln@hawaii.edu or Ms. Langston at blairej@hawaii.edu.