Ala Moana Center Has Reopened—And Here's What It's Like
O'ahu's premier shopping mall, Ala Moana Center, had been closed since March 23 due to the COVID-19 pandemic.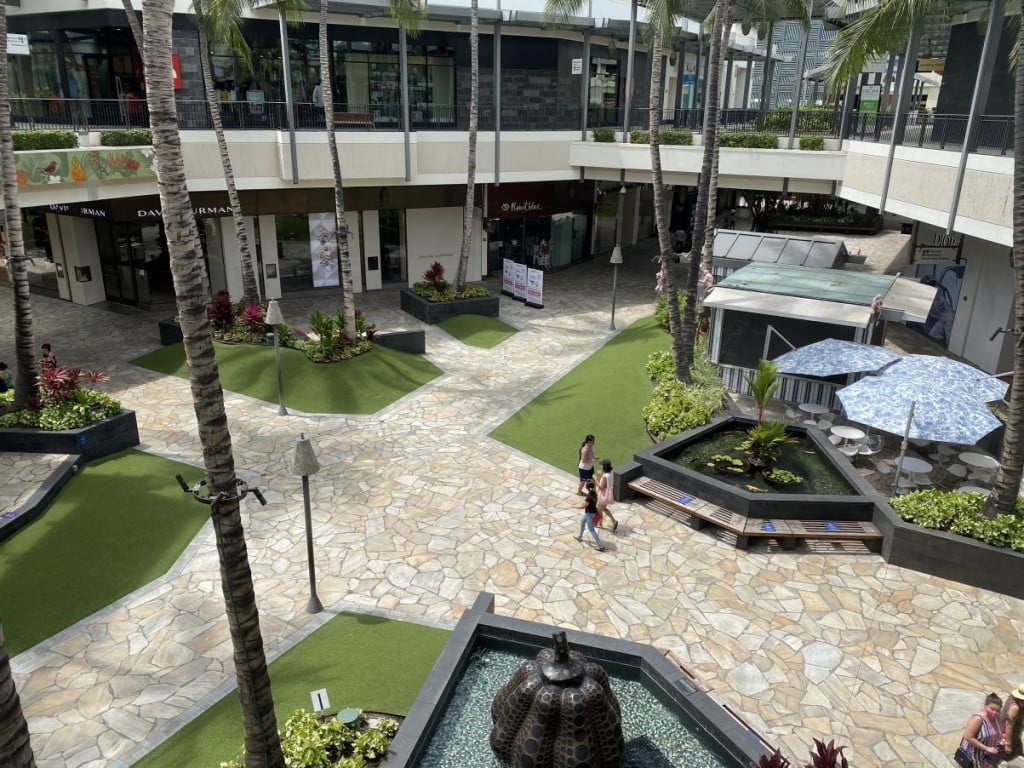 After being closed for nearly two months due to COVID-19, Ala Moana Center reopened to the public on May 15. I decided to wait a few weeks before making a return trip to the mall to grab a few pieces of clothing—I needed more boxer briefs—from Uniqlo. So, as I pull into the Mauka ʻEwa parking structure on a bright and sunny Thursday afternoon, I'm surprised to see half of the parking lot's stalls taken up by cars. It's not a huge number of cars, and nowhere near the normal amount you'd typically find at Ala Moana Center, but it isn't as empty as I thought it would be.
That said, I'm able to find a prime parking stall—one close to the elevators that take you down to Longs Drugs—on the third floor. Making my way into the center of the mall, I am a little thrown off by how quiet everything is. Instead of the chatter of visitors, the clicking and clapping of slippers and sandals and that normal mall clamor, I'm treated to a mix of birdsong and silence. My normal mall missions are typically just that, runs where I'm heading to and from my destination without detours or deviation, but this new shopping atmosphere makes me want to take my time.
There's still foot traffic throughout the mall, with small groups of individuals ambling about the complex, some with masks on and some with masks draped around their necks. At first I can't understand the reasoning behind the latter, but then I learn. While most of Ala Moana Center's stores are air-conditioned, the walking areas outside the stores can get hot, especially during the summer, and the mask on your face can quickly become an uncomfortable sweaty pit. It pains me to say that, before too long, my mask is draped around my neck too.
Wearing your mask, however, is not optional when entering stores at Ala Moana Center. Through casual observation, I find that stores that have reopened—mostly budget-friendly clothing shops like American Eagle, Ripcurl and Macy's rather than the higher-end designer boutiques—vary in their pre-entry rules. Some shops, like San Lorenzo Bikinis, only allow a small number of customers inside at a time. Others require hand-sanitation before entering, and all shops require customers to wear masks; some stores—Aerie is one—even have extra masks on-hand for people to use (and keep).
My purchase at Uniqlo goes seamlessly, and without contact. I push my boxer-briefs to the sales associate through an opening in her plexiglass register setup, and after ringing me up, she puts my new undergarments into a bag, free of charge, and pushes it back my way. To fill the time in our no-touch transaction, I ask her how business has been. She tells me how her store is now only at half of its daily pre-COVID-19 sales; I had heard a similar sentiment from a young woman folding tees at Ripcurl. Maybe that's why there are so many deals right now, with almost every shop I visit having some sort of clearance sale—buy X get Y free, 50% off everything—going on.
Finding a place to sit at Ala Moana Center has never been easy, but right now? It's close to impossible. Every public bench I see has a "seating area is closed" sign on it—except for a couple that had their signs very intentionally ripped off—and your best bet is finding a cafe like Honolulu Coffee Co., which does allow a small number of customers to sit in its store. Taking the elevator—yes, those are still operational, they're just limited to one family at a time—down to the ground level food court, I was shocked to see it so empty. While most of the eateries are open, there are no chairs, no tables and nobody eating, a complete opposite of what this normally bustling food court is like on any given day of the week.
Walking back to my car, I spot a couple sitting on a grassy knoll enjoying a plate lunch. A friendly security guard approaches them and asks that they not sit or congregate, and the couple gets up and out with no grumbles. It's sunny and nice and so, so quiet. I'm not shoulder to shoulder with other people, and am free to move at my own pace. For now, this is the new Ala Moana Center. And as strange as it is being in a mall during this COVID-19 pandemic, it's not a bad thing. Just wear a mask and stay on your feet.
For more information on Ala Moana Center, visit its website. You can find a full list of what stores are open here.