Allegiant expanding air service to Honolulu with flights from Mesa-Phoenix, Ariz. area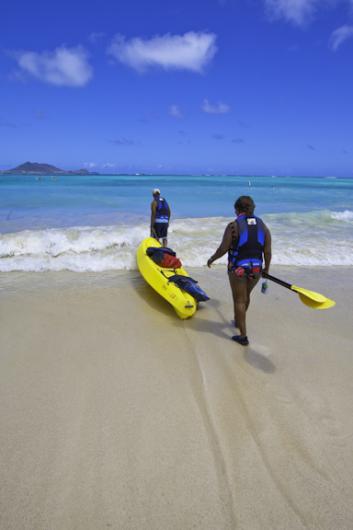 Allegiant Air, a Nevada-based airline owned by Allegiant Travel Company, announced this week that, starting in February 2013, it will begin providing weekly direct service between Honolulu and the Mesa-Phoenix area in Arizona. The new service increases the airline's planned mainland-Oahu lineup to include a total of 10 cities in Western states.
Introductory fares for one-way flights between Honolulu International Airport and Phoenix-Mesa Gateway Airport (about 20 miles south of the downtown Phoenix area) are as low as $199 for air service that's slated to begin on Feb. 7, 2013. However, the fares are limited (not available for all flights) and must be purchased by Tues., Aug. 28 for travel by April 16, 2013. For more information about flight schedules, click here or call 702-505-8888. For information about baggage fees (including fees for carry-on luggage), click here.
In a news release issued yesterday by the Hawaii Tourism Authority, the state tourism agency's president and CEO, Mike McCartney, said the route, which will be in operation three-times weekly, "opens up access to and from Arizona's third-largest city (Mesa)." Currently, the only other Arizona city with direct service to Hawaii is Phoenix (Phoenix Air Harbor International Airport) .
Allegiant made its first-ever flight to Hawaii in late June, when it launched its service from Las Vegas to Honolulu. On July 1, the airline sent its first flight from Fresno, Calif. to Honolulu International Airport. In May, the carrier announced that, starting in mid-November, it will provide nonstop air service from Monterey, Calif., Bellingham, Wash., Eugene, Ore., Santa Maria, Calif., and Stockton, Calif. In addition, beginning on Nov. 14, it will fly from Maui's Kahului Airport to Bellingham.
Also, earlier this month, the airline announced that on Feb. 8 and Feb. 9 it will start providing weekly service from Honolulu to Spokane, Wash. and Boise, Idaho, respectively.
Founded in 1997, Allegiant Travel Company specializes in providing low-cost travel packages that include air, hotel, rental car and attractions. For additional information about Allegiant Air, click here.