Aloha Festivals to host 59th annual Waikiki Hoolaulea — Hawaii's largest block party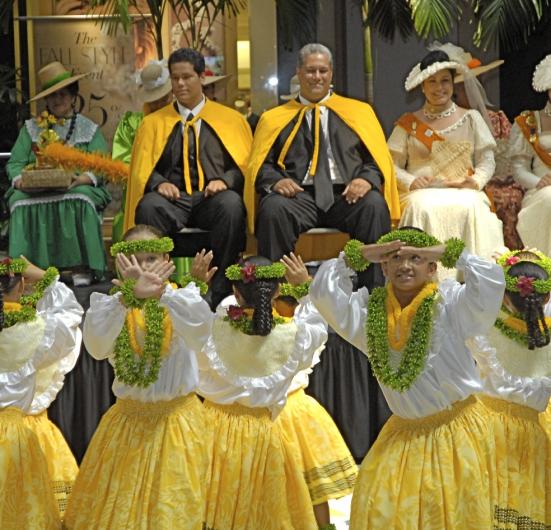 Among the highlights of Aloha Festivals, now under way on Oahu, is the 59th annual Waikiki Hoolaulea — also known as Hawaii's largest block party.
Thousands of festivalgoers are expected to turn out for the hoolaulea (celebration) set for 7 p.m. to 10 p.m. on Sat., Sept. 17. It will span more than 12 blocks along Waikiki's beachfront main drag, Kalakaua Avenue. Entertainment stages will showcase Hawaiian music and hula halau (hula groups), and the avenue will be well stocked with 26 food booths and more than 30 craft booths.
Performances at five entertainment stages will get under way at about 7 p.m. The stages include: Waikiki Beach Walk stage (at fountain), FISH 95.5 FM and new Hope Oahu Stage (Lewers Street at Kalakaua Avenue), Royal Hawaiian Center Stage at Royal Grove, Starwood Hotels & Resorts in Waikiki stage at Moana Surfrider (Westin resort), and Hawaiian Airlines stage at Hyatt regency Waikiki.
The month-long cultural celebration will wrap up with the Aloha Festivals Floral Parade, set for 9 a.m. Sept. 24. Packed with extravagant floats, pau riders (Hawaiian-style horseback riding), marching bands and, of course, cascades of Hawaiian flowers, the parade will travel from the Ala Moana Park area to Kapiolani Park, near Waikiki Beach.
If you cannot find your way to a curbside along the parade route, you can watch it online via livestream webcast. Channel808 crews will be broadcasting live footage from the parade's reviewing station at the Hawaii Prince Hotel. Also, the crew will use a roaming camera. For additional information about the webcast, click here.
Aloha Festivals, one of Hawaii's longest-running celebrations, was founded in 1946 as Aloha Week. The celebration was renamed Aloha Festivals in 1991. This year's theme, Mele Ailana, translates as "Celebrate Island Music." For additional information about Aloha Festivals, click here.