Aloha, Mr. President! Hawaii son Barack Obama wins.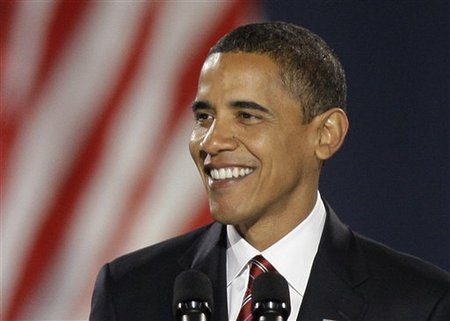 The long distance between Beretania Street and Pennsylvania Avenue seemed a bit smaller last night.
Hawaii born-and-raised Barack Hussein Obama is the 44th president of the United States of America.
The first-term Illinois senator ended his epic two-year campaign for the White House last night with decisive victory margins in both the popular vote and Electoral College vote. Obama won Hawaii with 72 percent of the state's vote—the largest margin of victory of any state in the union.
He is the first African-American candidate to win the presidency, and the first president to come from real Hawaii roots. Obama was born in Honolulu in 1961 and lived much of his childhood and teenage years here with his maternal grandparents Stanley and Madelyn Dunham, in their Beretania Street condominium. On scholarships, he attended nearby private Punahou School from the fifth grade through his high school graduation in 1979. Chicago has been Obama's hometown for the last 23 years, but he returned annually to Hawaii to visit family up until launching his presidential campaign in early 2007.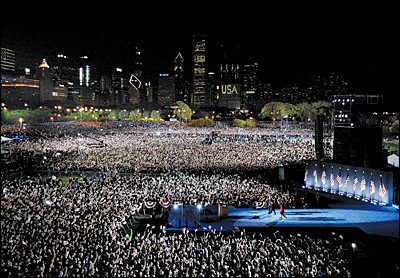 Obama, 47, made no mention of his Hawaii or Illinois roots in his acceptance speech before more than 125,000 cheering supporters at Chicago's Grant Park (left). But he did pay tribute to his grandmother "Toot"—short for tutu, or "grandmother" in Hawaiian— who passed away a day before the election in her Beretania Street condominium.
"While she's no longer with us, I know my grandmother's watching, along with the family that made me who I am," said Obama. "I miss them tonight. I know that my debt to them is beyond measure."

Obama's gratitude to his birth state of Hawaii was offered at a Honolulu victory party later in the evening in a statement from his sister Maya Soetoro-Ng, who resides on Oahu:
"Although Barack is not here to celebrate with all of you, he is also here with you tonight in spirit. Hawaii has always been a special and treasured place for my brother, and he would like me to convey his aloha to all of you.
"Barack and I are especially pleased with the overwhelmingly positive results in Hawaii. … Tonight's results are historic in this state as Hawaii has apparently turned out the highest victory percentage of any state in the country, and we wish to acknowledge the dedication and love that the people of Hawaii have shown to our ohana."
Next up? The welcome back home.