Aloun Farms celebrates 40 years of business
From humble beginnings, Aloun Farms has expanded to become one of Hawaii's largest commercial vegetable growers.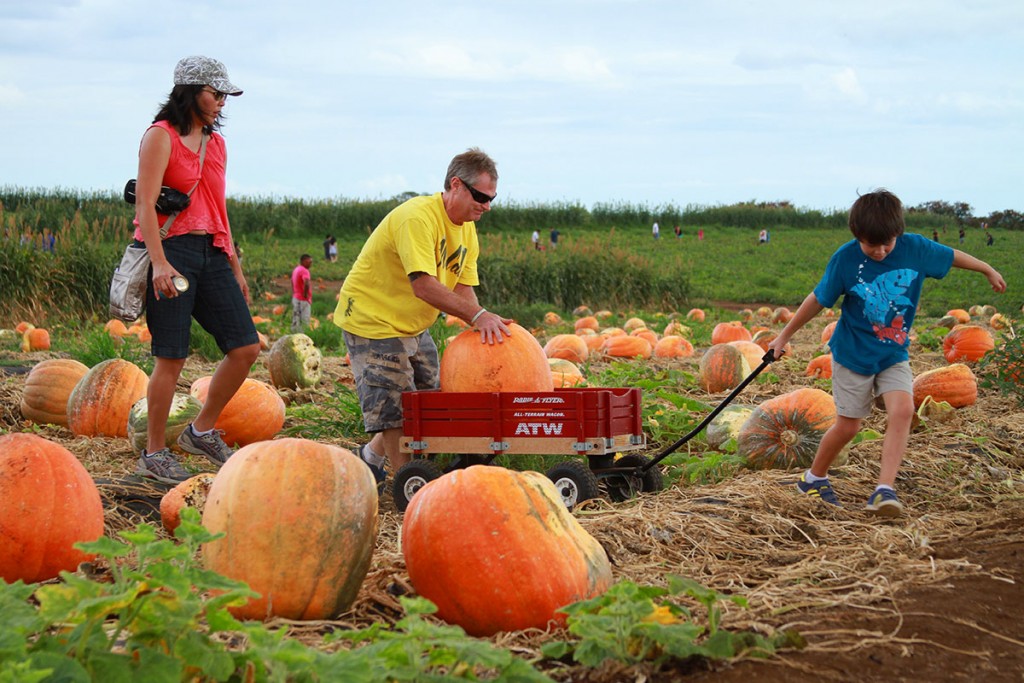 The story of Aloun Farms begins in 1977, when Aloun Sou and his family of six immigrated to Hawaii by way of a refugee camp on the border of Laos and Thailand. Equipped with a hard work ethic and limited English speaking skills, the family settled in Waianae and started a farm on a five-acre agricultural land lease in the coastal Lualualei Valley.
Memorialized 40 years later in the Aloun Farms logo, green onion and won bok were the family's first crops. An assortment of Chinese vegetables and herbs were soon to follow. Knowing that most of the produce consumed in Hawaii was, and still is, dependent on imports, the Sou family had the foresight to ramp up its food production, going all in on a hunch that demand for locally grown produce would skyrocket in the future.
The Sou family's forecast was spot on. Concerns about food security and support for the sustainable food movement in Hawaii are at an all-time high, prompting consumers to embrace locally grown vegetables and fruits over cargo ship imports at a rate that continues to support Aloun Farms' impressive pace of growth.
From humble beginnings, Aloun Farms has expanded its growing capacity and crop variety over the last 40 years to become one of Hawaii's largest commercial vegetable growers, launching its own distribution network and selling directly to Hawaii's major supermarkets. From curly kale and kai choy to eggplant and parsley, the family-owned farm company harvests three dozen vegetable and fruit varieties on 1,500 fertile acres. Other crowd-pleasing produce harvested by Aloun Farms includes Ewa sweet corn, Thai watermelon and honeydew.
This year the company is moving forward by reinforcing its mission to provide the people of Hawaii with delicious, fresh, local produce at competitive pricing. The company is also redoubling its support for sustainable agriculture. Although Aloun Farms is a commercial operation, the farm remains committed to crop diversification, crop rotation, integrated pest management, and community education. All these aspects, company leaders say, are vital to Aloun Farms' success.
With 160 full-time employees, Aloun Farms continues to focus its sights on the future. Offering a host of educational farm tours, school-to-work programs, practical farm skills training initiatives and collaborations with the Future Farmers of America program, Aloun Farms is working hard to invest in the health and longevity of Hawaii's agriculture industry. To that end, the company this year is embarking on an innovative new plan to reduce the cost of entry-level farming by making hundreds of acres of former sugar plantation fields available to small-scale growers through ready-to-farm ownership opportunities.
The 17th annual Pumpkin Festival
In October, Aloun Farms will host its 17th annual Pumpkin Festival, attracting more than 60,000 visitors to its annual pumpkin patch in Kapolei for a month-long extravaganza. The largest and longest pumpkin festival in the state features pick-your-own corn, string beans, sunflowers, and pumpkins. Offering more than a dozen varieties of October's emblematic fruit, Aloun Farms grows 90 percent of Hawaii's local pumpkin harvest.
The public portion of this year's festival is set to take place from 8:30 a.m. to 5 p.m. on the second, third and fourth weekends of the month. On weekdays, Aloun Farms will dedicate the festival grounds to educational farm tours, sharing the importance of diversified agriculture in Hawaii with local students. Kids who embark on the farm tour will learn how their food is grown from seed to harvest. They will also enjoy guided hayrides, during which there is ample opportunity to experience the seasonal thrill of picking a pumpkin straight from the vine.
After Halloween, any leftover pumpkins will be harvested to delivered to the animals of Honolulu Zoo. At a time when the cost of animal feed is on the rise, Aloun Farms' feed-the-animals donation program helps alleviate the financial burden. Last autumn more than 2,400 pounds of pumpkins were donated as treats for animals of the zoo.
The Ewa Sweet Onion Culinary Competition
Every April, Aloun Farms hosts a cook-off like no other. The annual Ewa Sweet Onion Culinary Competition joins high school students across the state and challenges them to create a delicious meal using local Ewa sweet onion and other Aloun Farms ingredients, such as eggplant and zucchini. Students showcase their dishes at an evening gala to raise funds for high school culinary programs. Guests of the gala include agriculture industry partners, farmers, chefs, community leaders, and school officials.
The culinary competition was created to encourage students to express and interpret their culture and cooking style through food creation. Local high school culinary teams are tasked with a challenge of showcasing Aloun Farms' products in-front of a panel of distinguished guest judges chosen according to their dedication to promoting local and seasonal produce as well as their willingness to provide mentorships to student chefs. Participants are awarded scholarships to help their schools sustain funding for agriculture and culinary arts programs.
For more information about Aloun Farms, visit the farm at 91-1440 Farrington Highway, Kapolei, Oahu, (808) 677-9516 or on the web at alounfarms.com.