Aloun Farms transforms abandoned plantation fields into ready-to-farm plots
It's a unique opportunity for small farmers to own their own land and create a legacy.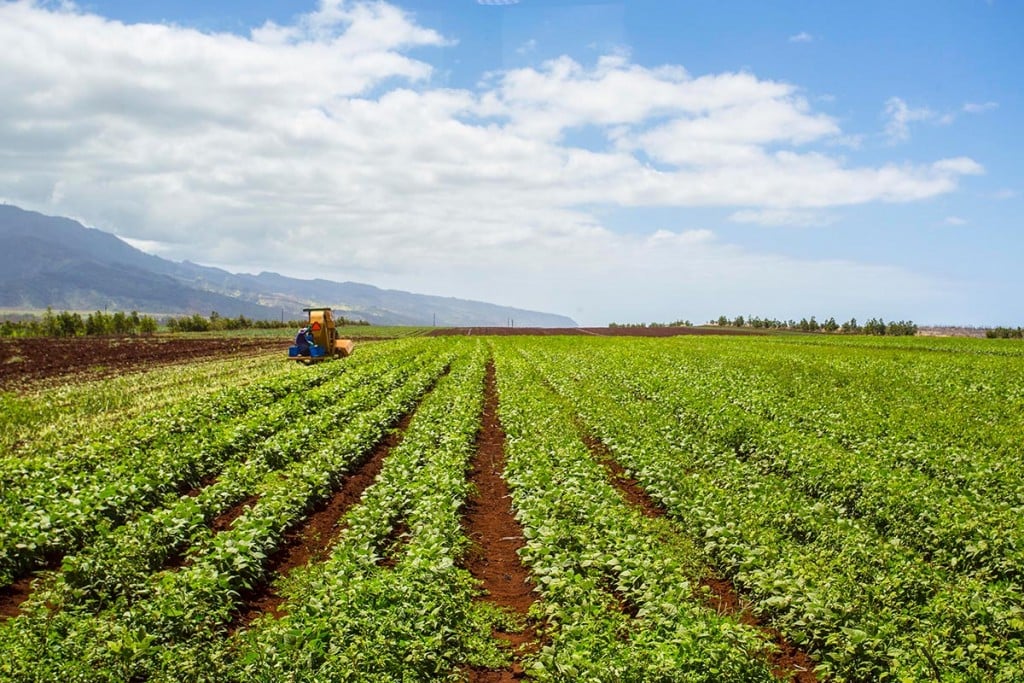 Transforming abandoned plantation fields into a boost for local food production, Ohana Farm Parcels in Central Oahu is offering a unique opportunity for small farmers to own their own land.
On 35 ready-to-farm plots in Wahiawa, new and seasoned farmers have a chance to purchase fields that are proven to produce delicious fruits, vegetables and herbs. Formerly fields of pineapple, this storied farmland is near the world-famous Dole Plantation.
The project, developed by Helemano Ranch & Farm, an affiliate of Aloun Farms, gives small farmers a chance to create their own family legacy in Hawaii's agriculture industry. With a mission to provide the people of Hawaii with the highest quality of fresh locally grown produce at a price that is not only competitive but comparable to mainland farmers, Aloun Farms has been actively farming approximately 85 percent of the 488 acre Ohana Farm Parcels property since 2011. Now this opportunity is being extended to new and seasoned farmers who want to buy their own land under fee simple ownership.
Productive and proven, more than half the parcels have already been reserved. Prices start in the mid-$70,000 range per acre. Parcels, which range in size from 10 to 18 acres, will be released in late summer 2017.
"This model will provide local farmers with the resources they need to create a family legacy in Hawaii's farming industry, while increasing local food production for the state," said Alec Sou, managing partner of Helemano Ranch & Farms.
In an era when more people get their groceries from cargo ships than the land and sea, Hawaii is grappling with an existential crisis. Hawaii's rich volcanic soil, a triple growing season and the Hawaiian people's reverence for the natural world once made the tropical archipelago an early model of sustainable living. Yet today Hawaii imports 90 percent of its food and exports 80 percent of its yields in agriculture. This has prompted Hawaii Governor David Ige to pledge to double the island chain's food production by 2030.
---
Number of acres: 488 Number of farm-ready parcels: 35 Each parcel size in acres: 10-18.37
---
As Hawaii strives to restore its ability to feed itself, Helemano Ranch & Farms is taking a lead. In its bid to increase local food production, Ohana Farm Parcels is creating a rare, highly sought opportunity for new and seasoned growers to own the land on which they farm while building equity. Ohana Farm Parcels also provides the resources a farmer needs to be successful.
Each of the community's 35 farm-ready parcels comes equipped with its own legally defined boundaries, access to farm roads and access to clean fresh water from a private reservoir. Drip irrigation lines are installed on many of the parcels and all of them have the ability to connect to the irrigation supply lines provided by third-party provider Alakai Ranch & Farm.
In addition, a processing facility and a warehouse will be conveniently located nearby, eliminating transportation costs. Usage of the facility, warehouse and water will be available to owners at competitive rates.
All told, seven of the parcels can be easily certified as an organic farm operation which can produce high value crops. Chemical fertilizers and synthetic pesticides have not been used on these parcels for at least three years.
The fee-simple agricultural community will be managed by the individual unit owners, and the owners will have the option to farm the land themselves or contract directly with Aloun Farms to manage their farming operations.
Ohana Farm Parcels is located at an elevation of 1,000 feet, with sun, fertile soil and water for farming, as well as breathtaking country views. Dole Company formerly owned the property and grew pineapple for decades until it was leased to Aloun Farms in 2011. Since then, Aloun Farms has cleared trees, graded the land, conditioned the soil and installed irrigation pipes to prepare for active agriculture production.
Since 2013, more than 1,000 acres of crops ranging from string beans and tomato to mint and papaya have been planted and harvested on the property. The land has a proven track record of growing quality fruits and vegetables, which have been successfully marketed and sold throughout the state.
"We believe this model is well suited for Hawaii's farming industry and will keep 488 acres of land in active agricultural production," Sou said. "Our goal is to support Hawaii's farmers and our agricultural community for future generations."
Paalaa Uka Pupukea Road, Wahiawa, Oahu, (808) 800-4119, ohanafarmparcels.com