And the Hawaiian music Grammy goes to "Slack Key" … again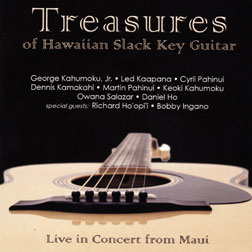 Can you say "three-peat?"

The live, vocal and instrumental multi-artist compilation Treasures of Hawaiian Slack Key Guitar has won this year's Grammy award for best Hawaiian music album.

The win was the third consecutive in the category for a compilation from the production team of Daniel Ho, George Kahumoku Jr., Paul Konwiser and Wayne Wong.

The four received Grammys last year for Legends of Hawaiian Slack Key Guitar. Ho, Konwiser and Wong took home Grammys in 2006 for Masters of Hawaiian Slack Key Guitar, Vol. 1.

The award was presented to the producers this afternoon at a ceremony at the Los Angeles Convention Center before the Grammy Awards prime-time awards telecast.

Other nominated albums in the category were Keola Beamer's Ka Hikina O Ka Hau (The Coming Of The Snow), Tia Carrere's Hawaiiana, Raiatea Helm's Hawaiian Blossom and Cyril Pahinui's Heeia.

The producers were joined on stage by many of the musicians who contributed live tracks to the disc, including Pahinui, Richard Hoopii, Peter deAquino and Garrett Probst.

Multi-artist slack key guitar-based compilations have now swept the best Hawaiian music album category for four consecutive years. The first Grammy in the category went to the instrumental, multi-artist compilation Slack Key Guitar, Vol. 2 in 2005.

All three Grammy-winning discs from the Ho, Konwiser, Wong and Kahumoku Jr. production team were recorded live at Maui's long-running Masters of Hawaiian Slack Key Guitar concert series. Co-founded by slack key guitar master and educator George Kahumoku Jr., the concerts are held every Wednesday at the Napili Kai Beach Resort.

The Masters concert series has attracted some of the guitar genre's greatest players. In addition to Kahumoku Jr., Hoopii and Pahinui (son of legendary slack key guitarist/vocalist Gabby Pahinui), the concerts have also featured Ledward Kaapana, Dennis Kamakahi and Ozzie Kotani.

Congratulations to the winners. And, yes, I'll admit erring on my Tia prediction.