Andagi and more! 31st annual Okinawan Festival happens in Waikiki this weekend.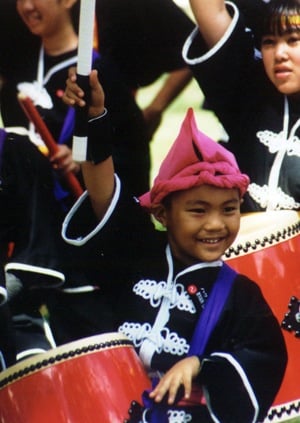 For more than three decades, the annual Okinawan Festival has celebrated the music, dance and, of course, delicious food of the Okinawan culture in Hawaii.
What started as a small gathering for Hawaii residents with Okinawan ancestry is now a two-day extravaganza at Kapiolani Park in Waikiki for anyone interested in learning about and experiencing the culture—with more than 50,000 residents and visitors attending annually.
This year's 31st annual Okinawan Festival will feature a stellar lineup of Uchinanchu (Okinawan) entertainment and cuisine, from 9 a.m. to 5 p.m. on Saturday, Aug. 31 and Sunday, Sept. 1. The Okinawan Festival Bon Dance — the biggest of all of Oahu's summer bon odori dances— will be held from 5:30 to 9:30 p.m. on Saturday.
Okinawa, Japan's southernmost prefecture, is made up of hundreds of islands. Uchinanchu is the term used by people of Okinawan descent in Hawaii to identify themselves as group distinct from the Naichi of Japan's four main islands. Immigrants from Okinawa began arriving in Hawaii in 1900. By 1908, more then 8,000 laborers had moved to the Islands for work, primarily, on sugar and pineapple plantations. Another wave of Okinawans immigrated to Hawaii in 1946, following World War II.
Today, people of Okinawan descent in the Islands remain a close-knit group. The annual Okinawan Festival is organized by more than 2,000 volunteers from the Hawaii United Okinawa Association, which is made up of families with ancestral roots in Okinawa. Membership through the association's clubs is estimated at about 40,000.
Here are some of the Okinawan Festival's entertainment highlights:
• Senbaru Eisa: A folk dance troupe from Kadena Town in Okinawa.
Aug. 31, Sept. 1, 4:30 p.m.

• Hui O Leinani Group: Okinawan dancers skilled in the art of hula perform.
Aug. 31, 3:15 p.m.
• Fashion Designs by Mitsuko Yamauchi: A fashion show featuring apparel by Okinawan designer Mitsuko Yamauchi.
Sept. 1, 12:50 p.m.
• Namihira (Hanja) Bo: A performance by the music group from Yomitan, Okinawa. Sept. 1, 3:30 p.m.

Finally, here's list of must-eat Okinawan delicacies you'll find at the festival:
• Andagi: An Okinawan deep-fried doughnut (pictured above).
• Andadog: An Okinawan version of the corndog, it's essentially a hot dog on stick, dipped in andagi batter and deep-fried.
• Fundagi: An Okinawan-style funnel cake, lightly dusted with powdered sugar. (Available only during Saturday evening's bon dance.)
• Pig feet soup: A rich broth (as billed, stocked with tender pigs feet) garnished with seaweed, turnip, squash and mustard cabbage.
• Yakisoba: Okinawan style stir-fried soba noodles with vegetable and luncheon meat.
• Okinawa Soba: Okinawan style soba noodles served in hot soup and garnished with fishcake, pork, green onions and red ginger.
• Champuru Plate: Shoyu pork, stir‐fried vegetables, luncheon meat and deep‐fried tofu.
• Okidog: Hotdog and chili wrapped in a soft tortilla with shredded shoyu pork and lettuce.
• Taco Rice: Invented in Okinawa, it's a Tex-Mex-style taco on a bed of rice.
Staying in Waikiki? Just walk to Kapiolani Park for the festival.
Driving to Waikiki? An Okinawan Festival shuttle bus will run continuously during the festival from the main parking lot Kapiolani Community College to the festival area for $2 roundtrip. Parking at the college will be free. Tickets for the shuttle may be purchased at the Okinawan Festival's information booth and shuttle stop booth at Kapiolani Park.
For more information about this weekend's 31st annual Okinawan Festival, click here.