Annie's Island Fresh Burgers in Kona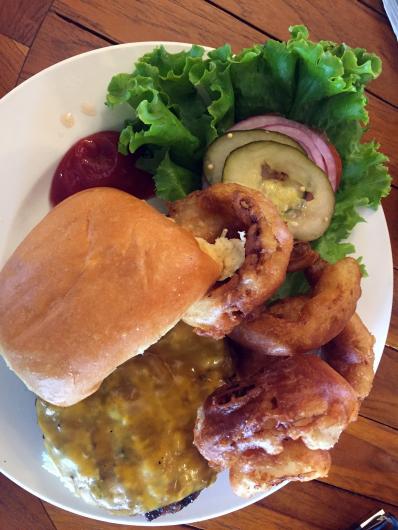 In Kealakekua, almost ten miles from downtown Kailua-Kona on Hawaii Island, you'll find more coffee farms than shops and restaurants. But, one burger and beer joint is worth the scenic drive. The youthful and enthusiastic staff at Annie's Island Fresh Burgers have been serving 100% Hawaii Island grass-fed beef burgers and locally sourced vegetarian options for five years, garnering numerous accolades and rave reviews—including mine.
There's nothing more amazing after a long day of swimming than its Firecracker—a half-pound beef patty with house-made lime cilantro coleslaw, pepper jack cheese and jalapeños on a classic bun, with a side of tempura onion rings and an ice cold Kona Longboard. Its traditional cheeseburger, the Ultimate Classic, served with lettuce and tomatoes grown in the onsite garden and topped with house-made pickles is another great alternative.
The restaurant was the brainchild of Wisconsin-native Annie Roesler and her husband, Kona-born Josh Levenson. Their idea was to "market the Big Island's best fresh comfort foods in a cozy lush atmosphere," and to show "people that fresh, delicious, farm-to-table dining doesn't always have to be fancy and expensive." In all respects, they have succeeded.
But what really sets Annie's apart from other burger joints is the restaurant's commitment to sustainability and local and fresh ingredients. In addition to Annie's tried-and-true menu of burgers and entrées, the restaurant boasts a full bar, and even the juices for bar drinks, like the lemon-lime sour mix and lilikoi (passion fruit) juice for its popular lilikoi jalapeño margarita, are squeezed by bar staff daily. The salad dressings and burger sauces—such as the barbecue served on their most popular menu item, the South Point BBQ burger—are all made in-house.
"Our stuff is so fresh, actually, that we don't have a freezer," says manager Sara Conti, a company employee for three years. "Well, we have a small one, but it's only for our locally sourced ice cream.
The restaurant is tucked inside a small strip of shops called Mango Court, where you'll also find a neighboring art gallery and a gelateria. The natural ambiance of the surrounding area—and the ethos the restaurant embodies—is echoed inside with local artwork and more than 35 plants including palm trees growing right through the floor and back out the ceiling.
And, fortunately, if you're making the drive between Kailua-Kona and Captain Cook, Annie's location, along the lush, mountainside Mamalahoa Highway (Hawaii Belt Road) isn't hard to miss. Look for the all-too-true large brown and white sign visible from both sides of the road announcing "Hawaii's Best Burgers."