Are you ready for some football, Hawaii? NFL Pro Bowl returns to Oahu this week.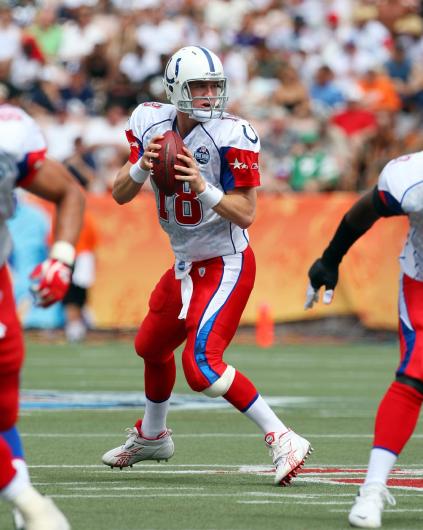 On Oahu this weekend and a serious fan of pro football?
The world's best professional football players are gathering in Hawaii now through Sunday for the return of the NFL Pro Bowl to Oahu's Aloha Stadium. The game happens Sun., Jan. 30, at 2 p.m. (Hawaii time), and will be broadcast on FOX live. But a weekend of 2011 Pro Bowl-related events, open to the public, begins Friday.
This year marks the second year in a row that the annual all-star game will be played a week before the Super Bowl, instead of a week after. (Meaning, the players on the two teams that just won entry to Super Bowl XLV — the Green Bay Packers and Pittsburgh Steelers — will not play in the Pro Bowl.)
The NFL took the Pro Bowl to Miami' Sun Life Stadium last year after a 30-year run in the Islands, during which every game was a sellout. In 2009, the NFL and the Hawaii Tourism Authority agreed on a 2-year contract, whereby HTA would pay the league $4 million a year to host the game in 2011 and 2012.
Many of the NFL's 2011 Pro Bowl week activities on Oahu are free and open to the public. Most events with admission fees—including the Pro Bowl—still have tickets available.
Here's a schedule 2011 Pro Bowl Week schedule of events:
• FRI., JANUARY 28
Sunset on the Beach
When: 6:30 p.m. to 9 p.m.
Where: Queen's Beach, Waikiki
Details: Get into the football spirit with NFL highlights and a football movie, 2009's The Blind Side, served up on Waikiki beach with special guest appearances by the Pro Bowl cheerleaders and mascots.
Admission: Free
• SAT., JANUARY 29:
Pro Bowl Ohana Day Celebration
When: 9 a.m. to noon
Where: Aloha Stadium
Details: See both the AFC and NFC teams in action. You can enjoy fan contests, interviews, NFL video features and a preview of the Pro Bowl game entertainment. There will even be a special Kid's Zone where keiki can enjoy special contests, prizes, presentations and "mascot mania."
Admission: Free
Pro Bowl Youth Football & Cheerleading Clinics
When: 10 a.m. to 4 p.m.
Where: Kapiolani Park
Details: Youth football players and cheerleaders will learn from the best at these clinics. Advanced registration is required. Contact the Honolulu Boys and Girls Club or the Honolulu YMCA for registration information.
Admission: Free
Pro Bowl All-Star Block Party
When: 7 p.m. to 10 p.m.
Where: Kalakaua Avenue, Waikiki
Details: Waikiki's main street shuts down to make way for the ultimate block party. See NFL players, cheerleaders, mascots and local celebrities while you enjoy five entertainment stages, great food and local bands. Shop for NFL and Pro Bowl merchandise.
Admission: Free
• SUN., JANUARY 30: NFL Pro Bowl Day!!
Pro Bowl Touchdown Club
When: 10 a.m. to 1:30 p.m.
Where: Aloha Stadium, Lot 8B (North End)
Details: Enjoy food, drinks, entertainment and interactive games.
Admission: Free to Pro Bowl ticketholders
Official Pro Bowl Tailgate Party: "NFL Island Style"
When: 11 a.m. to 1:30 p.m.
Where: Richardson Field
Details: Overlooking Pearl Harbor and a short walk from Aloha Stadium, Richardson Field is the perfect place to pregame party. Entertainment and food included with admission.
Admission: $225 per ticket, via ticketmaster
Pro Bowl Pregame Ceremonies
When: 1:30 p.m. to 2 p.m.
Where: Aloha Stadium
Details: Getting to the game early has its rewards. The pregame show will include a special tribute to the past season, the Pro Bowl and Super Bowl with promised NFL "pageantry" and a live performance by the Goo Goo Dolls.
Admission: Included with Pro Bowl ticket
The 2011 NFL Pro Bowl
When: 2 p.m.
Where: Aloha Stadium
Details: Kick off! The top NFL stars compete in a battle of AFC verses NFC.
Admission: Ticket prices range from $45 to $137, via ticketmaster
For updates, visit the 2011 NFL Pro Bowl Week schedule page.