Are you ready for some whale counting? Volunteers welcome for annual Hawaii humpback whale Ocean Count.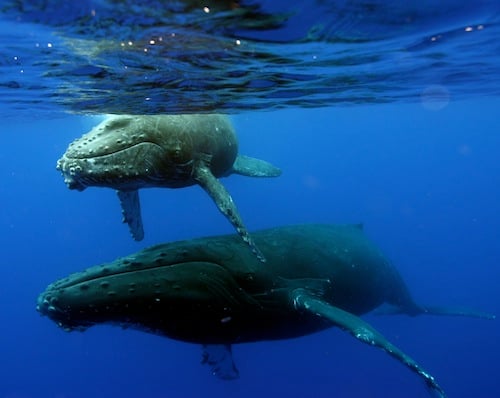 Imagine spending a morning in the Islands watching humpback whales breach and spout as they migrate through the warm Hawaiian waters, all the while helping marine scientists study the habits of our largest annual visitors.
These are just two of the benefits of volunteering for the Hawaiian Islands Humpback Whale National Marine Sanctuary Ocean Count, an annual shore-based census where hundreds of statewide volunteers record the activity of the humpback whales, noting behaviors such as pectoral slaps, spouting and breaches. The counts are held once a month in January, February and March.
This year's first Ocean Count event will be from 8 a.m. to noon on Sat., Jan. 25 at multiple shoreline sites on Oahu, the Big Island and Kauai. Subsequent Ocean Count sessions will be conducted between the same hours on Sat., Feb. 22, and on Sat., March 29. Interested volunteers are invited to register with the sanctuary to choose an island and site, and become an official whale counter.
"The data collected, though, isn't as important as the amount of awareness we spread, which is the main goal," says Jordan Ching, the project manager of this year's Sanctuary Ocean Count. "We want people to be aware of humpback whales and the work we're doing."
The sanctuary's Ocean Count program began in 1996 with just 150 volunteers at various sites on Oahu, counting whales. Today, more than 2,000 volunteers turn up at each event at 63 sites on Oahu, Hawaii Island and Kauai to watch these majestic mammals. Between late September to early May, humpback whales migrate from the North Pacific to Hawaii's warm, shallow waters to mate, calve and nurse their young. About 12,000 whales migrate to the Islands every year. The peak months of humpback whale activity in Hawaii is between January and March.
Hawaii's 2013-14 humpback whale watching season began in early October with the confirmed sighting of a whale off South Maui's Molokini Islet.
Volunteers will be tasked with counting the number of humpback whales spotted during the four-hour sessions. They'll also record whale behavior. On average, humpback surface to breathe every 10 to 15 minutes, but can remain submerged for as long as 45 minutes. Calves must rise to the surface every three to five minutes. For an NOAA primer on various whale behaviors, click here.
Managed by the National Oceanic and Atmospheric Administration (NOAA), the Hawaiian Islands Humpback Whale National Marine Sanctuary lies within the shallow (less than 600 feet), warm waters surrounding the main Hawaiian Islands and constitutes one of the world's most important humpback whale habitats.
Hawaii is the only state in the nation where humpback whales mate, calve, and nurse their young in offshore waters. According to NOAA, humpbacks are drawn to Hawaii's warm waters, underwater visibility, variety of ocean depths, and the lack of natural predators. Mothers can be seen breaching alongside their calves and males can be seen competing with one another for females in fierce head-to-head battles.