"Art of Hawaiian Coffee" gets under way today in Waikiki with latte art contest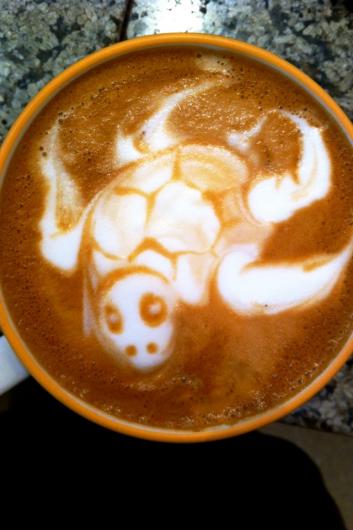 In Hawaii — the only U.S. state in which coffee is grown —you'll find coffee farms on Maui, Molokai, Oahu, Kauai and the Big Island of Hawaii. And some batches of Hawaii-grown beans are among the most in-demand in the world.
Art of Hawaiian Coffee, a weeklong tribute to a fine cup of joe, gets under way today (Tues., Aug. 9) at DFS Galleria in Waikiki, Kalakaua and Royal Hawaiian avenues. The event features coffee tastings and pairing sessions, seminars detailing the story of coffee in Hawaii; an exhibit of original local art inspired by coffee; a competition for baristas designing latte art; live music and entertainment; and, of course, opportunity to purchase bags of Hawaii-grown beans.
Among the highlights is today's Latte Art Contest, which gets under way at 2 p.m. Before the final round of competition, 8 p.m. to 9 p.m., Pete Licata — Hawaii's reigning national barista champ — will conduct a demonstration. Licata will also serve as a contest judge.
On Wed., Aug. 10, Fri., Aug. 12 and Mon. Aug. 15 (5 p.m. to 8 p.m.), Coffee Cup Art, an image of Diamond Head, created from hundreds of individual cups of various shades of coffee, may be viewed from the store's second floor. Also, artist Suzanne Wolfe's Coffee Cup Art exhibit is slated for 7 p.m. to 10 p.m. Thurs., Aug. 11 to Sat. Aug. 13.
Dr. Coffee seminars are set for 7 p.m. to 10 p.m. Wed., Aug. 10 and Sat., Aug. 13 – Wed., Aug. 16. The seminars will feature Hawaii coffee expert and author Shawn Steiman, who will address the various aspects of growing and the brewing process coffee in relation to flavor and quality.
An exhibit detailing the history of growing coffee in Hawaii will be open from 9 a.m. to 11 p.m. throughout the event.
Nightly coffee-related arts-and-crafts activities for kids are set for 7 p.m. to 9 p.m. Another nightly offering, Sweeter Side of Coffee, features demonstrations inspired by coffee and complimentary sweets to go with your coffee. The event's coffee vendors include: Javaloha, Greenwell Farmers, Kona Coffee & Tea, Rusty's Hawaiian Coffee, Maui Grown, Coffees of Hawaii, Waialua Coffee, Starbucks, Royal Kona, Lion Coffee and Honolulu Coffee Company.
For more information about the Art of Hawaiian Coffee, click here or call (808) 931-2700.