Artisan Pineapple Vinegar is Oahu's Hottest New Trend
Vintage Vinegars crafts drinkable vinegars made from local Hawaii pineapples.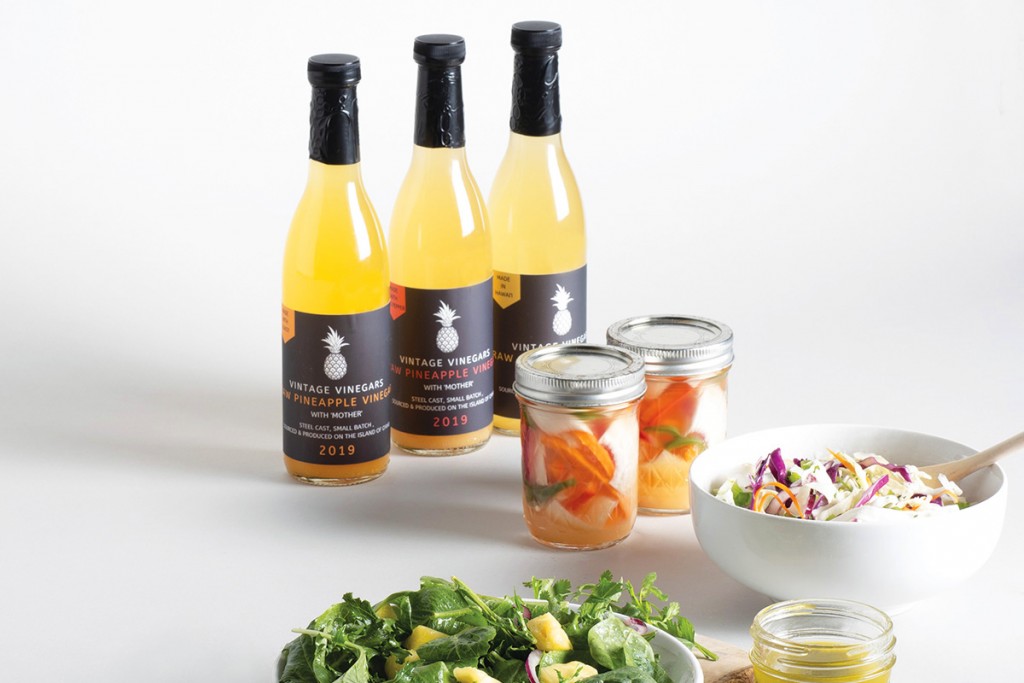 Three years ago, Ian Boyle and his wife, Uluwehi, were enrolled in a health coaching certification program, learning about the benefits of probiotics and bromelain, a mixture of enzymes found in pineapples and used to reduce inflammation.
The idea came to them: Why not create a raw vinegar from locally grown pineapple, using the bacteria created during the fermentation process? That bacteria, called the "mother," is considered a probiotic.
That was the beginning of Vintage Vinegars, an Oahu-based line of raw, pineapple-based vinegars that can be the base of marinades and sauces, used to pickle veggies, mixed into tonics or consumed straight up. After spending two years perfecting the recipe, the couple leased a 400-square-foot commercial kitchen in Pearl City and started producing vinegar in a single stainless steel fermenter, using Oahu-grown pineapples. They bottled it and sold it at craft fairs and farmers markets.
A year later, production has increased tenfold. The kitchen now houses six fermenters and the company crafts three different kinds of small-batch vinegars—pineapple, pineapple infused with lilikoi from Hawaii Island and pineapple infused with Hawaiian chili peppers from Oahu. These vinegars are still sold at local farmers markets on Oahu but recently were added to shelves at Island Olive Oil and Dean & DeLuca in Waikiki. Boyle, a 40-year-old father of four who quit his job as a server this year to work on the business full time, is already experimenting with different flavors and products. He expects to double his production by the end of this year.
"The response has been overwhelming," he says.
To learn more and see products available for shipping, visit vintagevinegars.com.