Artistically transformed island-grown woods in spotlight at Hawaii's Woodshow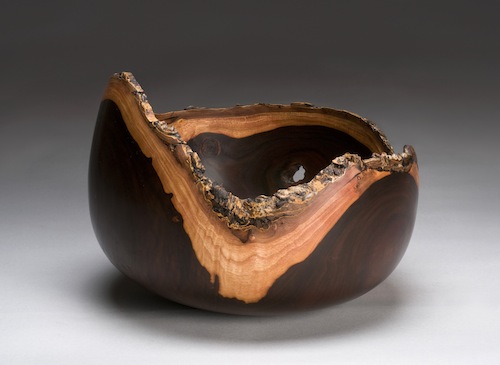 Stunning woodwork artistry will be on display at the 20th annual Hawaii's Woodshow, Na Laau o Hawaii, a statewide juried woodworking show, which opens on Sun., April 1 and runs through April 15 at the Honolulu Museum of Art School Gallery at Linekona. 

The show features only art pieces crafted predominately from Hawaii-grown woods. Endangered woods and certain rare species are, of course, prohibited. 

Among nearly 90 pieces that will be on display will be a grey reef shark carved by Clay Simpson of Simpson Artworks on Maui. The entire 650-pound piece, including its massive base, comes from the same single limb of an ear pod tree (Enterolobium cyclocarpum) that was felled a few months ago near the Puunene Post Office in central Maui.
In a news released issued by the woodshow's organizers, Simpson said: "I was fortunate enough to be able to rescue much of the ear pod wood that has been taken down in the area due to road widening and disease over the past few years. With the use of flatbed semis and loaders I've taken home almost 30 tons."
Of his artistic process, Simpson said: "I just kind of wait to see what form becomes evident from the raw wood. In this case, it happened to be a shark. Even though the wood has some toxicity and can be a definite irritant, ear pod could be used much more in woodworking, it is gorgeous."
Sawdust from ear pod trees, known for their spherical crowns and seedpods, can cause skin irritation and allergic reactions. Simpson said he was careful to suit up and wear a full respirator mask and gloves when working on his life-sized shark sculpture.
Also among the show's other must-see artwork is a guitar made by Big Island luthier Dave Gomes. The guitar body is from the curly koa, the fretboard is ebony with a maile lei design made from New Zealand abalone. The guitar neck is mahogany
"The koa was found on a ranch in south Kona," Gomes said in the news release. "The tree had been dead for years and ohia trees were growing from its trunk."
Jurors for Hawaii's Woodshow 2012 will name "Best of Show" and other award categories, such as furniture, sculpture, turning, and musical instrument. One stand-out entry will be named as the "People's Choice Award" and another will receive the "Artist's Choice Award."
For additional information about Hawaii's Woodshow, Na Laau o Hawaii, which is presented by the Hawaii Forest Industry Association (HFIA), click here.