At last…a great place to stay in Paia, Maui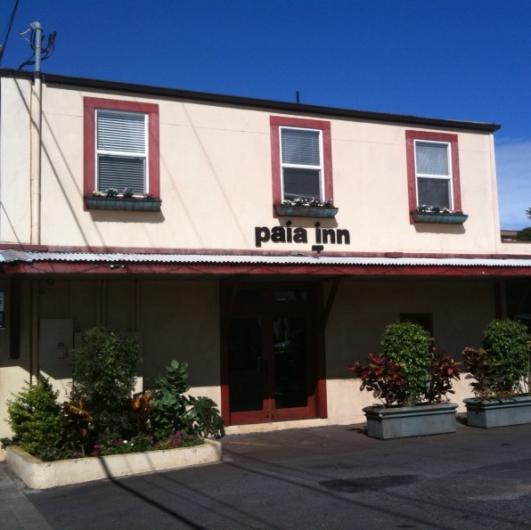 Paia, that hip little beach town on Maui's north shore, has a lot going for it. It's the windsurfing capital of the world, with nearby Hookipa Beach Park. Its plantation-era buildings now house a dozen reasonably priced restaurants, some 40 locally owned surf shops, boutiques, antique stores, jewelry shops, coffee shops and gelaterias. It even has a Buddhist stupa personally blessed by the Dalai Lama.
The whole town has an international, New Age, funky, surfer, beachy feel. The sort of place where you might find Willie Nelson and friends jamming in a local bar.
What Paia has not had for decades was some place to stay. It's only a hop, skip and jump from Maui's Kahului Airport, but it's an hour or so by car from the big resort strips in Kaanapali and Wailea, meaning for most visitors Paia was a day trip or a stop on the road to Hana.
Now, however, the Paia Inn has been renovated and reopened by a graphic designer with roots in the hotel business. Like Paia itself, it's small (only 12 units, including one 3-bedroom house and another 2-bedroom beachhouse). And like the town, it's a bit funky, a bit New Age and a lot stylish.


It's also seriously beachy. Baldwin Beach Park is, like all Hawaii beaches, public, but the Inn has access to a secluded cove of it just steps away through private property. There are beach chairs,towels, beach bags, all provided.
What Paia Inn really has going for it is comfort. Although the upstairs rooms are small, in the manner of buildings built in the 1920s, there's a pleasant living room with chairs, books, magazines, board games, an iPod playing world music and a computer station where I am currently taking advantage of the free wireless.
Downstairs there's a full lanai with tables and chairs, in case you'd like to get takeout from any of the restaurants just steps away. Each morning, the Inn stocks the lanai with coffee, oatmeal and muffins from Anthony's, the coffeehouse across the street.
The Inn is sunny, bright and filled with art. The staff leaves a handwritten note in every room, saying that if there's anything they can do for you, don't hesitate to ask. And then they'll drop a few local apple bananas and some candy on your nightstand, in case you need a quick pick-me-up. There a plenty of little luxuries, including some of the most comfortable beds you've ever slept on.
The second night, when we returned from a long day working on an upcoming article for HAWAII Magazine, my traveling companion said, "When I walk in here, I start to relax. It's like coming home."
Paia Inn, 93 Hana Highway, Paia, HI 96779, (808) 579-6000. From $189 to $499 nightly.