At Oahu's La Hiki Restaurant, Farmers and Local Suppliers Come First
La Hiki's chef Simeon Hall works with Hawaii farmers to best showcase our local island bounty.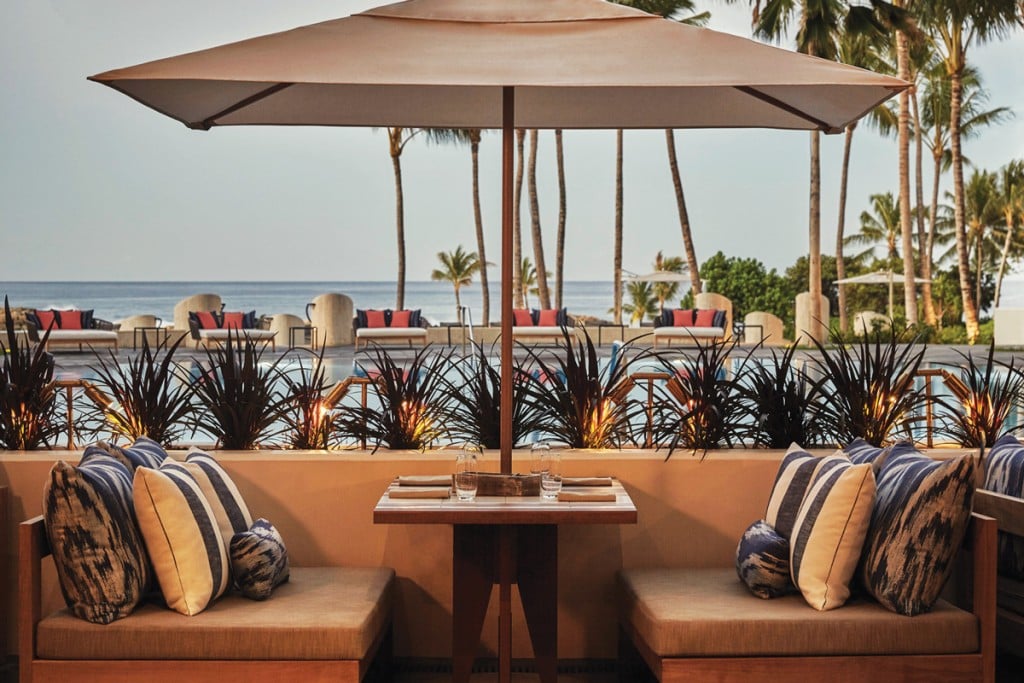 At La Hiki, farmers write the menu. To some extent, at least. Chef Simeon Hall, who took the reins at the Four Seasons Resort at Ko Olina restaurant just last November, makes it a point to put farmers and local suppliers first in his creations, even if that means taking a step back and letting availability determine a lot of the dishes' directions.
"We won't force them to give us endless and countless supplies of any one item," says Hall of his local produce, fish and meat partners. "We will use what they have, when they have it, and they will be the ones that write the menu: the core of the ingredients, not us, the chefs." That means that each day at La Hiki could find the same dish from the day before slightly different.
When Hall was first developing a chicken with smothered greens dish, he naturally initially envisioned collards. "But the collard greens may have had to come from the mainland," he says. "So, we changed the menu just to say local greens. We're using local kale, local collard greens when we can get it, local mustard greens when we can get it. We've created an outlet for as many farmers as we can." Where today's side of house pickles were a mix of beets and carrots, tomorrow's could involve a medley of kohlrabi from a local farmer's recent harvest. "Every farmer that I have spoken to truly appreciates the fact that we are not asking them to grow 10,000 tons of one particular item," says Hall. "We're asking them: whatever they have, send it to us."
That includes their less-than-perfect vegetables, too, those misshapen carrots and tomatoes that often end up in the trash. Hall takes it all, and makes it work, because for him, local is a priority. So much so, that by December he aims to make 65 percent of La Hiki's entire menu local—an aggressive goal for a hotel restaurant, he says. "When we started researching the menu, local farms, local culture, [and] local availability for products were the centerpiece. So we're focused on making sure we can achieve that by the end of the year." The current menu, just released in March, is one step toward that goal, with produce from Hamakua, Kahumana and Kawamata Farms making regular appearances.
Turns out that it takes a community-wide effort to make, as Hall calls it, "an island-to-table menu."
Drunken Pineapple Chutney
Hall uses Dole pineapples and other local vegetables in this thick, punchy chutney.
• 2 peeled, medium diced
pineapple
• 1 small diced red bell pepper
• 1 small diced green bell
pepper
• 1 small diced red onion
• ¼ cup honey
• ½ cup apple cider vinegar
• 2 tsp of chopped thyme
leaves
• 1 cup fresh pineapple juice
• ½ cup Koloa Spice Rum
• Salt and red chilli flakes
to taste
In a scorching hot pan, combine the pineapple and and other vegetables. Immediately add the honey and vinegar. Toss until it begins to caramelize. Flame with the rum. Then, add the pineapple juice and season. Simmer until the consistency of marmalade.