At Oahu's Polynesian Cultural Center, visit six island nations without a passport
One of the top visitor destinations in Hawaii, the center is a fun, educational experience for all ages.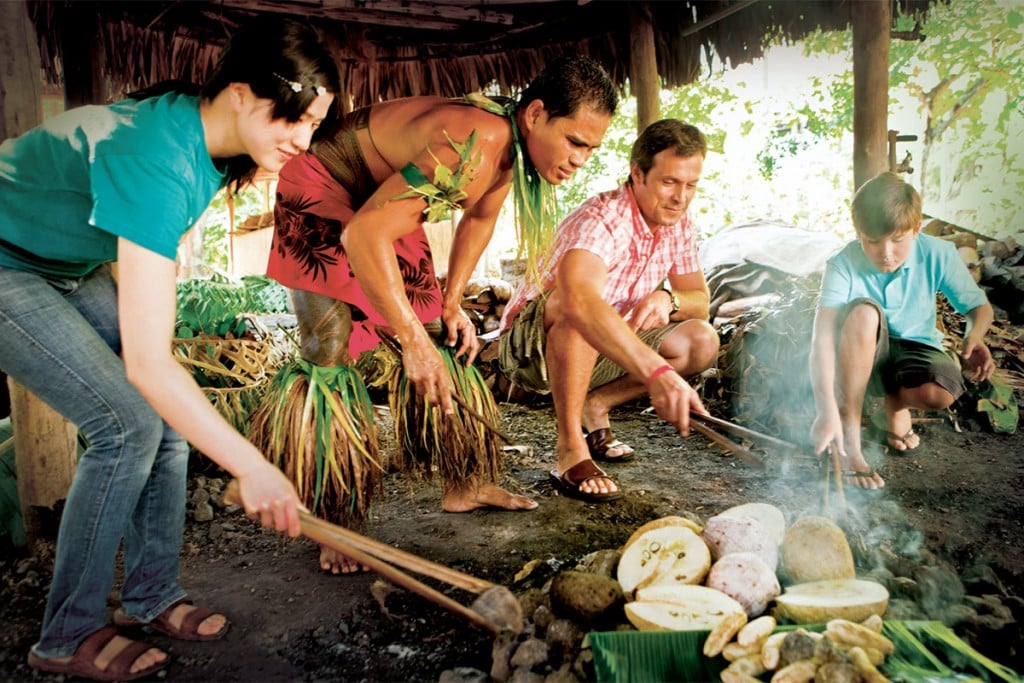 At the Polynesian Cultural Center, you can visit six Pacific island nations in one day without boarding a plane or showing your passport. Even better, you'll meet the friendly people who actually hail from those islands. The center's employees (many of whom are students attending the adjacent Brigham Young University-Hawaii campus) represent Hawaii, Samoa, Maori New Zealand (Aotearoa), Fiji, Tonga, Tahiti and the Marquesas.
Opened in 1963, the nonprofit center preserves and perpetuates the history, culture and lifestyle of those islands, and provides financial assistance to more than two-thirds of its student employees. In 2015, it launched a five-year, $38 million enhancement project to renovate its restaurants, expand retail options and add new activities, including spear throwing; canoe paddling; pareu (sarong) dyeing; Hawaiian quilt making; and reenactments of Te Here, a traditional Tahitian wedding ceremony.
In the Samoan village, you can learn how to heat rocks for an umu (above-ground "oven"), and help prepare bananas, taro, breadfruit, coconut and fish for cooking in it. The food is placed on the hot rocks, then covered with burlap and layers of large leaves to seal in the heat. After exploring other areas of the center for three hours, all the "chefs" can return to sample the delicious meal.
If you're a minimum of 44 inches tall, weigh no more than 275 pounds and have an adventurous spirit, kick off your shoes and climb a coconut tree! In olden Samoa, people depended on the coconut tree for food, furniture, household items and more, so coconut gathering was a daily chore.
These days, coconut tree climbing is a popular sport in Samoa, with agile youths competing to see who can scamper up the slender trunks the fastest. Strapped in a safety harness and with the guidance of a Samoan villager at the Polynesian Cultural Center, you can attempt to ascend 20 feet up a coconut tree, using your bare feet and hands—a feat that requires strength, dexterity and balance, as you'll quickly discover.
Polynesian Cultural Center
The Polynesian Cultural Center is at 55-370 Kamehameha Highway in Laie on Oahu's North Shore. It's open daily from 11:45 a.m. to 9 p.m. except Sunday. Village hours are noon to 5:30 p.m. The Hukilau Marketplace is open Monday through Saturday, 11 a.m. to 9:30 p.m. The Rainbows of Paradise canoe pageant is at 2:30 p.m. Dinner is served from 5 to 7 p.m., and the evening show, "Ha: Breath of Life," runs from 7:30 to 9 p.m. General Admission prices begin at $64.95 ($51.96 for children 4-11), with special packages also available. Children under four years old are admitted free. (808)293-3333; (800) 367-7060 from the neighbor islands; www.polynesia.com.