Bacak to the Future: The Story Behind Maui-based Adoboloco Hot Sauce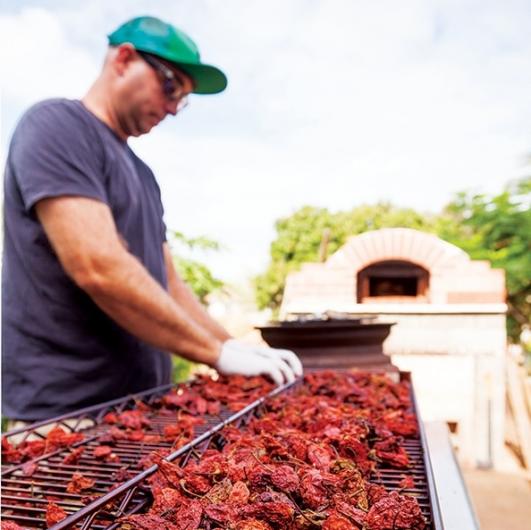 Four ingredients. That's all you'll ever find in every five-ounce bottle of Adoboloco hot sauce. Kosher apple cider vinegar. Hawaiian sea salt. Garlic. And one of several organic pepper varieties—habañero, ghost, jalapeño and Hawaiian chili pepper, among them—Tim Parsons procures locally or grows on his small Kihei farm.
No xanthan gum here. (Take that, Tapatio and Sriracha.) No extraneous ingredients, either, unless Parsons is making Adoboloco's Pineapple Habañero hot sauce. (He'll add Maui Gold pineapple to that one.) The creative process has been all-natural, all farm-to-bottle for the hot-sauce creator and his homegrown hot-sauce business ever since Adoboloco's founding in 2011, generating instant heat with Hawaii foodies fond of spicy sauces and artisanal local product. And it all started with two of Parsons' loves: his children and a lifelong hankering for chicken adobo.
Around the perennially sunny, southwest Maui beach community of Kihei, Parsons is known as the hot-sauce guy. He's hard to miss, too. Six-foot-plus tall, his head completely shaved, Parsons typically sports one of Adoboloco's bright, eye-catching T-shirts, which match the colors of his hot-sauce labels. One of the shirts reads, simply, "Aloha." Another is emblazoned with the word "Hamajang"—the name of one of Adboboloco's sauces and a Hawaii slang word meaning "messed up." A favorite design simply proclaims "Bacak," mimicking the squawk of a chicken.
Parsons never imagined he'd wind up an artisanal condiment creator, and for decades he wasn't. For 20 years, he was a graphic designer, spending half of his time in Bend, Ore., the other half in Hawaii. On the side, he kept an online blog called Adoboloco, curating his favorite chicken adobo recipes. He even tried bottling a sauce for quick adobo meals, but couldn't perfect the formula. Soon after moving the Parsons clan—wife, Summer, and three children, Xander, 17, Harrison, 14, and Scarlet, 11—permanently to his family's Kihei home in 2010, however, he finally stumbled upon a more successful, if not exactly adobo-related, saucy diversion.
As part of their homeschooling led by Tim and Summer, the Parsons kids planted jalapeños for science class. Inspired by the handfuls of handsome peppers that eventually sprouted, Parsons revisited homebrew pepper concoctions and, this time, achieved flavor fireworks. When the Parsons began picking, drying, grinding and bottling the peppers for family dinners and barbecues, friends and friends of friends would ask for a bottle or two of their own.
"I then tested it out at a swap meet. And it sold!" says Parsons. Adobo-loving Tim Parsons was now officially hot stuff.
A visit to the Parsons' Kihei spread offers a little bit of everything bucolic: a charming, country home, a humble pepper farm, a bustling agricultural classroom and a hot sauce storehouse. When I meet up with Parsons early one morning, before the sun's rays begin beating down, his dog is napping and his 40-odd bacak-ing chickens dart between five grow beds built from recycled wood and metal doors. Ruffled by tradewinds, more than 150 Hawaiian chili-pepper plants currently sway in the beds. The plants produce bright-red, one- to two-inch peppers year round.
In between school, homework and life in general, the Parsons Five are the sole growing and production staff for Adoboloco. Every family member has a job. Each Tuesday, Scarlet picks the ripened peppers. Harrison and Summer are in charge of online orders. Xander labels the hot-sauce bottles. And Tim? Well, he's the hot-sauce guy, of course.
For Adoboloco's popular Hamajang sauce, Parsons roasts ghost peppers—rated by Guinness World Records as the world's hottest chili pepper—over kiawe wood in an outdoor brick oven he crafted, giving the finished sauce a luscious smokiness. Partnerships with farmers in Upcountry Maui's Kula and Haiku areas and Hana in East Maui produce jalapeños and habañeros for Adoboloco.
"The kids are learning everything—basic business skills, organization, initiative, math [and] science," says Parsons. "It's life school." Even the family dog has a job, scaring away the sparrows that swoop in to gobble the tiny peppers. (The dog was apparently off the clock during my visit.)
Every other week, Tim and two other members of the Parsons ohana take turns cooking Adoboloco's hot sauces in their rented commercial kitchen in Kula. There, they transform thousands of peppers into more than 600 bottles of hot sauce in about five hours. The work is a hot process. Literally.
"I wear a respirator when I grind the peppers," says Parsons. The cooks du jour then add the vinegar, sea salt and garlic. The bottles are brought back to the homestead for labeling and packaging. "Our living room has turned into a warehouse."
Crafted sublimely and used subtly, the best hot sauces enhance and coax great flavor from food. Count Adoboloco's collection of sauces among these. Parsons' hot-sauce recipes are all about highlighting the natural flavor profiles of individual peppers, not masking the flavor of the food they are used on. Adoboloco's Bangkok hot sauce, infused with Thai peppers, has a light, natural lime flavor. Its Maui No Ka Oi (Maui is the Best) sauce, made with fearsomely named Trinidad Moruga Scorpion pepper, offers a light sweetness with its tear jerking heat.
"It's like estate wine, where you know the grape," Parsons says. "That's how our sauces are: They taste like jalapeño, like ghost peppers, like Hawaiian chili peppers."
Bursting with vinegary, garlicky heat, Adoboloco's sauces are also impressively versatile, pairing well with everything from hot-sauce staples like burritos and chili, to cocktail mixes and marinades. And for the hot-sauce averse?
"You start building a tolerance," Parsons assures me, when I confess to possessing weak taste buds. As his tolerance for heat has increased so has that of his kids, who are now the company taste testers. True Adoboloco fans, they use the family hot sauces at every meal.
Not quite there yet, I vow to make a turkey sandwich with a bit of Adoboloco Jalapeño sauce first chance I get. Baby steps, Tim. Baby steps.
This feature was originally published in the November/December 2014 issue of HAWAII Magazine.