Backpacking the Muliwai Trail to Waimanu Valley on Hawaii Island
The trail is the only accessible route to this verdant valley.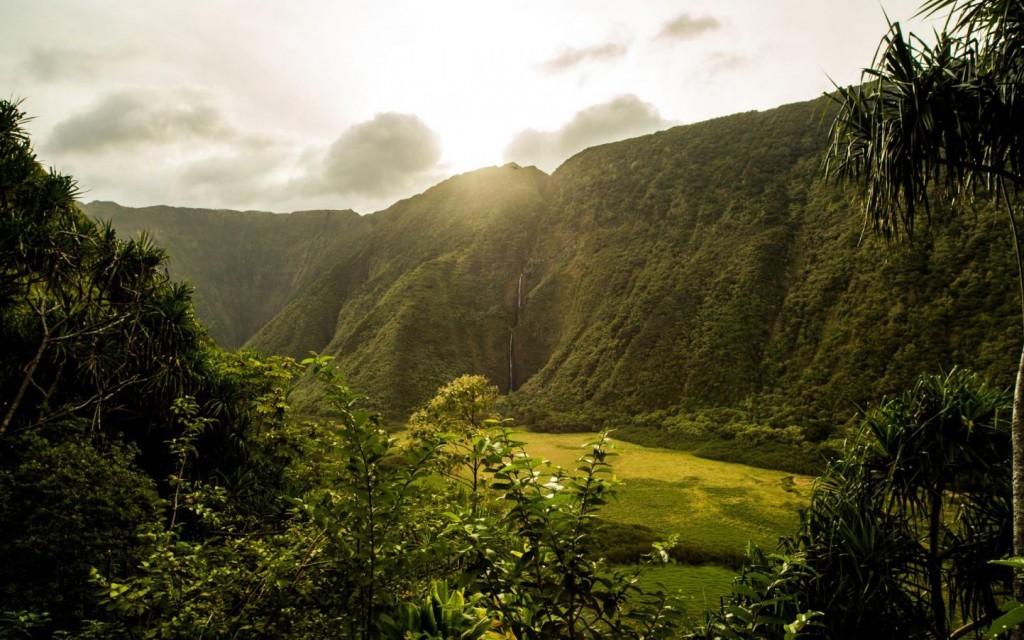 Waimanu Valley's ancient green amphitheater streams with white water falling from impossibly high heights.
Its star, Waihilau Falls, rains down a series of drops totaling an improbable 2,600 feet. Coveted oceanside campsites in this remote and pristine region—the largest of Hawaii Island's northern valleys—offer a chance to sleep under a blanket of stars, laze away days swimming in waterfall-fed pools and gather sweet coconuts, freshwater prawns and flaky ocean fish for incredible al fresco suppers. But to plant two feet on terra firma amid Waimanu's quiet magic, you'll have to earn it.
Where Is Waimanu Valley
In the hinterlands, between the western-accessible Pololu Valley and eastern-accessible Waipio Valley, bookending the Hamakua Coast north of Hilo. The only land access into Waimanu is via the Muliwai Trail.
How To Get There
You'll have to hike or hitch down one of the country's steepest roads into Waipio Valley—the childhood home of island-uniting Hawaiian King Kamehameha the Great—and cross its mile-long black sand beach and shallow stream that feeds a handful of traditional taro farms.
Muliwai Trail: The Basics
From there, the Muliwai Trail's Z-shaped switchbacks navigate the 1,200-foot vertical challenge of Waipio's forested western wall. At the top, it's 8 more miles of up-and-down over smaller gullies and more than a dozen stream crossings before the grueling descent through slippery jungle into the protected pocket of 3,600-acre Waimanu Valley. At the bottom, a rope strung across Waimanu Stream helps navigate the slippery stones underfoot.
Overall, it's about 14 hours of hiking in good weather. Quite a journey, so we recommend making this a three-day, two-night affair. The distance you'll traverse round-trip? 18 miles.
Before You Go, Some Practical Info:
To fully enjoy the valley, you'll want to spend one day hiking in and another hiking back, a recommended third day allows you to explore the valley.
Nine camping sites west of the stream require permits that can be obtained up to one month in advance (from $12/night, max. 6 nights)
There are two small and minimally maintained outhouses but no trash removal service, so remember to take out what you take in.
It's possible to save weight in your pack and fill up with freshwater and food along the way—to do so, you may want to bring a water filter, knife and fishing gear.
---
Related: Photographer David Chatsuthiphan shares moments from his three days in Waimanu Valley in this photo essay.