Battleship Missouri Memorial marking two anniversaries with weekend festivities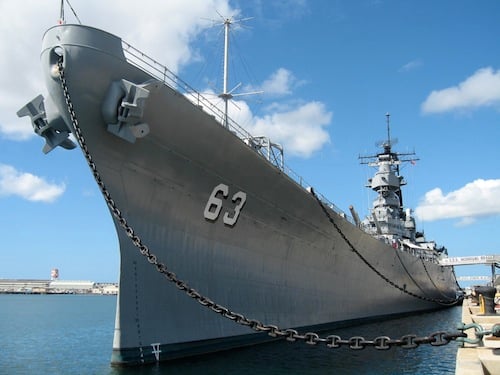 The USS Missouri (BB-63) launched from Brooklyn Navy Yard in New York on this day (Jan. 29) 69 years ago.
Among the ship's historical highlights: Supreme Allied Commander Gen. Douglas MacArthur and representatives from 10 nations assembled on the USS Missouri in Tokyo Bay on Sept. 2, 1945 to accept Imperial Japan's formal, unconditional World War II surrender.
The formal surrender aboard the USS Missouri, known as "Mighty Mo" followed V-E Day (Victory in Europe Day), May 8, 1945, when German troops laid down their arms after Germany surrendered to Allied Nations. Japan announced its surrender on Aug. 15 (Japan time) and formalized the agreement on Sept. 2 aboard the ship, thereby finalizing the Allies' victory over Axis Powers.
The USS Missouri was decommissioned in 1995. On Jan. 29, 1999, the ship was re-opened as a museum, Battleship Missouri Memorial, in Pearl Harbor on Oahu.
To mark both anniversaries, the Missouri Memorial is hosting a celebration this Saturday. Among the special events: band performances, educational demonstrations and activities, battleship game stations, special tours and a volunteer recognition ceremony, which is slated to begin at 10:30 a.m. on the ship's fantail.
In a news release issued by the Missouri Memorial, Michael A. Carr, the nonprofit's president and chief operating officer, said: "The Battleship Missouri Memorial is a proud tribute to the military — the brave men and women who put it all on the line to protect our freedoms – and we welcome all of them to join us on Feb. 2 to celebrate two major anniversaries in the ship's history."
Carr added, "We're also taking this opportunity to thank our countless volunteers who keep the Missouri looking ship-shape, and our wonderful kamaaina who have been such generous hosts for the past 14 years."
Festivities will get under way at 8 a.m. and wrap up at 2 p.m., with normal tours continuing until 4 p.m. Active-duty and retired military personnel and military dependents with valid Department of Defense ID, as well as all Hawaii residents with state photo ID (such as driver's licenses) will be admitted to the celebration for free. For additional information, click here.

The Missouri Memorial is located a ship's length from the USS Arizona Memorial, which covers the sunken USS Arizona. The National Park Service's World War II Valor in the Pacific National Monument describes the battleship as the "final resting place for many of the 1,177 crewmen who lost their lives on December 7, 1941," during the Japanese aerial attack on the harbor that propelled the United States into World War II.
For more information about the Missouri Memorial, click here. Click here for more information about the national monument.