Beaches! Bodysurfing! Barack Obama begins his Hawaii vacation.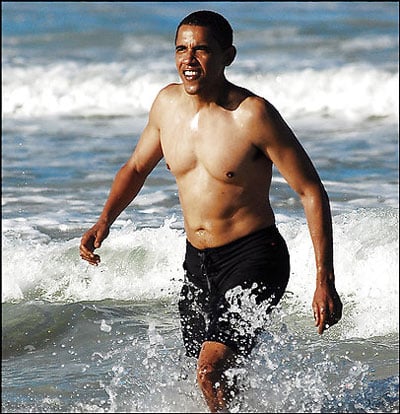 U.S. Sen. Barack Obama arrives on Oahu today for nine days of rest and relaxation, his first break since presumably clinching the Democratic presidential nomination in June.
It'll also be Hawaii-born Obama's first return trip to the Islands in 18 months—he, his wife Michelle and his two daughters traveled to the state each December to visit family up until he announced his run for the presidency in early 2007.
So far, only two campaign-related Hawaii appearances are in the offing—one private, one public.
All 500 tickets for a $2,300-a-person private fundraiser at the Kahala Hotel & Resort next Tuesday have already sold out.
But Obama campaign officials said last night that the Illinois junior senator's first stop after landing this afternoon will be a "Welcome to Hawaii" event at Ke'ehi Lagoon Beach Park. Gates to the park—entry is at 465 Lagoon Drive—will open at 12:30 p.m. Entry is free, but RSVP is recommended. Click here to RSVP.
Keehi? Not the most picturesque park for the national media cameras, in our humble opinion. But, oh well.
Wondering what former local boy Obama's tips are for an ideal Oahu vacation?
In an interview with the Honolulu Star-Bulletin in February, he listed his favorite things to do on the island:
Go to the beach (a given, see photo above taken on his last visit)
Visit Waimea Falls
Check out the Honolulu Zoo
Hang out in Kapiolani Park
Watch the fireworks at Ala Moana Beach Park
Hike up to Manoa Falls
And, of course, spend some time with his tutu (he's referring to the Island word for grandmother, not the ballet costume), Madelyn Dunham, who resides on Oahu.
All great ideas for any Oahu vacationer, though we can't recommend showing up on the doorstep of Barack Obama's grandmother unless invited.
In the Star-Bulletin interview, Obama also recalled previous trips where he would go out alone to Sandy Beach (on Oahu's southeast side) to do a little bodysurfing. Should he risk the at times dangerous shore break at Sandy's on this trip, he won't be swimming alone. A Secret Service detail now watches over him at all times.
Obama may even have a beach of his own to wade in—he'll reportedly be chilling in a private oceanfront home at an undisclosed Oahu location. All beaches in Hawaii are accessible to the public so you may catch him chancing a wave or two.
If not, there's alway Zippy's. Everyone here eats there at some point.