"Best of Hawaii" 2010: Our favorite Hawaii cultural events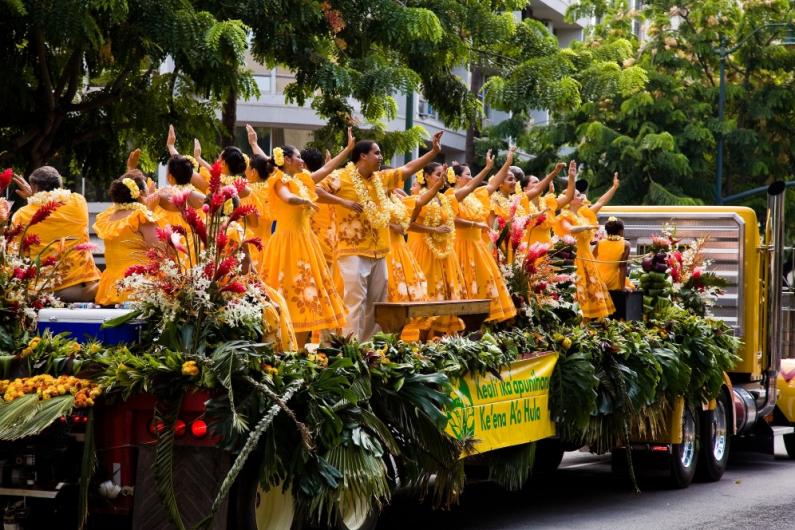 The 2010 HAWAII Magazine "Best of Hawaii" issue is arriving in subscriber mailboxes and on sale nationwide now! It's always one our most popular issues of the year, always a keeper.
And as always, it's loaded with picks from our knowledgeable HAWAII Magazine and HawaiiMagazine.com readers and our editorial staff, sharing their advice and insights on the best our Islands have to offer.
The "best" of what you ask? The best of everything Hawaii, of course.
Among the "best" in this year's "Best of Hawaii" issue? Readers selected their favorite spots on Maui, Kauai, Oahu and the Big Island for a photo opportunity, shave ice flavor, swimming beach, splurge and inexpensive restaurants, retail stores, month to visit Hawaii and hiking trails. We sought out expert advice on best tips for creating beautiful Hawaii photos, best swimming beaches and hiking in Hawaii. Our editorial staff pitched in with our picks for favorite Hawaiian music albums and Hawaii shave ice toppings.
You'll have to pick up a copy of the "Best of Hawaii" issue to see all of our reader and editorial staff picks, or subscribe to HAWAII Magazine. But for our HawaiiMagazine.com readers, we thought we'd share "best of " picks from one of our editorial staff-chosen categories: HAWAII Magazine's Favorite annual Hawaii Cultural Events.
We've selected one event each from the Big Island, Maui, Oahu, Molokai and Kauai, and included dates for the next one (so you can pencil a few into your Hawaii vacation plans).
Let's begin on the Garden Isle …
KAUAI
Kauai Mokihana Festival
Kauai's Malie Foundation puts on events to educate people about Hawaiian language and culture. The events culminate in this seven-day festival. (The mokihana berry is the official Kauai flower for lei.) There are competitions for Hawaiian instrumental music, composers, and youth groups, ending with a three-day hula competition at the Kauai Beach Resort.
Kauai Beach Resort, 4331 Kauai Beach Drive, Lihue, (808) 822-2166, www.maliefoundation.org
2010 dates: Sept. 19-25
2011 dates: Sept. 18-24
MAUI
Celebration of the Arts
This celebration of Hawaiian cultural practices packs so much into its two-day schedule you may need a couple of days beforehand just to plan your strategy. Always held at the Ritz-Carlton Kapalua Resort and always open to the public, Celebration of the Arts includes Hawaiian music, cooking demonstrations, hula demonstrations and instruction, and classes and workshops where you can learn to craft everything from Hawaiian jewelry to a bowl of Hawaiian-style poke. Plus seminars and panel discussions on current Hawaiian cultural issues.
Ritz-Carlton Kapalua Resort, 1 Ritz-Carlton Drive, Kapalua, (808) 665-7296, www.celebrationofthearts.org
2011 dates: April 22-23
Aloha Festivals is neither a commercial nor a state operation. It's always operated with volunteers and a shoestring budget, fueled by aloha. In recent years, it has retrenched, but Oahu still hosts Hawaii's largest street party, the Waikiki Hoolaulea (celebration), and the traditional Floral Parade. This year there's Taste of Helumoa, a benefit for the festival, named for the coconut grove at the Royal Hawaiian Shopping Center, where it is held. If you're on Oahu in September, you're in luck as official Aloha Festival events kick off Sept. 2. HawaiiMagazine.com recently posted a summary of 2010 Aloha Festival events, with dates and times included.
At multiple Waikiki locations, Oahu, (808) 589-1771, www.alohafestivals.com
2010 dates: Sept. 2, Royal Court Investiture, Opening Ceremony; Sept. 18, Aloha Festivals Waikiki Hoolaulea; Sept. 25 Aloha Festivals Floral Parade.
2011 dates: Sept. 17, Waikiki Hoolaulea; Sept. 24, Floral Parade

BIG ISLAND
Hawaii Island Festival-30 Days of Aloha
It's a monthlong celebration of the Big Island's rich cultural heritage. Founded after the Aloha Festivals scaled back its Big Island events, Hawaii Island Festival presents a lengthy lineup of its own: hula exhibitions, a royal court investiture, a falsetto and storytelling contest, a poke-recipe contest and a Waimea town hoolaulea and paniolo (cowboy) parade. Just buy a ribbon and you're good for most events. The good news if you're on the Big Island between this weekend and Sept. 16? Hawaii Island Festival events begin Aug. 28, with the Royal Court Investiture at Puuhonua o Honaunau National Historic Park.
At various Big Island locations, www.hawaiiislandfestival.org
2010 dates: Aug. 28-Sept. 16
2011 dates: Not set yet, but expected to be similar to 2010 dates.
MOLOKAI
Molokai Ka Hula Piko
Oral tradition has it that hula began on Molokai and was spread to the other islands by Laka, now regarded as a goddess. This three-day festival celebrates the roots of hula, with cultural excursions and lectures, culminating in a whole day of music and dance, with guest hula halau (hula troupes) from as far away as Japan. Unlike the Merrie Monarch Festival, Ka Hula Piko is not a hula competition. It's a hula celebration, in authentic Molokai style, complete with local crafters and food.
Mitchell Pauole Center, Kaunakakai, (800) 800-6367, www.molokaievents.com
2011 dates: May 12-14