"Best of Hawaii" 2010: Our readers' favorite Hawaii hiking trails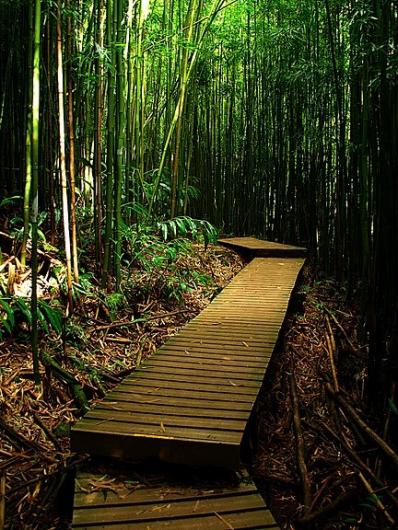 HAWAII Magazine's 2010 "Best of Hawaii" issue is on sale now!
As always, the annual issue is full of tips and suggestions, straight from our HAWAII Magazine and HawaiiMagazine.com reader ohana and editorial staff, for finding the best our Islands have to offer.
Among the "best" in this year's "Best of Hawaii" issue? Readers selected their favorite spots on Maui, Kauai, Oahu and the Big Island for a photo opportunity, as well their favorite shave ice flavor, swimming beach, splurge and inexpensive restaurants, retail stores and month to visit Hawaii. Our editorial staff passed along our picks for favorite Hawaiian music albums and favorite Hawaii shave ice toppings.
We even sought out expert advice on best tips for creating beautiful Hawaii photos, best swimming beaches and hiking in Hawaii.
You'll have to pick up a copy of our 2010 "Best of Hawaii" issue to check out all of our reader and editorial picks, or subscribe to HAWAII Magazine. But here on HawaiiMagazine.com, we're sharing a few choice picks straight out of the issue. A few weeks ago we posted a list of our editorial staff's picks for its favorite Hawaii cultural events.
Now, here's a category we asked our subscriber ohana to weigh in on this year: HAWAII Magazine readers' Favorite Hawaii Hiking Trails.
You'll find our readers' top pick from Kauai, Maui, the Big Island and Oahu on the following pages.
If you're ready, let's lace up our hiking shoes, pack sunscreen and lots of water and head over to the Valley Isle for the first of our reader's favorite hiking trails …
MAUI
Haleakala National Park
Readers offered up a variety of trails within the park as their favorite. The summit area of Haleakala alone has over 30 miles of 'em, from 10 minute walks to overnight trek. But our favorite is the Kaluuoakaoo Trail, a 5-mile roundtrip descent straight to the crater floor. The trailhead starts at the Haleakala visitor center parking lot at the summit and descends through a cinder forest of caverns, ash flows and cinder cones. Just keep in mind that the high altitude—10,000-plus feet above sea level—and uphill switchbacks can make the return trip to your car quite strenuous.
OAHU
Diamond Head Crater Trail
This is Hawaii's most popular hike, attracting more than 1.3 million people annually. Proximity is part of the hike's appeal. The world famous natural landmark is in the center of urban Honolulu, and neighbors Waikiki, the state's most visited resort area. Bottom line, though, if we were visitors we simply couldn't imagine returning to the mainland (or anywhere else) from an Oahu vacation and not being able to brag to friends, "I climbed Diamond Head crater!" A city bus takes you to the entrance of Diamond Head State Monument, along Diamond Head Road. Once inside the extinct crater—the remnant of an explosion more than 500,000 years ago—a 1.6 mile round trip hike includes a quick incline of 560 feet, a very steep stairwell and a 225-foot unlit tunnel. (A flashlight is helpful.) All of this is worth it once you emerge from the tunnel at the summit. On a clear day you can see Oahu's entire south shore from Koko Head to the Waianae Mountains.
KAUAI
Napali Coast Kalalau Trail
Ah, the Napali Coast! If you wish to hike the northern side of this breathtaking coastline—with its plunging sea cliffs, lush rainforests and valleys and panoramic ocean views—Kalalau is your trail. Depending on how far you wish to follow the strenuous 11-mile trail, you may have to plan an overnight trip. Whatever your plans, you'll begin your hike at the Kee Beach at the end of Highway 560, and follow the Kalalau trail for two miles to Hanakapiai Beach. Hanakapiai is a white sand beach, best visited in summertime as it tends to wash away in winter. At four miles round trip, the trek to Hanakapiai is a great day hike. To hike further to Kalalau Valley—the trail's endpoint—or to camp, however, you must obtain a state permit.
BIG ISLAND
Hawaii Volcanoes National Park
Kilauea, in Hawaii Volcanoes National Park, is the most active volcano on the planet. You can see its natural splendor in many ways—by air or sea, for instance. But the most dramatic of your options may very well be by foot. The park has more trails than you could take in a week—from a quick walk through a lava tube to multi-day hikes. HAWAII Magazine readers offered up many picks to choose from. One of our favorites, however, is the 4-mile loop trail through Kilauea Iki crater, the remains of a massive 1959 eruption. The trail begins off the park's Crater Rim Drive near the Thurston Lava Tube. Its more than 400-foot descent takes hikers through a variety of scenery—lush fern- and foliage-filled rainforests, near active steam and sulfur vents and across a long-solidified lava lake.