"Best of Hawaii": Eddie Vedder covers Bruddah Iz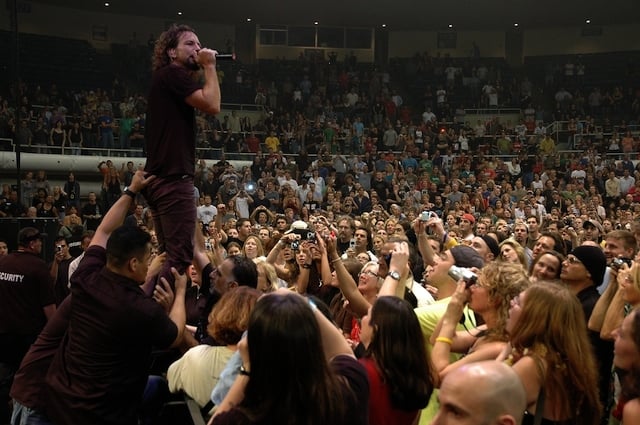 And now, another pick from our 2008 "Best of Hawaii" cover feature.
Pick up a copy of HAWAII Magazine's current September/ October 2008 issue and you'll find more than 91 reader and writer picks celebrating the best Hawaii has to offer.
Our reader picks include their favorite beach, town, place to eat, advice for a trip to Hawaii and Hawaiian musician. Our editorial staff's picks include best free activity on Maui, most overlooked scenic spot on the Big Island, best places to eat you wouldn't find on you own, and this one:
"Best cover of an Israel Kamakawiwoole song by a part-time Hawaii resident."
Here's the low down on Pearl Jam lead vocalist and Hawaii-winter-wave-season resident Eddie Vedder's reverent cover of "Hawaii '78," a composition first made famous by Israel Kamakawiwoole as a member of the Makaha Sons of Niihau.
On Dec. 2, 2006, Pearl Jam finished its world tour with a show in Honolulu's Blaisdell Arena. Lead singer Eddie Vedder surprised the crowd with an anthem made famous by a musician he had long admired—the late great Israel Kamakawiwoole. It was "Hawaii '78," one of the first and most powerful songs about Hawaiian sovereignty.
The result is a classic, buoyed by part-time Hawaii resident Vedder's wondrous baritone—alternately hushed and soaring, always heartfelt.
"We didn't expect anything from it," said Vedder, of the live cover, which is still played on Hawaii radio. "It was more (us) wanting to play it to get it into the atmosphere. We were almost asking of Iz to kind of come down and check us out and give us his blessing."
Click here to see a clip of Pearl Jam's performance.
By the way, Iz was also our readers' overwhelming "Best of Hawaii" choice for favorite Hawaiian musician. Click here for a clip of Iz doing "Hawaii '78″ in his own inimitable style.
HAWAII Magazine's current issue is available at most national bookstores and newsstands. It's also available by print subscription and in a digital format downloadable on your computer.