Best Road to Hana Places to Stop
Plan your Maui adventure with this handy guide.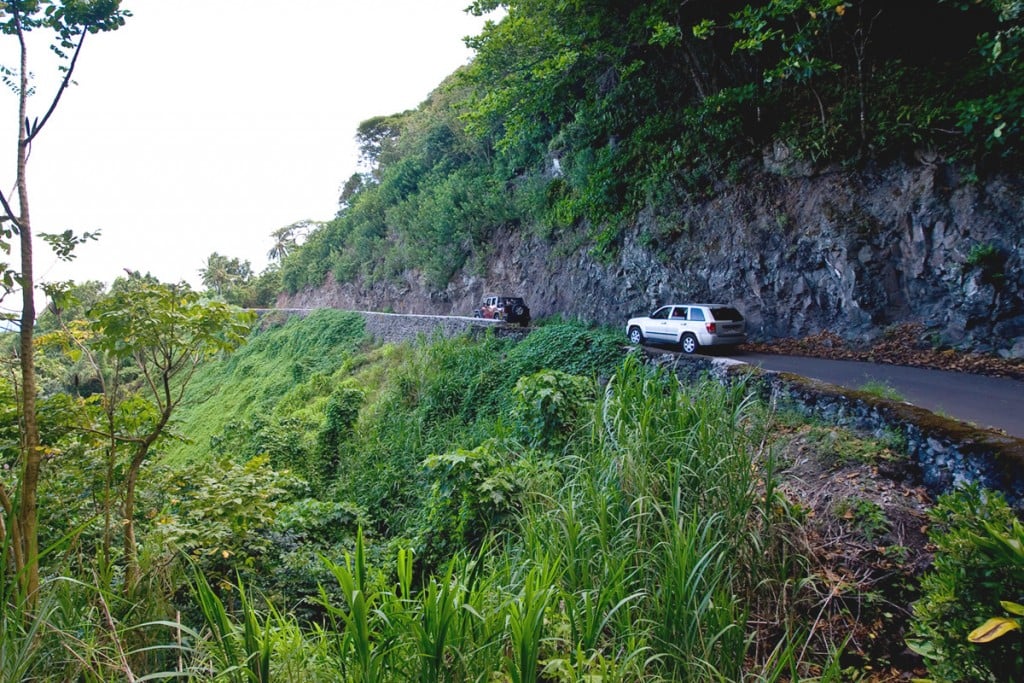 You know the saying that it's all about the journey and not the destination?
Most people think that refers to life, but we're going to say it was originally spoken about driving the Road to Hana.
Maui's famously serpentine drive is an all-day (or better yet, multi-day adventure) that's packed with waterfalls, hiking trails, beaches, caves and Hawaiian cultural sites.
Yes, the drive is over 60 miles long—and that's just from Kahului Airport—but there are so many sights to see along the way that you're rarely in the car for 30 minutes at a time should you choose to get out and savor the journey at one of these popular stops.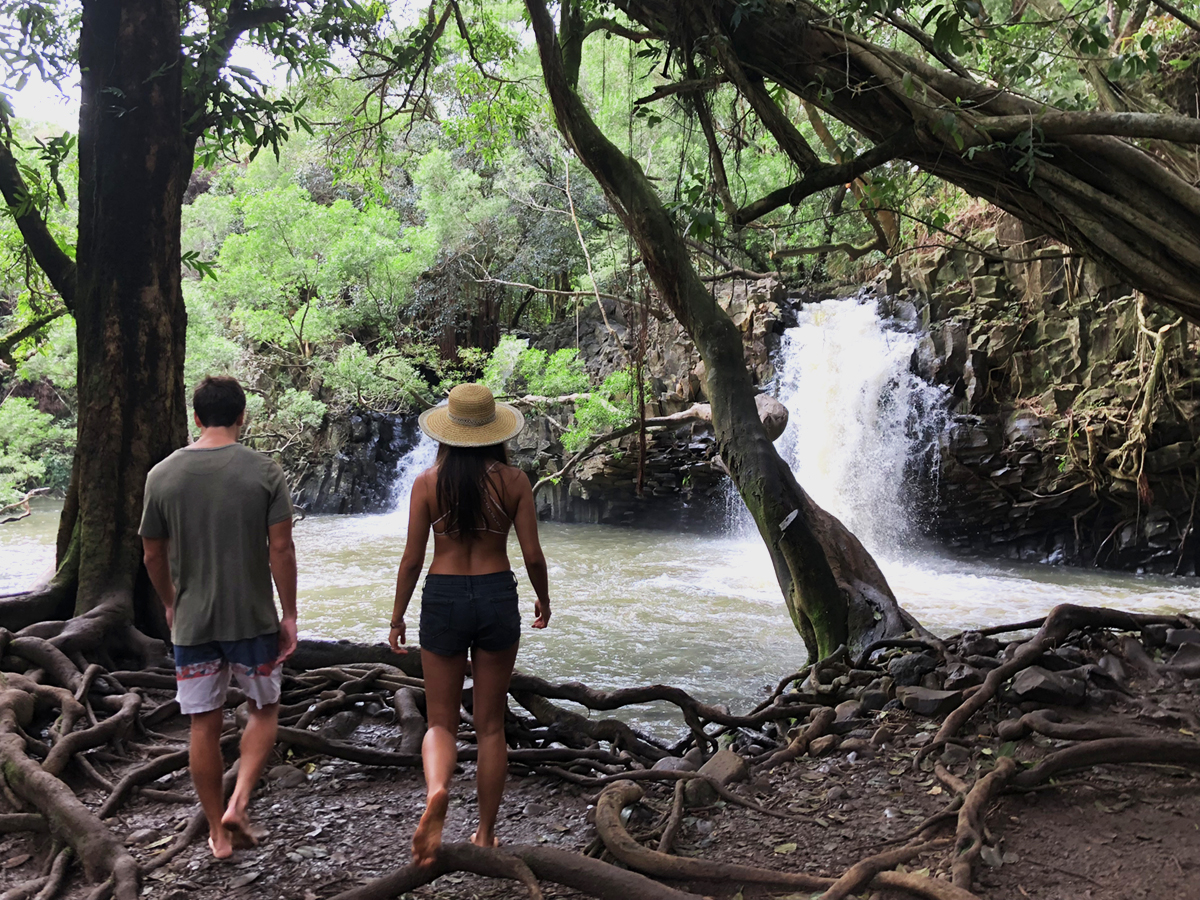 Twin Falls (Mile Marker 2)
Only 25 minutes past the town of Paia, Twin Falls is arguably the most popular waterfall hike on the Road to Hana. The roadside farm stand bursts with fruit that's grown right there on the farm, and you can either visit a series of falls that are less than five minutes from the parking lot, or make the 20-minute trek to a waterfall that plunges over a cave.
Hikers are warned that the second set of falls are for "advanced hikers only," since the walk can mean navigating shin-deep streams and sections of slippery rock.
Rainbow Eucalyptus trees (Mile Marker 6.7)
A favorite of Maui nature photographers, this Rainbow Eucalyptus grove is a pastel example of nature's simple, yet fascinating beauty. We recommend viewing them from the road.
When a section of tree bark dies on these trees, it falls to the ground and leaves behind a streak of fresh green bark. As the bark then ages and lightens in the sun, it changes colors from green to violet to red and eventually, orange, before eventually falling back to the ground and starting the cycle anew.
Waikamoi Ridge Trail and Falls (Mile Marker 9.5 and 10)
Whether you need to stretch your legs or cool off beneath a waterfall, the Waikamoi area is the perfect spot for some Road to Hana adventures. The heavily forested Waikamoi Ridge Trail forms a .8-mile, moderate loop that gains about 200 feet in elevation before reaching a hidden picnic table. You'll find ample parking on the side of the road (although unfortunately there aren't any restrooms), and even though the trail can get muddy, you can wash your legs just a half-mile later at roadside Waikamoi Falls.
Keanae Peninsula and Arboretum (Mile Marker 16.5)
Famously located "halfway to Hana," this fertile peninsula is covered in kalo (taro) found growing in loi, or fields. Pick up some homemade banana bread and head to the eastern-facing rocks to watch waves come crashing ashore. You can also enjoy a half-mile hike through Keanae Arboretum, where Rainbow Eucalyptus trees join ferns and hanging lobster claws.
Upper Waikani Falls (Mile marker 19.5)
Another popular roadside waterfall is Upper Waikani Falls, which earned the nickname of "Three Bear Falls" for the Papa Bear, Mama Bear and Baby Bear sizes of the three parallel falls. The largest cascade is about 70 feet tall, but on rainy days the three cascades can blend to become a torrent of water that explodes on the rocks below.
Puaa Kaa State Wayside Park (Mile Marker 22.5)
Yes, the "hiking trail" is handicap accessible (so it's not the most adventurous stop), but Puaa Kaa Wayside Park has restrooms, picnic tables and a gorgeous waterfall that makes an easy photo op.
Kahanu Garden and Piilanihale Heiau (Mile Marker 31)
It's amazing what you find when you venture even a single mile off the road. Located toward the end of Ulaino Road, where the pavement gives way to dirt, this National Tropical Botanical Garden is home to Polynesia's largest religious structure. Known as Piilanihale, the heiau dates back to the 16th century to the days of Piilani, whose rule over Maui was marked by prosperity, peace and a time of abundance. The top of the heiau is 450 feet long and 320 feet wide, although considering the sacred nature of the site it's a place that you view from afar. During the self-guided walking tour of the garden you'll also find info on tropical plants from maia (banana) to ko (sugar cane), ipu (gourd), uala (sweet potato) and kalo.
Kaeleku Caverns (Mile Marker 31)
If you'd rather explore what's underneath Hana—rather than the waterfalls around it—grab a flashlight and navigate the depths of Kaeleku Cavern. This lava tube is over a quarter mile long and takes 35 minutes to fully explore the multiple different chambers. When you eventually emerge back into the light, take a walk through the ti leaf maze—the largest of its kind in the world.
Waianapanapa State Park (Mile Marker 32)
Home to Pailoa Bay—aka "Black Sand Beach"—Waianapanapa State Park features everything from hidden, freshwater pools to a scenic coastal hiking trail that was once the footpath of royalty.
Hana Town  (Mile Marker 34)
Rather than being the final destination, the town of Hana is merely a waypoint on the Road to Hana journey. It's the best (and only) place to stock up on snacks, fuel and supplies, and you can grab lunch from one of the half dozen food trucks near the middle of town, or visit the Hana Cultural Center, just steps from Hana Bay.
Hamoa Beach (Mile Marker 51)
If you want to leave footprints on Hana's nicest beach, you'll need to drive a couple of miles past the town of Hana itself. Hamoa Beach is one of those places where all your cares seem to evaporate into the wind and crashing surf. You can snorkel on days when the water is calm—and bodysurf on days when it's not—and this five-minute detour down Haneoo Road is worth every second it takes you away from the "official" Road to Hana.
Wailua Falls (Mile Marker 44.8)
Sure, the 80-foot, roadside waterfall is reason enough to stop, but what makes Wailua Falls so special is the feeling that you're standing in the heart of the rain forest and are only a few steps from your car. Vines twist around knotted brown tree trunks where kukui (candlenut), ulu (breadfruit) and ginger infuse the canopy with hues of green and red. Because there's so much parking here it's a frequent stop of tour buses, but there's plenty of room for everyone to spread out and gawk at the tropical beauty.
Pools of Oheo and Pipiwai Trail (Mile Marker 41.5)
Finally, as the pièce de résistance to the epic drive—and the point where most turn around—the Kipahulu section of Haleakala National Park is home to the famous Pools at Oheo that spill gently down to the sea. While the pools are indefinitely closed for swimming, you can seek out an even greater adventure by tackling the 4-mile Pipiwai Trail, which twists pasts waterfalls and through groves of bamboo so dense that they block out the sun. The trail finally ends at Waimoku Falls, where a single column of wispy water plunges just over 400 feet, and you realize in an instant that the 600 curves and 50 bridges were worth every narrow twist and turn to be able to capture this moment.
Related stories:
Watch: Driving the Road to Hana
The hidden taco truck you need to find on the Road to Hana
The essential packing checklist for your Road to Hana drive
What to know about driving Maui's other way to Hana
Maui's Garden of Eden: A tropical rest stop on the Road to Hana
7 must-visit Waianapanapa State Park sites