Big Island lava flow to get public viewing area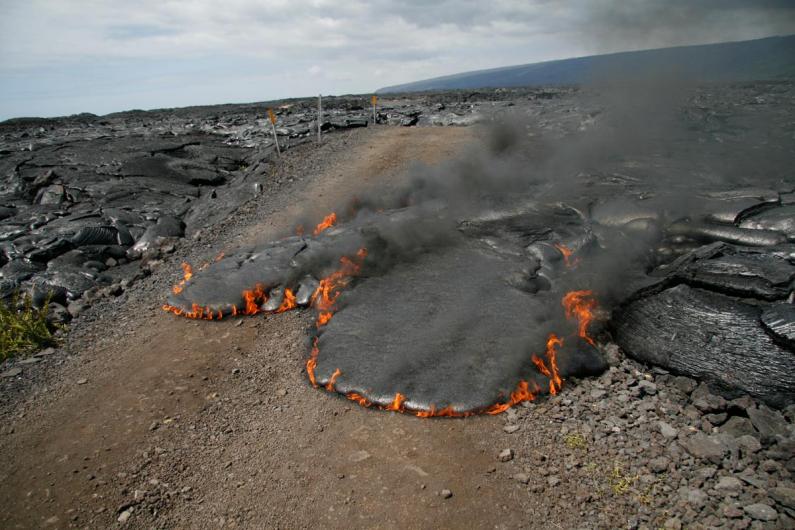 County officials are hoping to open an access road that will allow visitors to safely view a Big Island lava flow by Saturday.
A lava flow from Kilauea Volcano that has been slowly passing through the mostly vacated subdivision of Royal Gardens since January finally reached the ocean early this morning. County officials hope that opening an access road for visitors near the current flow will prevent the curious from wandering unsupervised into Royal Gardens or the Puna brush to see the flow up close.
The current flow from Kilauea has generated great interest because it is largely visible above ground as it moves through brush and over older flows. Lava from the eruption has been entering the ocean near Puna for much of the current eruption's quarter-century of life mostly through underground tube systems.
More than 1,000 visitors are expected to visit the new viewing site when it is opened.
Updates, maps and photos of the current flow are available here from the United States Geological Survey's Hawaiian Volcano Observatory. Look for an update on this post when more information on the access road becomes available.
And if you haven't checked it out already, click here for a comprehensive feature on the history of Kilauea's current eruption from the Jan./Feb. issue of HAWAII Magazine. Written by globetrotting volcano investigator Donna O'Meara, the cover story starts on page 34 with a terrific photo spread by the author and her equally well-traveled volcano watcher husband Stephen.
UPDATE, 3/7/2008: Hawaii County officials will open the public viewing site at 2 p.m., Saturday, March 8, at the end of Highway 130 on the Kalapana side of the flow. Public access to the site will be allowed daily from 2 p.m. to 10 p.m. Cars will not be allowed into the public access area after 8 p.m. The hike from the parking area to the viewing site is about a half-mile. Flashlights are recommended after dark.