Big Island recording artist wins big at 2011 Na Hoku Hanohano Hawaii music awards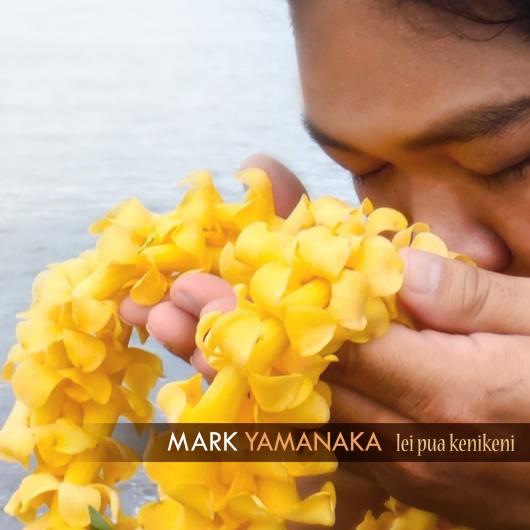 Many Island visitors are well acquainted with Hawaii music stars such as Willie K and Kealii Reichel. How about Mark Yamanaka? Have you ever listened to a tune recorded by the Big Island musician? Not sure?
If Na Hoku Hanohano Awards serve as a sort of forecast for future success, Hawaii music fans are likely to become very familiar with Yamanaka's music in years to come. On Sunday night, during the 34th annual Na Hoku Hanohano Awards ceremony (the Hawaiian music industry's equivalent of the Grammys), Yamanaka won "Album of the Year" for his debut album, Lei Pua Kenikeni, "Male Vocalist of the Year," and "Most Promising Artist" honors.
The only two other artists to sweep those three categories with debut albums? Yep, Willie K and Reichel, winning big in 1992 and 1995 respectively, according to Na Hoku Hanohano's organizers.
Yamanaka, who had been nominated for seven Na Hoku awards, won a total of four at the 2011 Na Hoku Hanohano Music Awards ceremony, held on Oahu at the Hawaii Convention Center. He went one better than his sweep by also picking up the award for "Song of the Year," for Kaleoonalani, a tune written for the Hilo resident's young daughter and sung in a crooning baritone.
Known for having a voice well suited for falsetto, Yamanaka has studied with musician/composer/kumu hula Johnny Lum Ho, who has also mentored Hawaiian falsetto singers such as Darren Benitez and Na Palapalai's Kuana Torres Kahele.


With eight nominations, Kainani Kahaunaele (pictured, left), a Kauai vocalist, musician and songwriter, had the most nominations on the 2011 Na Hoku ballot. She picked up a total of two awards, winning both top "Hawaiian Language Performance" and "Haku Mele" for music on her second album Ohai Ula. The mele award honors a first-time recorded Hawaiian-language song or chant.
Napua Makua, who received six Na Hoku nominations with her sophomore album, Mohalu, won four awards: "Female Vocalist of the Year," "Hawaiian Album of the Year," an award for graphics tied to "Mohalu, and "Favorite Entertainer" — a category in which the award is decided by a public vote.
Most of Na Hoku's 27 award categories are voted on by members of the Hawaii Academy of Recording Arts, an organization made up of recording industry professionals, journalists and others with an interest in Hawaiian music.
For more details about the 2011 Na Hoku Hanohano Awards, click here.
Here are the 2011 Na Hoku Hanohano Award Winners:
• Most Promising Artist: Mark Yamanaka, Lei Pua Kenikeni (Hulu Kupuna)
• Female Vocalist of the Year: Napua Makua, Mohalu (Pihana)
• Male Vocalist of the Year: Mark Yamanaka, Lei Pua Kenikeni (Hulu Kupuna)
• Group of the Year: KuMZ, On the Summit (Kauakoko Foundation)
• Christmas Album: Willie Wonderland, Willie K (Island Soul)
• Album of the Year (to artist and producers): Lei Pua Kenikeni, Mark Yamanaka (Hulu Kupuna) (Hulu Kupuna Productions, LLC and Kale Chang, producers)
• Song of the Year (composer's award): Kaleoonalani, Mark Yamanaka, from Lei Pua Kenikeni, Mark Yamanaka (Hulu Kupuna)
• Single of the Year: He Lei Kaulana, Na Palapalai (Hulu Kupuna)
• EP of the Year: Solo Ukulele: The King of Pop, Abe Lagrimas Jr. & Friends (Pass Out)
• Anthology of the Year (producer's award): The Best of Na Palapalai, Na Palapalai (Koops 2), Shawn Pimental, producer
• Compilation of the Year (producer's award): Kona, various artists (Ua Mau), Dave Tucciarone, producer
• Contemporary Album of the Year: Forevermore, Ben Vegas & Maila Gibson (no label)
• Hawaiian Album of the Year: Mohalu, Napua Makua (Pihana)
• Instrumental Album of the Year: Ukulele Nahenahe, Herb Ohta Jr. (Lele)
• Island Music Album of the Year: Amy Hanaialii and Slack Key Masters of Hawaii, Amy Hanaialii and Slack Key Masters of Hawaii (Peterson)
• Jazz Album of the Year: Django Would Go, Hot Club of Hulaville (Hulaville)
• R&B/Hip Hop: Coconut Wireless, Kepa Kruse (Petroglyph)
• Reggae Album: The Green, The Green (SheeHandsomeDevil)
• Religious Album: Somewhere Up Ahead – Gospel Hymns of Hawaii, Vol. II, Ata Damasco (Ululoa)
• Rock Album: Stream Dreams, Kamuela Kahoano (Green Light Go/Kahoano)
• Slack Key Album: Play With Me Papa, John Keawe (Homestead)
• Graphics: Wailani Artates, for Mohalu, Napua Makua (Pihana)
• Liner Notes: Puakea Nogelmeier, Kalikolihau Hannahs-Paik and Kellen Paik, for English Rose, Kupaoa (Hulu Kupuna)
• Favorite Entertainer (by public vote): Napua Makua
• Haku Mele (composer's award for first-time recorded Hawaiian-language song or chant): Ohai Ula, by Kainani Kahaunaele, from Ohai Ula, Kainani Kahaunaele (Koops 2)
• Hawaiian Language Performance: Kainani Kahaunaele, Ohai Ula (Koops2)
• Engineering: Bryan Sanchez and Dave Tucciarone, for Hawaiian Girls, TTYM-Talk To You Music (TTYM)