Big Island's Kau Coffee Festival serving up world-class cups of Hawaii joe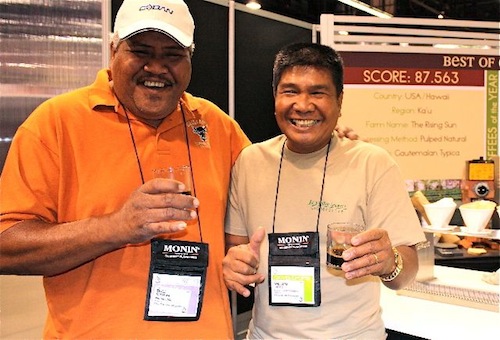 The fourth annual Kau Coffee Festival is slated to start tomorrow in the Big Island's southeast district, where the beans are bringing home international honors in gourmet cupping competitions.
A few months ago, three Kau area coffee farms were ranked among the top 10 in the Roaster Guild Specialty Coffee Association of America's Coffee of the Year international competition for 2012. The winners, who will be serving up java at fest, are: The Rising Sun/Will and Grace Farms — farmers Will and Grace Tabios; Rusty's Hawaiian — farmer Lorie Obra; and Alii Hawaiian Hula Hands Coffee —farmers Francis and Trinidad Marques. The other winning coffees in the competition were from farms in Honduras, Columbia and Ethiopia.
The Kau Coffee Festival's lineup of events for this year has been expanded to cover two weekends, starting with the inaugural Kau Farmers' Table: A Feast for the Senses, which is set for 5 p.m. to 9 p.m. tomorrow. It will be held at Kalaekilohana Bed and Breakfast on South Point Road in Naalehu. This culinary event will spotlight Kau resident chef Morgan Starr of Mi's Italian Bistro in Captain Cook, who will prepare a locally sourced, five-course dinner followed by a coffee and dessert bar featuring Kau coffee prepared four different ways. For information about tickets, click here.
Another new event, the Triple C Recipe Contest will be held at 2 p.m. on Sun., May 6 at Kau Coffee Mill on Wood Valley Road above Pahala. Contestants may enter cookie, cracker and candy categories. The contest is free to entrants and attendees, with limited tastings. For more information about he contest, click here.
The rest of the fest — to be held once again in Pahala town at the Pahala Community Center — is set for 9 a.m. to 4 p.m. on Sat. May 12. It will feature coffee-infused foods, music and cultural performances, visits to coffee farms and, of course, many opportunities to sample Kau coffees. Among the highlights: Kau Coffee Hoolaulea, at which attendees may sample Kau coffees prepared in a wide variety of brewing methods while chatting with 2011 U.S. Barista champion Pete Licata. For a full schedule of the day's events, click here.
Interested in learning more about the coffee biz? Kau Coffee College will return to the fest this year, 9 a.m. to noon on Sun., May 13. For more information about the event's educational offerings, click here.