Big Island's Sacred History of Surfing and the Athletes Who Surf its Volcanic Shores
Though the Big Island lacks the world-class waves of Oahu's Pipeline, it has a unique history.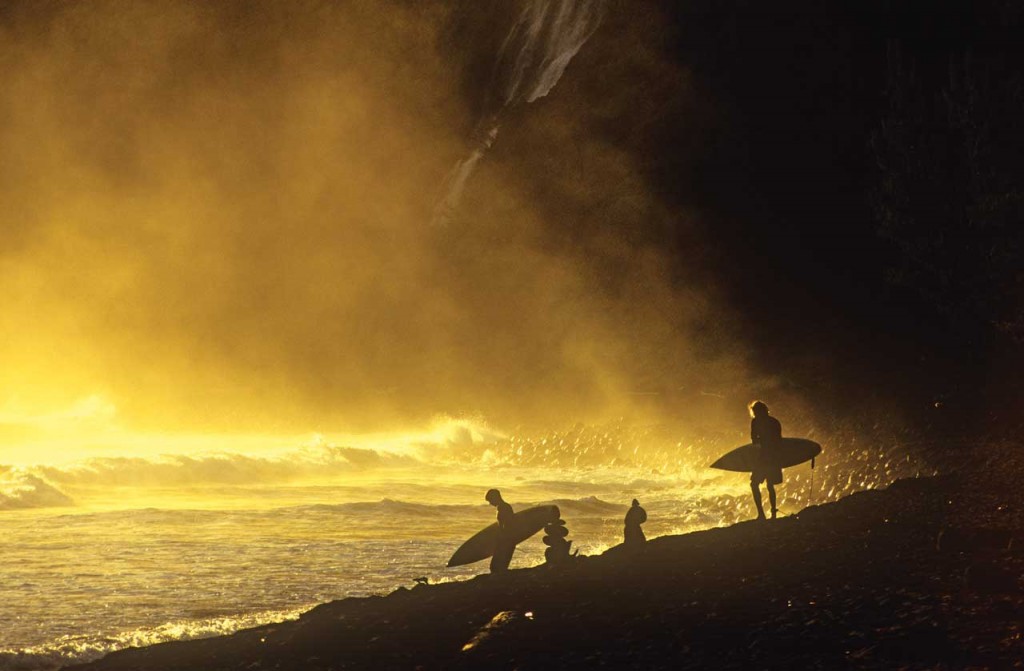 In the early morning darkness, brittle aa lava rock cracks, then crumbles beneath my feet. Navigating my way toward the Big Island's rugged western shoreline, there is barely enough light to see the path ahead. I stop briefly and gaze at the infinite spread of glistening stars, the same twinkling lights early Polynesians used many centuries ago to find their way to these Hawaiian Islands.
For a brief moment, it feels as if I am now on a similar mission. Searching for good waves is certainly less momentous, but surfing on the Big Island evokes that kind of emotion.
In the Hawaiian culture, certain locations are held in high esteem, especially as it pertains to hee nalu, or the ancient sport of surfing. The Big Island is littered with locations featuring distinctive links to surfing's past—perhaps more so than the other Islands combined, which might seem unusual given that in modern-day surfing, the Big Island is overshadowed by its more famous neighbors: Maui, Oahu and Kauai.
With a storied past dating back to the very evolution of the sport itself, surfing here just has a different vibe. Though the Big Island lacks the world-class waves of Pipeline, Jaws, Hanalei Bay and Sunset Beach, it boasts a unique history. Locals know that surfing here is both an honor and a privilege.
The ocean is just a short distance away now, and both my pace and excitement grow upon hearing the crashing surf ahead. For serious wave hunters, traversing these barren lava fields is a familiar routine. The better surf breaks are those harder to access; many are located in the middle of nowhere, and tackling them early before the trade winds turn onshore is vital.
With a land mass nearly twice as large as all the other Hawaiian Islands combined, the Big Island has no shortage of volcanic coastline, and hee nalu has a vast historical representation here. I notice several ancient kii pohaku (petroglyphs) which clearly depict surfing. King Kamehameha the Great, who was born on the island, knew this place like the back of his hand—especially the good surf spots. His favorite was rumored to be Kapanaia in North Kohala, not far from where he was born.
With the sun rising over the summit of Mauna Kea, my destination is before me: a glimmering black-pebble beach with a nice wave peak not far offshore. Several surfers are already in the lineup, most of whom I instantly recognize. As I hastily set up my camera gear and settle in for another day of shooting surf photos, I feel grateful to call this unique place home for the past 25 years.
Surfing's sacred heiau
The Hawaiian Islands are renowned as being the birthplace of surfing. While it can be contested whether or not this is true, little doubt remains that Hawaii is where surfing ultimately came of age. And physical evidence suggests the Big Island led the way.
"Determining surfing's earliest epicenters might seem like a difficult task, but tantalizing hints remain to be uncovered physically, in Hawaiian language newspapers and in the unwritten literature of hula," says Jan Becket, a former Kamehameha Schools teacher; author of the book Pana Oahu: Sacred Stones, Sacred Land; and longtime supporter of the Kalaeloa Heritage and Legacy Foundation.
Over the years, Becket has photographed and documented heiau (Hawaiian stone temples used as places of worship or offering) and other historical sites throughout the state. Yet, he readily admits there is much more we don't know. While we know that other Hawaiian coastlines—such as Halawa Valley on Molokai, Waikiki and Kahana Bay on Oahu, and Hana to Kaupo on Maui—played significant roles, we don't know the true extent.
Becket says that's because potential cultural surf sites on the other Islands have not survived the test of time like they have on the Big Island. Papaenaena on Oahu, for example, was a recorded surfing heiau on the western slope of Leahi (aka Diamond Head), but it was mostly destroyed in the 1850s for Waikiki roadwork. A piece remained until a tennis court was built for the Hawaii School for Girls.
There is speculation that surfing on Kauai might have been just as prevalent; unfortunately, any visible indicators have been destroyed by man or nature. Some suggest since King Kamehameha did not triumph over Kauai in the same way he did the other Islands, his influence on surfing did not reach there.
Oahu's distinguished North Shore is revered worldwide as the mecca for modern-day surfing. Several centuries ago, however, it was markedly different. Conquering mammoth 20-foot surf wasn't a concern; those early surf spots featured waves that were small, mushy and slow.
Native Hawaiians in pre-contact times didn't have access to the slick modern boards of today. Crafted from koa or other types of native wood, the traditional surfboards were extremely crude and heavy. With no fin to help turn the board, they were cumbersome to navigate in the surf; riders would often drag a back foot in the water as a rudder. Moreover, they primarily surfed in the whitewater part of the wave, not in the critical high-performance sections surfers ride now. In ancient times, the surfers didn't surf the board—the board surfed them.
As years passed, certain Big Island coastlines became the focal points of Hawaiian surfing. But if there is one particular area of the Big Island where surfing's history really stands out, it's Kailua-Kona. Two of the most documented sites in ancient surfing may go unnoticed, unless you know where to look: the historic Keolonahihi complex at Kamoa Point (also known as Lyman's surf break), and the Kuemanu heiau at Kahaluu Beach Park. These two extraordinary locations feature heiau that were once specifically used by the alii (chiefs), and even the makaainana (commoners), to pray for waves.
Beneath a canopy of banyan trees, adjacent to the surf at Kamoa Point, sits a rocky "grandstand" where lower-level alii would watch the highest alii surf. Beyond the grandstand on the shoreline, battered by several hundred years of tides and surf, is the Haleaaaama heiau, a structure once dedicated entirely to surfing.
Further south on Alii Drive at Kahaluu Beach Park, the Kuemanu heiau is regarded as the most prominent surfing-related heiau in the state. This is where the alii would make offerings and say prayers for good surf.
Other Big Island districts also have historical connections with surfing, but from the past to the present, this has been the focal point.
The Kailua-Kona surfers
Kona native Shane Dorian, the island's most well-known surfer, began sharpening his surfing skills on turquoise-colored waves in shallow water that broke over sharp coral and black lava. From an early age, he understood the significance of surfing in such a historic place.
"I definitely feel it surfing at home," says Dorian. "I grew up surfing the same waves surfed by the alii, and it's easy to imagine that when you're out there taking it all in. It's special for sure. I feel very lucky to have been born and raised here."
In the early 1990s, Dorian was a fixture on the world pro tour, along with the likes of Kelly Slater, Rob Machado and several others, as part of the highly touted "momentum generation." The Billabong-sponsored pro finished fourth in the world rankings in 2000, but ultimately retired in 2004 to concentrate on big-wave surfing. Regarded by many as one of the best big-wave surfers in the world, he regularly travels the globe in search of monster waves. But the Big Island, and Kona in particular, has always been Dorian's home.
"The Big Island has far fewer surf spots than the other Islands due to it being the youngest. If you check a spot and it's no good, you can't just go up the beach to the next spot, because that next spot is likely a long drive away," says Dorian. "We also have the majority of our winter swells blocked by Maui, which can be frustrating."
In a place where ohana means everything, very few epitomize it more than Dorian. The Big Island surfing scene runs in his veins. Late January of 2018 will mark the 23nd anniversary of Dorian's annual Keiki Surf Contest at his beloved surf break, Banyans. When the waves are firing, trying to find a decent parking spot along Alii Drive is never easy. On the day of Dorian's event, it's nearly impossible, and since the Big Island surf community always shows up in full force, traffic comes to a standstill.
It's been a great reward for Dorian to give back to the community. When the event first started in 1994, no one knew what impact it would have. Now, its benefits are undeniable.
"Our Keiki Classic has a positive impact on the kids and helps them build character. It gives them experience battling it out under pressure," says Dorian.
Through the years, some of these kids have gone on to become prolific surfers, including CJ Kanuha, Tonino Benson, Casey Brown, Torrey Meister and Leilani Gryde.
Following in the footsteps of his late father, Junior Kanuha, CJ Kanuha has developed into a strong community leader highly involved with the preservation of Hawaii. Kona-born and bred, his extensive knowledge and shaping of traditional alaia, and other traditional Hawaiian surfboards, only adds to his versatile talents.
"Shaping the kind of ancient boards that I do is simply an extension of my heritage. I wouldn't have it any other way," says Kanuha. "I just feel that here on the Big Island we are all connected to surfing's past."
His shaping skills have become so proficient, in fact, that a few of his boards are now featured at the Smithsonian in Washington, D.C.
"My father taught me so much about everything Hawaiian, and more specifically, about the deep surfing history of the Big Island. I learned at a very young age what it means to be a surfer from here," says Kanuha. "It's taught me many things, like helping to preserve our land and ocean, just as my father did. It's all ingrained in me and always will be. Here on the Big Island we are all connected."
Torrey Meister also passed under Dorian's tutelage at Banyans. Meister was born and raised in nearby Kealakekua Bay, where Captain Cook's lieutenant, James King, first documented surfing in his journals, thus introducing it to the outside world.
Meister can be described as the second coming of Shane Dorian. He won't hesitate to take off on the most treacherous-looking waves. Along the Kona coast are several shallow breaks where only a few surfers dare to paddle out. Meister, however, charges into them. He currently competes on the WSL (World Surf League) second-tier circuit, but his Big Island roots have never left him.
More young Big Island surfers are making their mark as well: Kealamakia Naihe, Lahiki Minamishin, and 15-year-old Brodi Sale. Not far behind are Shayden Dela Cruz, Ocean Donaldson and Kaunaloa Ng. On the girls' side, 17-year-old Kahanu Delovio's powerful style is constantly turning heads.
Kona isn't the only Big Island area with surf star potential; Puna, Hilo, Kau, and North Kohala also have their own crews of solid surfers.
Every surf adventure feels like taking a step back in time. Every surfer who enters the ocean paddles into storied waters resonating with history. Part of a much larger islandwide surfing ohana, they take pride in where they're from and what they have inherited, and relish their surfing way of life. The cycle goes on.