Black, Red, Green: Where to Find Hawaii's Phenomenal Colored Sand Beaches
As if our golden sand beaches weren't enough, there are stretches of coastline across the Hawaiian Islands that sparkle in a magnificent variety of other colors.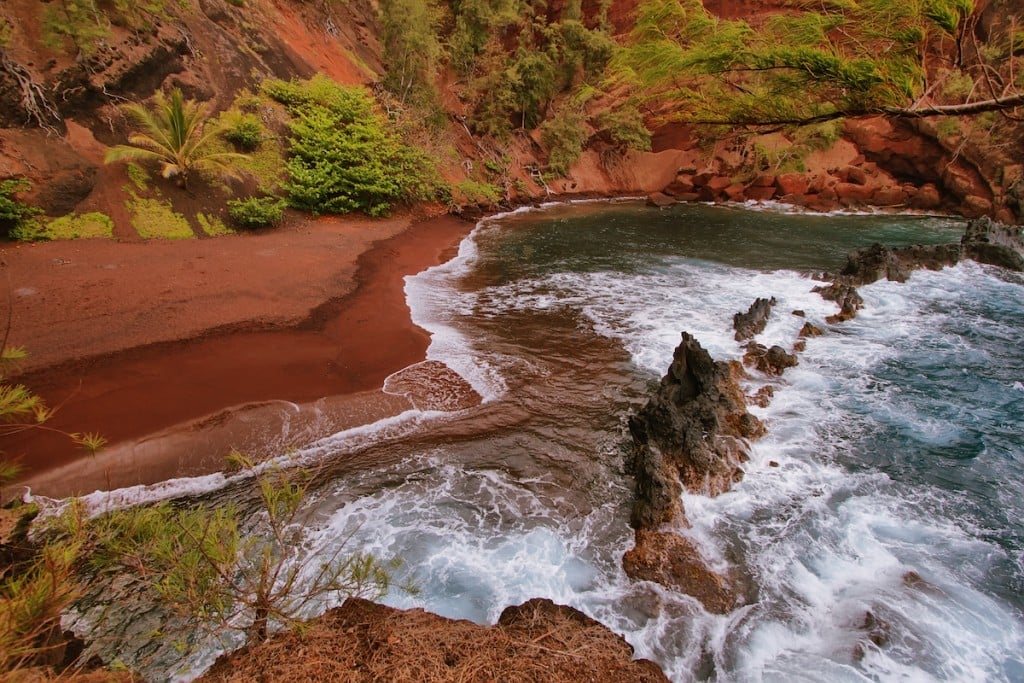 As if Hawaii's golden sand beaches weren't enough, there are stretches of coastline across the Hawaiian Islands that sparkle in a magnificent variety of other colors.
Black sand beaches
These majestic beaches are the result of lava flowing into the ocean. When the basalt reaches and settles at the surface, these beautiful, unusual and haunting coasts are created.
Punaluu Beach on Hawaii Island is located on the southeastern Kau coast. You can't talk about black sand beaches without talking about Punaluu, the most famous in all of Hawaii, tucked between Hawaii Volcanoes National Park and Naalehu town. The sand is like crystals under your feet, volcanic black sand flecked with silver.
Because of wind/surf conditions, the water tends to be a bit strong and choppy, but don't let that stop you from unwinding. There are picnic tables situated throughout, some shaded by the deep green palm trees along the coastline. This beach is also a popular haven for honu (green sea turtles) to relax and sun.
Waianapanapa Beach on Maui is located just outside Hana. The entrance is about 44 miles east of Paia town along the road to Hana making it just another surprising must-stop destination on your way back (Marker #32) that's filled with at least an hour's worth of sights and activity. The sand is made up of smooth lava pebbles. From here you can watch the blowhole, explore lava tubes and freshwater pools, and find a shaded picnic spot at the top of Waianapanapa State Park.
Awahua Beach on Molokai is located on the island's northern Kalaupapa Peninsula. The beach has a black sand appearance because it's made up of detrital sand, a type of sandstone derived by pre-existing rocks.
Like much of Molokai, this beach is one of the most secluded due to its difficult accessibility. You either need to hike to it or take a mule and it must be through a tour group because it passes through the historic leprosy colony. The swimming conditions aren't the most favorable either. No reef to cushion strong waves and the ocean bottom drops off quickly near the shore.
Red sand beach
A cinder cone rich in iron surrounding the beach is in a constant state of erosion which creates one of the most unique and dramatic beaches in the world.
Kaihalulu Beach on Maui is located south of Hana Bay on Maui's eastern coast. It's on the side of Kauiki Head and is one of only a few red sand beaches in the entire world. Access to this "secret beach" can be dangerous because of the grassy overgrown cliff-side trail. Swimming is also not recommended because the water is rough (in Hawaiian "kaihalulu" means "roaring sea," after all), but the view of the tall red hills and sands against deep, dark blue water is unrivaled.
Green sand beach
The enclosing cinder cone circling this beach is rich in the mineral olivine, a common component of Hawaiian lava. It's also one of the first crystals to form when the magma cools. It's denser than other minerals so it naturally accumulates on the beach and doesn't wash back out into the sea as easily.
Papakolea Beach on Hawaii Island is located at Puu o Mahana on the island's south tip. It's also known as Mahana Beach, famous for being one of only four green sand beaches on Earth.
You need to hike three miles of windy lava fields to find it's naturally green-colored sands. It's recommended to leave the beach at least two hours before the sun sets since hiking back at night can be dangerous.
Orange sand beach
Call it gold, call it yellow, but when the sun sets and hits this fine sandy shore you'll call it orange.
Papohaku Beach on Molokai is located on the island's west end. It's part of a 10.4-acre park that permits overnight camping, one of four sites on the island. For those of you Googling this locale, don't get confused, there is only one beach named Papohaku. This soft sandy beach, also known as Three Mile Beach, is on Molokai, but technically considered part of Maui County.
Considered a hidden gem, its isolation (along with that orange colored sand, of course) is what attracts people to it. Beachgoers routinely report only seeing a handful of other individuals along its mile or stretch of shore. In fact, if you've been to Oahu, you may have already sunk your toes into a piece of Papohaku; Honolulu imported sand from Papohaku years ago to build up Waikiki.
Swimming is not recommended because of the strong surf and currents, but you'll have more than enough space in its orange sands to make a secluded day of it.