Blend Sophistication with Grandeur at the Mauna Kea Beach Hotel
This Hawaii Island resort is a beloved classic with a long, beautiful white-sand beach.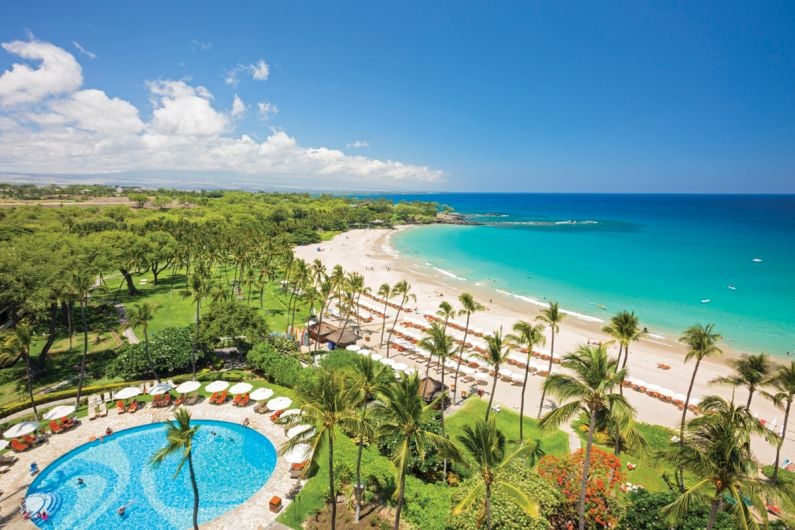 It feels like I'm living inside a postcard, lying on my banana-yellow stand-up paddleboard in the middle of the gorgeous, clear-blue Kaunaoa Bay that fronts Mauna Kea Beach Hotel. I close my eyes and let the calm water drift me this way then that, satisfied with the simplicity of the moment and wish I could stay like this all day. I imagine this is what the beaches on Oahu, where I'm from, used to be like, with no crowds and plenty of room in the water to roam.
Half-expecting to run into a celebrity or two, I return my board to the beach club I rented it from, and pick a lounge chair to recline on under the sun. Lazy days like these are what people fly thousands of miles for—and I can attest that this is worth those hours in the air. Opened in 1965, the midcentury-modern hotel, developed by Laurance Rockefeller, takes a sophisticated approach to extravagance, such as how it uses natural materials to blend with the island's lava rock surroundings. Or how there's expensive and unique artwork strewn everywhere, without the in-your-face signage. The room I'm staying in, on the other hand, a premier oceanfront deluxe, isn't subtle by way of amenities or features.
The 904-square-foot top-floor room is spacious with its own foyer and lanai (balcony). The oversized bathroom, however, with a soaking tub and wall-less shower takes all the attention because it also has its very own walk-out lanai—something I've not seen before. Both have perfect views of the hotel's centerpiece, Kaunaoa Bay. Add to these things an award-winning luau, championship golf course and top restaurants, and it's easy to see how the Mauna Kea Beach Hotel has become such a beloved classic because it really does have the best of everything.