Bound by Poi: Community poi-pounding day with Kauai's Waipa Foundation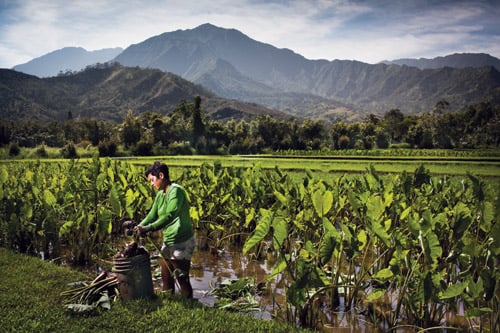 Working through a bucket of fresh-cut kalo waiting to be peeled, Aunty "Honey Girl" Hoomanawanui shakes her head and scolds me, not once gazing up at me.
"You not listening," she says.
Irritated, she grabs the wet chunk of kalo (the Hawaiian word for "taro") from my hand and yanks out her butter knife. She then demonstrates how I should be scraping off the pocket rot, thick skin and hard tops from the taro to prepare them for an industrial grinder, which will turn the starchy root into poi.
"Here!" she says, handing the cleaned taro back to me. "Do it right next time."
I can't blame Aunty Honey Girl for her gruffness. Her family has lived on Kaua'i's north shore—specifically, in Wainiha, a verdant valley between Hanalei and end-of-Kuhio-Highway Haena State Park—for more than five generations. In that time, her family has seen the area—Hanalei, in particular—transform from a sleepy rural community at the Napali Coast's eastern end into a popular visitor destination with coffee bars, art galleries, restaurants and small retailers. I am just a visitor for the day, learning the task at hand, then leaving. But if I'm going to help Aunty today, she's going to make sure I don't waste her time.
We're cleaning our taro in Waipa, a small ahupuaa stretching from the western shoreline of Hanalei Bay to the summit of 2,500-foot Mamalahoa mountain overlooking the bay. Their boundaries determined by Hawaiian ali'i (royalty), ahupuaa were mountain-to-seashore land divisions established on each island to protect, maintain and distribute land and ocean resources for residents living within them. Some ahupuaa claimed massive acreage; others, like Waipā, were relatively small.
Waipa is one of few remaining ahupua'a in the Islands still virtually untouched by modern civilization. Its 1,600 acres span unblemished native mountain forests and meandering streams, a two-acre loi kalo (irrigated taro terrace) and partially restored seven-acre Halulu Fishpond, which teems with mullet and tilapia. The land is owned by Kamehameha Schools and managed by the community-based nonprofit Waipa Foundation. The foundation serves as Waipā's steward, developing projects and programs aimed toward restoring the health of the ahupuaa's native ecosystems and lands, involving the community in stewardship and restoration efforts (like the weekly Poi Day I'm participating in), and encouraging social, economic and environmental sustainability in the management of Waipa's resources.
There are no beachfront bungalows at Waipa, no bed-and-breakfasts, no adventure outfitters escorting visitors on hiking tours. Just a couple of single-story homes with corrugated roofs—remnants of the area's ranching history—and an open-air garage where, on the day I visit, more than a dozen people sit on folding metal chairs, hunched over plastic and tin buckets filled with kalo harvested from Kauai farms, cutting and peeling.
For more Thursdays like this one than anyone—including Aunty Honey Girl—can remember, residents have gathered at Waipa to prepare hundreds of pounds of poi to sell to area families. Volunteers are welcome and today include nine massage therapists from across the Mainland U.S., visiting Kauai on a retreat to study the art of Hawaiian lomilomi (massage). But a lot more happens at Waipa besides Poi Day.
Peeling taro on Poi Day at Waipa. Photo by Mike Coots for HAWAII Magazine.
Waipa Foundation hosts a farmers market every Tuesday afternoon on its expansive lawn, with local vendors selling fresh, mostly organic fruits, veggies, flowers and prepared foods. The foundation sells produce grown on its own acreage, too—everything from eggplant to kale to beets. It also hosts multiple cultural programs and educational tours throughout the year—many customizable—that educate students, families and visitors about Hawaiian culture, environment and the bond shared between them.
In October, the foundation opened the first multipurpose building of its planned Waipa Community Complex, which will eventually include a certified community kitchen and poi mill, a hale imu (shelter for a ground oven) and an administration building. Thursday Poi Days teach visitors about the preparation of kalo—still a staple of many residents' diets—and help the community sustain an important resource.
Instructing us in the finer points of cleaning kalo, Kawika Rogers, a member of the operations crew at Waipa, holds up a pale chunk of root and points out its tough, gummy surface.
"This is loli loli," he says, defining the texture. "Not good." He pulls back some of the tough skin with a deft turn of a butter knife to reveal a softer section inside. "See? This part is good."
Our duties were only part of the daylong Poi Day process of preparing kalo for poi making. The kalo is first soaked overnight in water before volunteers arrive at 5 a.m. to begin removing the skin and washing the taro. We're doing the third step, removing imperfections before the kalo chunks go through three rounds in the grinder to achieve proper poi consistency. The poi is then weighed, bagged and distributed to the community—all of it before lunchtime.
"The volunteers learn about kalo, its cultivation, growing habits, history, mo'olelo (story), uses and significance. And they taste poi like they never have before," says Stacy Sproat-Beck, Waipa Foundation's executive director, who was raised on Kauai's north shore.
Waipa poi is sold at $3 per pound and getting on the delivery list isn't easy. The foundation's aim is less about making money than keeping poi affordable and a staple on the dining tables of area families.
Says Sproat-Beck, "We hope visitors walk away with a deeper understanding of how interdependent humans are with our land and natural resources and how important it is to take care of these things so that they continue to provide us life."
A fresh bucket of water-soaked kalo appears at my feet the moment I finish my first batch. I put down my notebook and tighten my grip on my butter knife.
"Too much talk and not enough work," Aunty Honey Girl says, shaking her head. "I like it quiet."
I can't agree more.